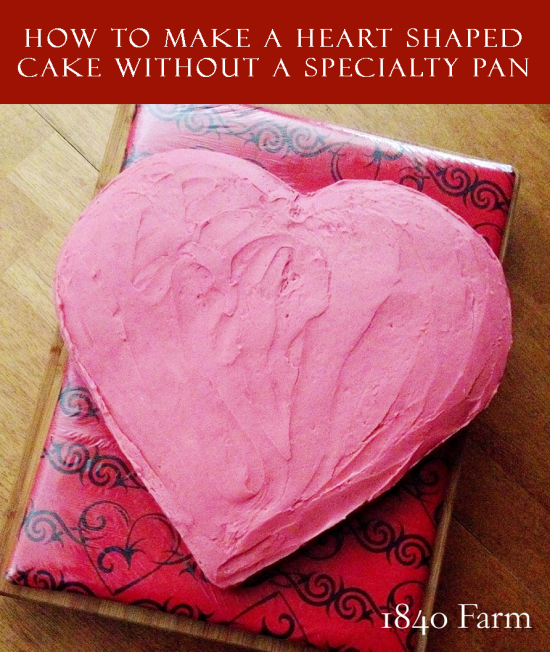 This time of year, everything seems to be heart-shaped. From candies to baked goods and every sort of decorative item. 'Tis the season, I suppose. Unfortunately, so many of these heart-shaped and Valentine's Day themed projects, crafts, and recipes involve detailed steps and specialty supplies that I don't have any use for until February 14th arrives again next year.
I prefer to celebrate Valentine's Day in a much simpler, rustic manner. That rustic sensibility makes this method for creating a heart-shaped cake one of my favorite ways to make something delicious for my Valentines. With standard baking pans and a knife, you'll have a beautifully shaped heart cake in moments.
The technique is amazingly simple and based much more on simple geometry than any special baking skills. By dividing a round cake in half and joining it with a square-shaped cake turned on the diagonal, a heart is created. It's simple and extraordinary all in the same motion. You'll feel like a baking genius when the finished cake is presented in its perfect heart shape without anyone but you knowing the secret of its construction.
Bake your favorite cake recipe, doubling if necessary to create one 9 x9 square cake and one 9 inch round. Allow the cakes to cool for a few minutes before removing them to a wire rack to cool completely. Using a serrated or very sharp knife, cut the round cake in half. You now have three cake portions ready to assemble into a single heart shaped cake.

Turn the square cake on the diagonal on a cake board, cutting board, or large serving platter. Add one half of the round cake to each side of the top edge of the diagonal cake to make a heart shape. I have used a bright color of buttercream in this photo to help illustrate the shape of the three cakes when placed together.
Once you have created your heart-shaped cake, pile on the buttercream, candies, and other decorations. I often make a cookies and cream buttercream frosting and decorate it simply with cookie crumbs. No matter how you choose to decorate your cake, you'll have a homemade heart-shaped delicious cake to share with your Valentine year after year!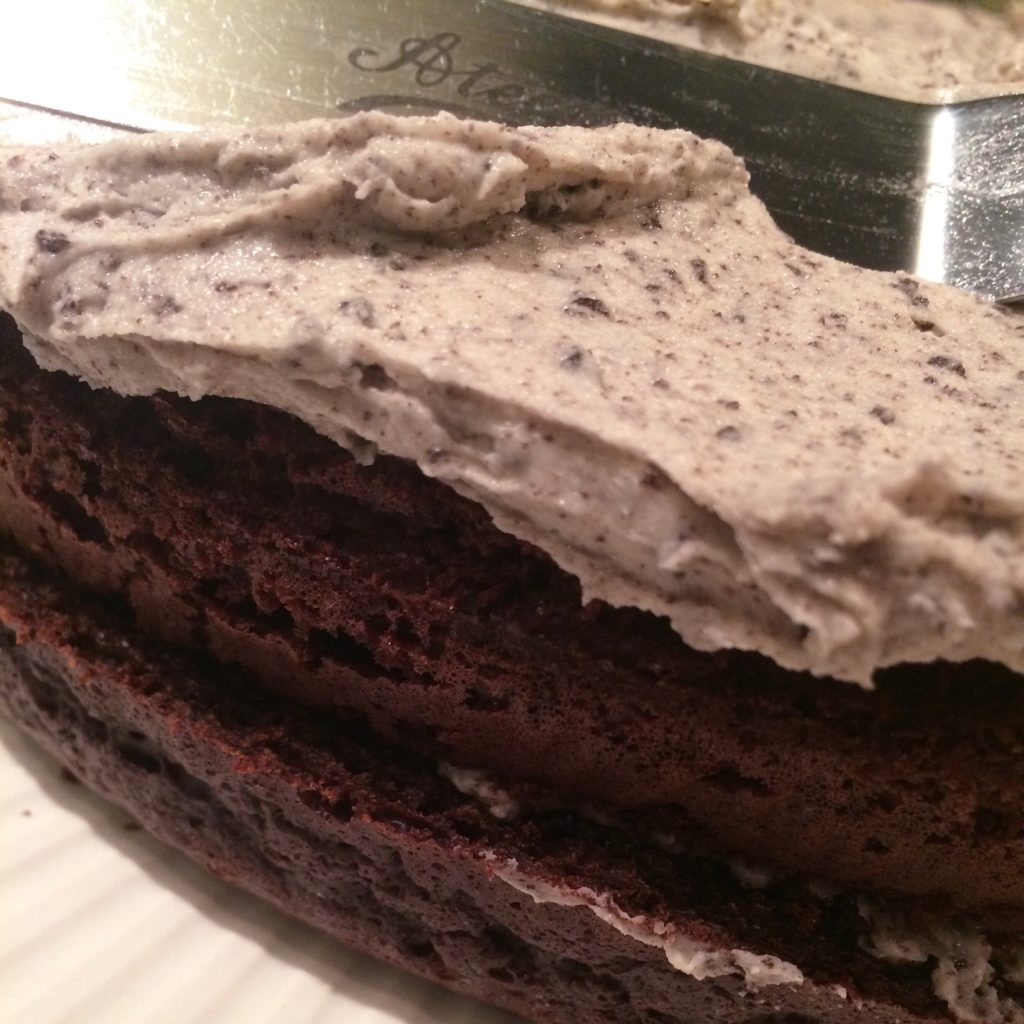 Chocolate Mocha Buttermilk Cake
2017-02-10 08:37:21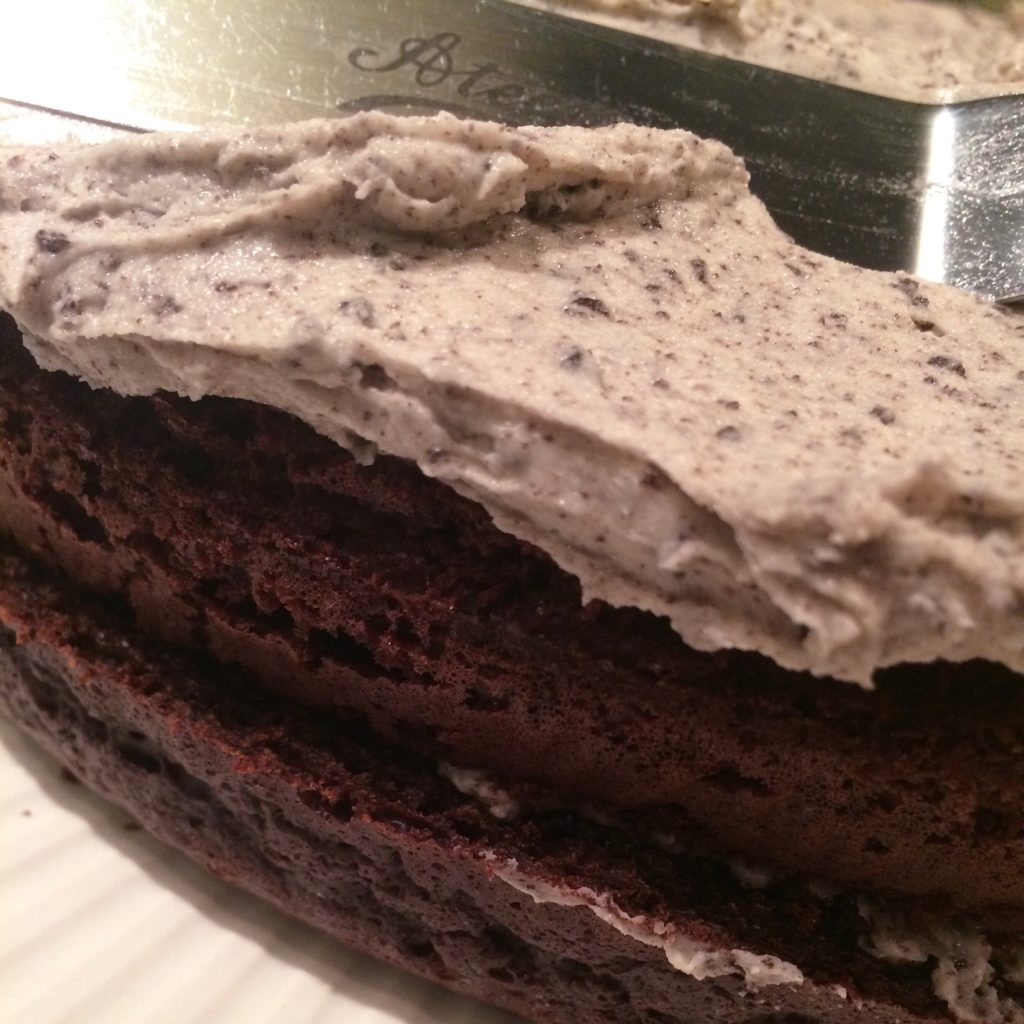 This recipe makes two thick cake layers. To make the heart shaped cake, I bake half the batter in a 9x9 brownie pan and the other half in a 9 inch round pan. This recipe can easily be cut in half to make a single cake. If you don't have buttermilk on hand, simply measure out an equal amount of milk before removing 2 Tablespoons and replacing it with apple cider vinegar. I often add crushed chocolate sandwich cookies to my buttercream to create a cookies and cream cake. You can make the buttercream with or without the cookies. Both versions are delicious!
For the cake
2 cups granulated sugar
2 cups cocoa powder
2 ½ cups All-purpose flour
4 Tablespoons cornstarch
1 Tablespoon baking soda
1 ½ teaspoons baking powder
1 ½ teaspoons salt
2 cups buttermilk
½ cup strong coffee
6 large eggs
½ cup canola oil
½ cup sour cream
2 Tablespoons vanilla extract
For the buttercream frosting
1/2 cup butter, softened
1/2 cup shortening
1 Tablespoon vanilla
3 cups powdered sugar
1-2 Tablespoons milk or heavy cream
6 chocolate sandwich cookies, crushed (if desired)
For the cake
Preheat oven to 350 degrees Fahrenheit. Position the oven racks in the top and bottom third of the oven. Prepare a 9x9 square brownie pan and 9 inch round cake pan by brushing with oil or butter and lining the bottom with a piece of parchment paper cut to size. Set aside as you prepare the batter.
In a large bowl, combine the sugar, cocoa, flour, cornstarch, baking soda, baking powder, and salt. Use a whisk to combine and break up any lumps in the cocoa. Add the buttermilk and coffee and whisk to combine. Add the eggs and whisk to incorporate. Add the oil, sour cream, and vanilla extract and whisk until the mixture is completely smooth.
Divide the batter evenly into the two prepared pans. I like to place each pan on a baking sheet before transferring to the oven in order to catch any drips while baking. Move the pans to the preheated oven. Bake for 45-50 minutes, rotating the pans halfway through the baking time. When a toothpick inserted into the middle of the cake comes out clean or with small crumbs attached, it is finished baking.
Remove the cakes from the oven to a wire rack. Cool for 10 minutes before using a sharp knife or offset spatula to loosen the cake from the sides of the pan before inverting the cake layers on to a wire rack to cool completely.
For the buttercream
Place the softened butter and shortening in a large mixing bowl. Beat until the mixture is completely smooth. Add the vanilla and beat to combine. Add the powdered sugar in 1/2 cup increments, beating slowly after each addition to combine. Add milk or heavy cream as needed to help achieve a smooth, spreadable consistency. Add crushed cookies if desired and mix to combine.
Spread the buttercream on the surface of the cooled cake. Additional sandwich cookie crumbs can be added to the sides and top of the cake if desired.
If necessary, this buttercream can be thinned with the addition of more milk or heavy cream. Any leftover frosting can be stored in an airtight container.
Notes
Our family lives and bakes around nut allergies, so our farmhouse kitchen is nut free. This recipe uses one of our nut free favorites: Vermont Nut Free Chocolates baking pieces and cocoa powder. You can learn all about them at www.vermontnutfree.com.
1840 Farm http://1840farm.com/
Comments
comments