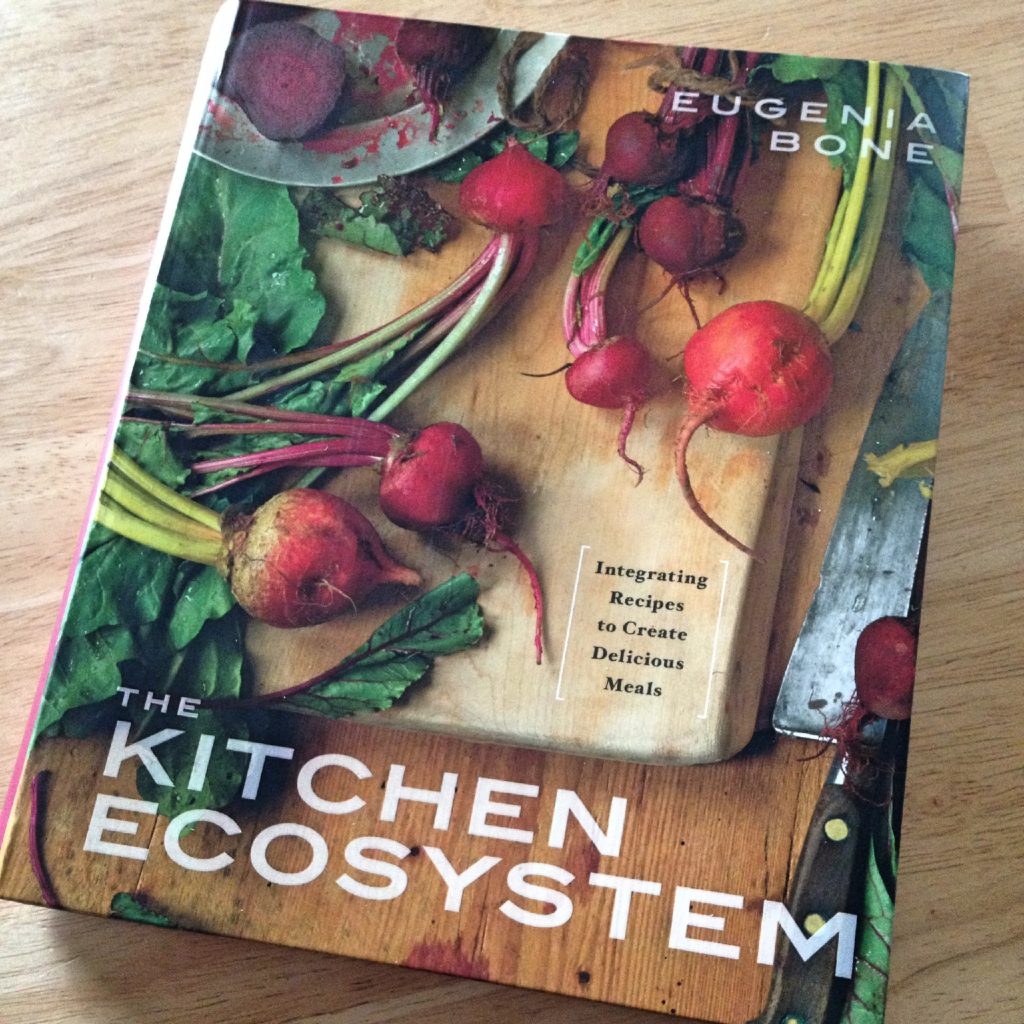 We have been inundated with winter weather here at 1840 Farm this week. Winter Storm Juno dropped over 30 inches of fresh snow on our farm. The blizzard force winds blew it around enough for us to clean up the same snowflake at least a dozen times. While we waited for the storm to finally come to an end, I had the pleasure of discovering a lovely new cookbook. I find that paging through a cookbook is a wonderful way to pass the time when the weather outside is frightful!
The Kitchen Ecosystem by Eugenia Bone was a fabulous read. The philosophy behind this book is simple: use the best seasonal ingredients, prepare for the seasons by preserving food when it is in season, and use every bit of the leftovers to make broths, sauces, and other delicious components for the next great dish. With over 400 beautifully illustrated recipes, this book is an amazing and inspiring resource for anyone who is trying to expand their seasonal, whole food based recipe collection.
I loved the style of this book. Rather than organizing the recipes by course or season, they are assembled by key ingredient. When I find myself deep in the heart of heirloom tomato season, I can simply turn to page 326 and find the entire collection of tomato based recipes that offer ways to enjoy them fresh, preserve them for later use, use the preserves to prepare meals, use the scraps, and a few other great ideas for using every last bit.  To liven up the collection, several cocktails are featured.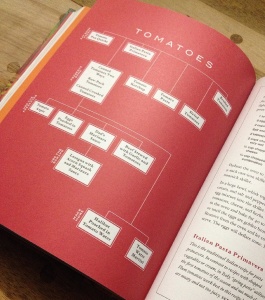 In all, there are 15 different suggestions for using tomatoes. As a gardener who looks forward to heirloom tomato season all year long, I can't wait to try then all. There's no need for me to wait at all as I can use our canned tomatoes from last year's garden to make four great recipes in this cookbook. With our homegrown produce ready and waiting in the pantry, we can prepare any number of delicious, comforting dishes no matter the season. Using The Kitchen Ecosystem's method of approaching seasonal eating, great food will never be out of season.
While I count the days until gardening season finally arrives, I'll focus on what is in season and readily available at our local farmer's markets and grocery stores. With ten recipes featuring oranges and 22 mushroom preparations, I will have plenty of delicious dishes to tide me over until spring!
You'll find The Kitchen Ecosystem listed in our Amazon Affiliate shop along with a full collection of my favorite cookbooks. You can also learn more about the book and its author by visiting the publisher's site.  If you're on the hunt for a new great cookbook, you can read more of my cookbook reviews and recipes inspired by my favorite cookbooks.
---
The product reviewed in this post was sent to me free of charge by the Blogging for Books Program in order to allow me to evaluate its use here at 1840 Farm. The book that I reviewed was sent to me at no expense in order to allow me to evaluate it. The framework of our review process does not guarantee a positive review in exchange for the product provided. Our product reviews contain both facts about the product and my personal opinion of its performance while it was used at 1840 Farm.
Product reviews include my honest opinions about the product(s) reviewed. Products that do not meet our standards of daily use on our farm will not be reviewed. It is our goal to provide you with our personal experience using a product in a positive and informative manner so that you can determine its usefulness in your life. It is not our goal to negatively review a product that while not an ideal fit for our farm, might perform very well on yours.
For more information, please view our Disclosure Statement and Privacy Policy.
Comments
comments