For years, I have heard from professional and home cooks about the wonders of the Vitamix.  Chefs extol its virtues in their professional kitchens.  Home cooks like myself are just as taken with its abilities.  From their accounts, it seemed that there wasn't anything that the Vitamix couldn't handle.
Several weeks ago, our sponsor JL Hufford sent me a Vitamix Pro 750 to test in our 1840 Farmhouse kitchen.  Finally, I would be able to form my own opinion about the Vitamix.  From the moment I began to unpack the unit from its box, I was taken with the sturdy construction.  This is a very solidly constructed piece of equipment.
Once I had unpacked the Vitamix, it was time to put it to work in our kitchen.  First up was one of my son's favorite beverages, our homemade take on the Orange Julius.  We've been making this recipe for years in our standard blender.  Unfortunately, we have never been able to achieve that frothy, smooth texture that we hoped for using our blender.  No matter how long we blended the ingredients, it just didn't become a homogeneous mixture.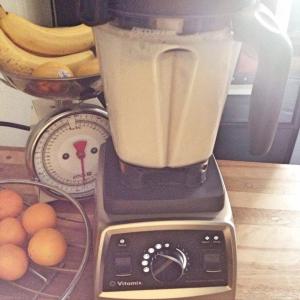 So, we gathered the ingredients, placed them in the Vitamix container, and selected the smoothie setting.  We turned on the power and watched as the ingredients were effortlessly transformed into that frothy, silky consistency that we had tried so hard to achieve in the past.  After pouring the mixture from the container, I added warm water and a touch of dish soap, returned the container to the base, and powered it on using the cleaning setting.  In moments, the unit was clean, needing only a quick rinse with fresh water to remove the soapy solution.
During that first week, we used the Vitamix Pro 750 to blend many other smoothies, soups, and liquids.  We made a recipe of our Smoky Chili Puree to flavor a batch of Black Bean Chili.  In seconds, the tomatoes and chilies in the container were pureed and smooth.  It was clear that liquids were no match for the VItamix.
Now that we had established the ability of the Vitamix to handle smoothies, sauces, and soups, it was time to move on to processing items that weren't liquid based.  First up was a batch of pizza dough.  I would have never thought of making pizza dough in this machine before reading the extensive 350 page cookbook that was included in the package.  The Vitamix effortlessly transformed the ingredients into a smooth ball of pizza dough.
After pizza dough, I set out to make a family favorite using the Vitamix.  It was time to make a Gooey Butter Cake.  The Vitamix powered through the buttery crust without any trouble.  Next up was the gooey mixture of cream cheese, butter, and powdered sugar.  I've made this recipe dozens of times, but both my stand mixer and food processor fail to create a completely smooth mixture.  No matter how long I allow the butter and cream cheese to come to room temperature, no matter how long I blend or process the ingredients, lumps are still present.
After placing the ingredients in the Vitamix container, I processed it on setting 3.  After the blade had stopped, I removed the lid to inspect the mixture.  It was completely velvety and smooth.  There wasn't a single lump in sight.  The Vitamix had done what my blender, stand mixer, and food processor had failed to do.  It was official:  I was now a member of the contingent of cooks who believe that the Vitamix can handle anything.  This machine had passed the1840 Farmhouse test with flying colors.
I am very grateful that JL Hufford allowed me to put the Vitamix Pro 750 to the test.  It passed every challenge I gave it and earned my resounding seal of approval.  I'm even more grateful that they're offering a special 10% savings on this amazing machine to the members of our 1840 Farm Community!  This is a limited time offer, so don't delay.  If you've been dreaming of adding a Vitamix to your kitchen's arsenal or giving one as a gift, this is an amazing opportunity to save.
Visit JL Hufford and enter the coupon code "skyhigh10" to save 10% on your purchase of the Vitamix Pro 750 until 12/14/14.  I hope that you'll take advantage of this amazing savings and then you'll share with me what delicious dishes you're making using your new Vitamix.  Until then, here are the recipes that we tested with our Vitamix.  Enjoy!
Comments
comments