I've never been prone to setting resolutions when the calendar turns from one year to the next. Instead, I prefer to reflect on the year that has passed and the New Year and fresh start ahead. As I do, I usually set a few goals for myself, mapping a plan to learn a new skill or embark on adventure.
This year, I have a delightful reminder of the wonderful possibilities that lie ahead in the New Year thanks to my participation in The 100 Good Deeds and #DeedADay Project. That reminder is in the form of a beautiful handmade bracelet. These bracelets are crafted by women who live in uncertainty often due to a lack of viable opportunities in their home country. Many of them are HIV positive and have few options when it comes to supporting themselves and their families.
The 100 Good Deeds Project provides women living in Uganda, Zambia, South Africa, Rwanda, Haiti, Bali, India and New York the opportunity to learn a craft, earn a living, and to empower their spirit. Their work helps to support their families financially and makes them an integral part of a movement with a clear mission: to remind humans across the globe that our actions can make a difference and make the world a better place.
This movement's beginning makes for an interesting story.  After spending a decade working with at risk women in Africa, Mary Fisher met Thomas Morgan. When Mary's mission to empower women was paired with the family game that Thomas had created to inspire his family, the inspiration for the 100 Good Deeds Bracelet was born.  Thomas called it "The 100 Good Deeds Game", and used it as a way to encourage his children to recognize the power in their everyday actions.  The bracelet provided a beautiful way to keep track of the actions that quality as a "good deed" . A good deed is an act that involves going out of your way to help someone else and must remain anonymous. The good deed is truly its own reward.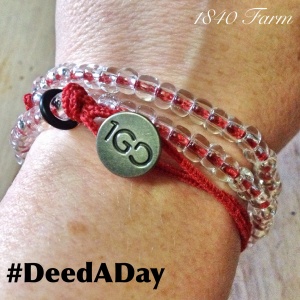 Each bracelet is hand-braided beginning with a fine nylon thread. Once the thread has been handcrafted, it is strung with exactly one hundred glass beads. Those beads are joined by a solitary rubber ring. The bracelet is adjustable and can be used to mark the wearer's progress on a journey of self-discovery and awareness. Each time a good deed is done, the rubber ring is moved along the chain of beads, continuing on until 100 Good Deeds have been gifted to the world.
Each bracelet comes with a very personal touch in the form of the handwritten name and country of residence of the woman who crafted the piece with her own hands. In the case of my beautiful cherry red bracelet, I learned upon opening the package that Rose had created this bracelet in her home country of Haiti.
Her work will help to inspire me to remember that every action we take is important, that every step we choose has the power to improve our world. While I will never have the opportunity to meet Rose or compliment her handiwork in person, I hope somehow that she knows that her work has inspired me to try and do good deeds long after 2015 has come to an end..
I also hope that you will join me in The 100 Good Deeds and #DeedADay Project.  I invite you to embark on a shared journey to make the world a better place.  To join the #DeedADay movement, share one of the following images on Facebook, Instagram, Twitter, Pinterest, or your favorite social media using the hashtag #DeedADay and#1GD.  You can also tag the 100 Good Deeds Bracelet Project on Facebook, Twitter, Instagram, and Pinterest so that they can see your posts and share them with their followers. You can even choose your own favorite #DeedADay image by visiting their online press release.
I'd love to see your posts, shares, and photos, so feel free to include 1840 Farm in them.  You can tag 1840 Farm on Facebook, Twitter, Instagram, Pinterest, Flickr, and Tumblr or leave a comment below with the link.  I can't wait to see all of the posts, photos, and mentions of this fabulous project from The 1840 Farm Community.  Keep sharing and keep gifting your good deeds to the world!
---
When I agreed to help promote this project, I was sent a 100 Good Deeds bracelet as a gift. Seeing a bracelet in person allowed me to share my own photos and opinions with you. 1840 Farm abides by word of mouth marketing standards. We believe in honesty of relationship, opinion and identity.  
Samples of the products that I review are sent to me at no expense in order to allow me to use the product and evaluate it in person.  The framework of our review process does not guarantee a positive review in exchange for the product provided.  Our product reviews contain both facts about the product and my personal opinion of its performance while it was used at 1840 Farm.
Product reviews will include our honest opinions about the product(s) reviewed.  Products that do not meet our standards of daily use on our farm will not be reviewed.  It is our goal to provide you with our personal experience using a product in a positive and informative manner so that you can determine its usefulness in your life.  It is not our goal to negatively review a product that while not an ideal fit for me or our farm, might perform very well for you.
Comments
comments