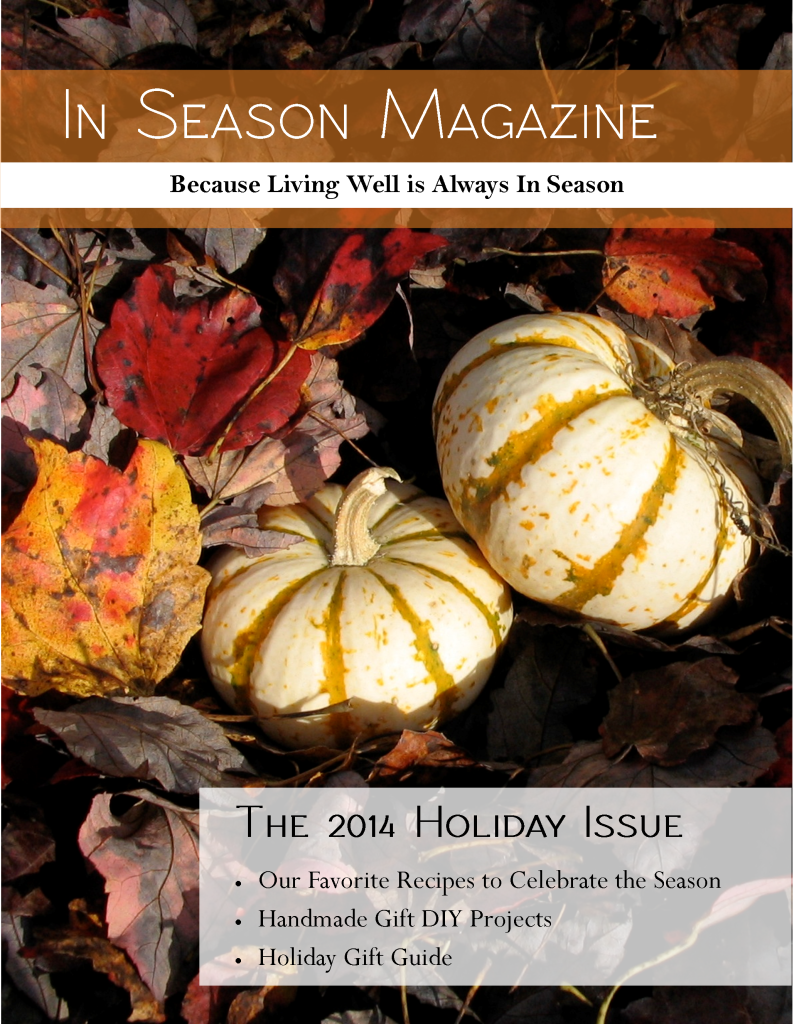 Remember the exciting project that I hinted at last week? Are you ready to know what we've been working on? This is our most ambitious project ever, filled with delightful possibilities that I can't wait to share with you.
For the last few months, I have been working with our friends at Fresh Eggs Daily and Happy Days Farm. Together, we're proud to introduce you to In Season Magazine, a collaborative project that will allow us to share the best seasonal content with our readers.
In Season Magazine will have the look and feel that you've come to love from 1840 Farm. Each issue will allow us to share more of what is happening here on our farm and in the homes and farms of the other contributors.
Our quarterly publication will make its official debut in 2015. Luckily, you have a back stage pass and don't need to wait nearly that long. We'll be publishing a special Holiday Issue of In Season Magazine in November.
The Holiday Issue will include our favorite holiday recipes, DIY projects, and a gift guide filled to the brim with our favorite products. We're hoping that this Holiday Issue will give you a taste of what's in store for our subscribers in 2015.
We're also hoping that you'll be an active participant in our project. We want to know what kind of content you would like to see in the pages of our magazine. We will work to incorporate your ideas into each issue. We hope that you will help us to shape In Season Magazine into a publication that you'll be excited to read and we'll be proud to publish.
You can learn more about In Season Magazine by visiting our online preview and adding your name to our growing list of subscribers. We're hard at work developing the Holiday Issue and our subscribers will be the first to know when it is ready to share.
In the meantime, you can share your ideas by leaving a comment or sending us an Email.  We'll work to incorporate them into the Holiday Issue and our seasonal issues next year. We can't wait to see what's in store for The 1840 Farm Community and In Season Magazine's readers in 2015!
Comments
comments