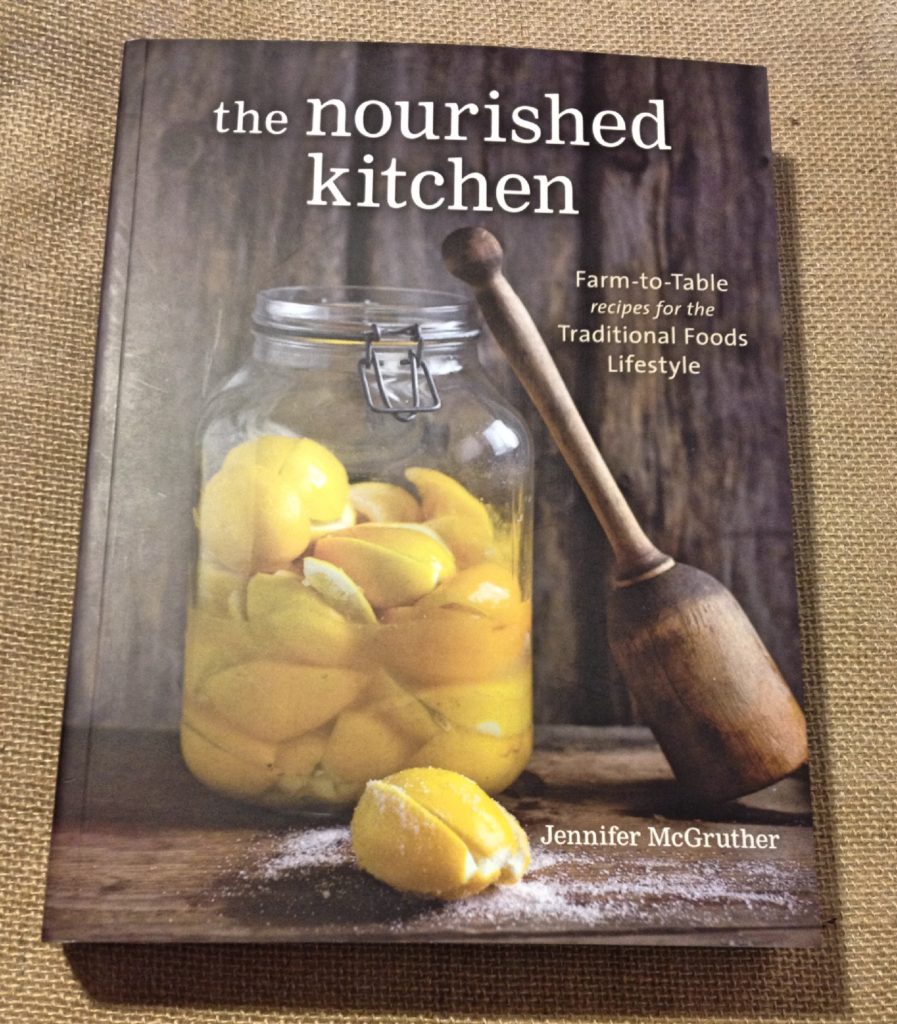 I first became aware of The Nourished Kitchen and its author Jennifer McGruther through their blog.  As a student in the Intermediate Herbal Course offered by The Herbal Academy of New England, I was searching for a few new recipes to try.  One of the first I discovered was a recipe for Golden Milk that included turmeric and ginger.  I couldn't wait to give it a try, but somehow the recipe ended up in a deep pile of recipes I was hoping to get to.
I had almost forgotten about  the recipe when a beautiful cookbook and a bag of organic turmeric arrived on our front porch on the same day.  Suddenly, making golden milk rocketed right to the top of my  recipe to do list. I'm so glad that it did.  I have been enjoying Golden Milk with Turmeric, Ginger, and Ghee on chilly mornings and afternoons this fall.  With each sip, I am surprised by the amount of flavor that these humble ingredients create when used together.
While the recipe for golden milk does not appear in The Nourished Kitchen's cookbook, there are over 160 detailed recipes.  The photos are stunning from the front cover all the way through to the glossary.  In addition to the innovative recipes and beautiful photographs, I was taken with Jennifer McGruther's food philosophy.  She refers to it as the "traditional foods movement" and makes the case for reducing the amount of processed food in our diet while choosing whole foods in the form of pasture raised meats, dairy, grains, and fermented foods.
The Nourished Kitchen includes recipes for each season of the year and a variety of sources from the garden to the wild, pasture, orchard, and larder.  There are dozens of recipes that I can't wait to try.  From the Eggs Poached in Fiery Tomato Sauce, to Pan Seared Halibut with Melted Cherry Tomatoes and Tarragon.  I have the recipe for Cucumber Salad with Dill and Kefir bookmarked for next summer when our heirloom cucumber harvest is at its peak.
The cookbook also includes extensive instructions for making sourdough breads using a homemade starter.  The chapter entitled "From the Wild" includes proteins prized by hunters along with greens and mushrooms sought after by foragers. Produce fresh from the orchard serves as the inspiration for a collection of pies, stewed fruits, custards, and ice creams.
The chapter on the larder could keep me busy all year long.  I can't decide which of the fermented recipes to attempt first.  I'm taken with the recipes for pickles, sauerkraut, water kefir, and ginger beer.  I'm willing to bet that I won't be able to go wrong with any of them.  Don't worry, I'll share my progress with you right here on our blog and on Facebook and Instagram!
---
The product reviewed in this post was sent to me free of charge by the Blogging for Books Program in order to allow me to evaluate its use here at 1840 Farm. The book that I reviewed was sent to me at no expense in order to allow me to evaluate it. The framework of our review process does not guarantee a positive review in exchange for the product provided. Our product reviews contain both facts about the product and my personal opinion of its performance while it was used at 1840 Farm.
Product reviews include my honest opinions about the product(s) reviewed. Products that do not meet our standards of daily use on our farm will not be reviewed. It is our goal to provide you with our personal experience using a product in a positive and informative manner so that you can determine its usefulness in your life. It is not our goal to negatively review a product that while not an ideal fit for our farm, might perform very well on yours.
For more information, please view our Disclosure Statement and Privacy Policy.
Comments
comments