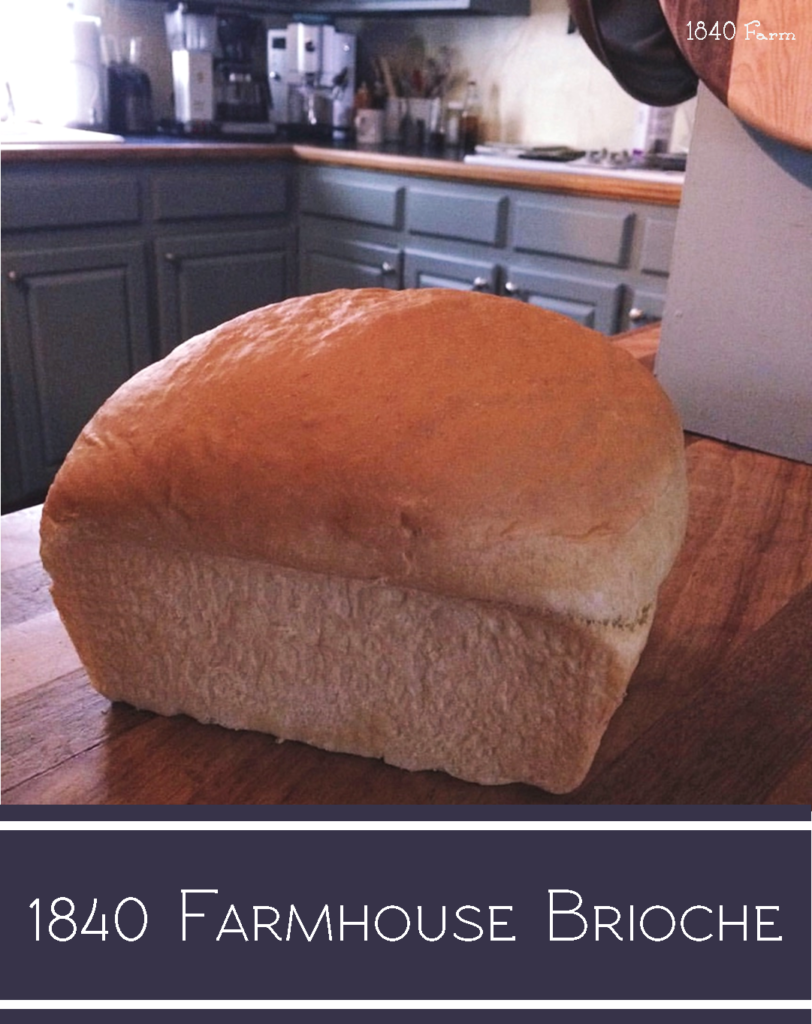 I first made brioche bread about a dozen years ago. I made it out of necessity. I loved the taste and texture of brioche bread, but didn't have a local bakery that turned out those lovely golden loaves. I certainly didn't have a nut free bakery that produced loaves that were safe for us to have here at home given that we eat around food allergies.
So, I went to the farmhouse kitchen armed with one of my favorite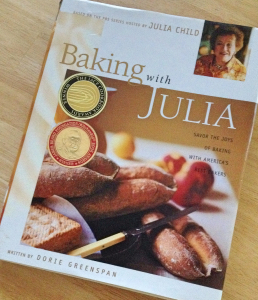 cookbooks: Baking with Julia. I read the detailed recipe and followed its instructions to the letter. It was a somewhat disarming undertaking giving the precision of the directions. I pressed on, inspired by the promise of creating my own brioche loaves right here in our farmhouse.
Traditional brioche is baked from dough enriched by fresh eggs and butter. Each addition must be perfectly timed before advancing to the next step. If these steps are rushed, the dough will break apart, forming several small clumps that will resist coming back together into one congruous ball of dough. Yet care must be taken not to over mix the dough as too much mixing can ruin the airy texture that makes brioche so wonderful.
Once the eggs have been successfully integrated into the dough, butter must be added in much the same way. It is added a bit at a time, allowing the butter to fully blend with the dough. This process can take thirty minutes or more. All of this kneading puts a heavy toll on a stand mixer. As the dough is kneaded, the mixer must be monitored to ensure that it does not overheat or, worse yet, burn out completely. Kneading this dough for such a long time is a herculean task for a residential kitchen's mixer.
My first few batches of brioche were made with great success. They were delicious in every way and a big hit with my family. It seemed that I had conquered this dough and learned how to make loaves of delicious brioche bread. I delighted in the knowledge that we would have brioche whenever we wanted without the need for a two hour road trip.
I continued to mix up batches of brioche dough regularly. I heeded the warning within the recipe. I took care to judiciously pace the half hour of mixing, stopping if the mixer seemed to be approaching the point of overheating or causing damage to the motor.
And then, one day as I was finishing a batch of dough, the motor ground to an abrupt halt. It cried uncle and refused to do anything other than emit a high pitched grinding noise when I turned the motor on. My mixer had seen its last batch of brioche dough. I was afraid that I might have also seen mine.
I tried in vain to repair the mixer's worn gear to no avail. Next, I did what any serious baker would do. I started saving for a new mixer. When the day finally came that Mr. 1840 Farm treated me to the wonderful surprise of a replacement mixer, I couldn't wait to make a batch of brioche bread.
I was a bit hesitant. I worried that working my beloved dough would put my latest mixer in jeopardy. My fear of a repeat performance led me to wonder if I might be able to simplify the brioche recipe to require less precision from me and less muscle from my mixer's motor.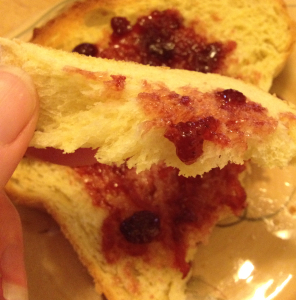 I tried several times to simplify the recipe by consolidating steps and simplifying the recipe without sacrificing the flavor and texture of the traditional brioche that I love so much. Most of the loaves were edible, but did not resemble brioche at all. A few of the loaves were painfully dense and decidedly inedible.
While I am fairly confident in my baking abilities, I began to wonder if it was time to give up. Thankfully, I didn't. Instead, I decided to abandon most of what I knew about the techniques that I had used to create traditional brioche. I focused on the dough itself. I set out to create a heavily enriched dough that would yield a baked loaf with brioche's hallmark golden, papery thin crust and rich, airy texture.
Gradually, I made minor changes to the proportions of the ingredients and the method I used to create the dough. Several batches later, the loaves were exactly as I had hoped. The crust was golden and flaky and surrounded an interior that was light and punctuated with the rich flavor of eggs and butter.
My mixer had survived this bread experiment and so had I. Better yet, my family had delicious brioche bread to enjoy that was everything we hoped it would be. To celebrate, I did what any dedicated bread baker would do: I started working on a new recipe. I'm hoping to develop a brioche recipe that will incorporate our freshly milled whole wheat flour. Don't worry; I'll share that recipe with you as soon as I finish testing it!
Once you've mastered baking delicious homemade bread, you'll need to learn all about the best way to store it. Different types of bread benefit from different storage methods. You can learn all about them by reading The Best Way to Store Fresh Bread.
If you'd like to learn more about the tools I use when making this recipe, you can find them right here: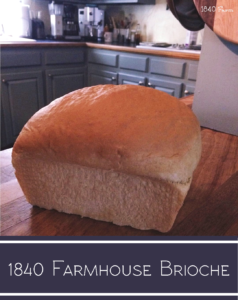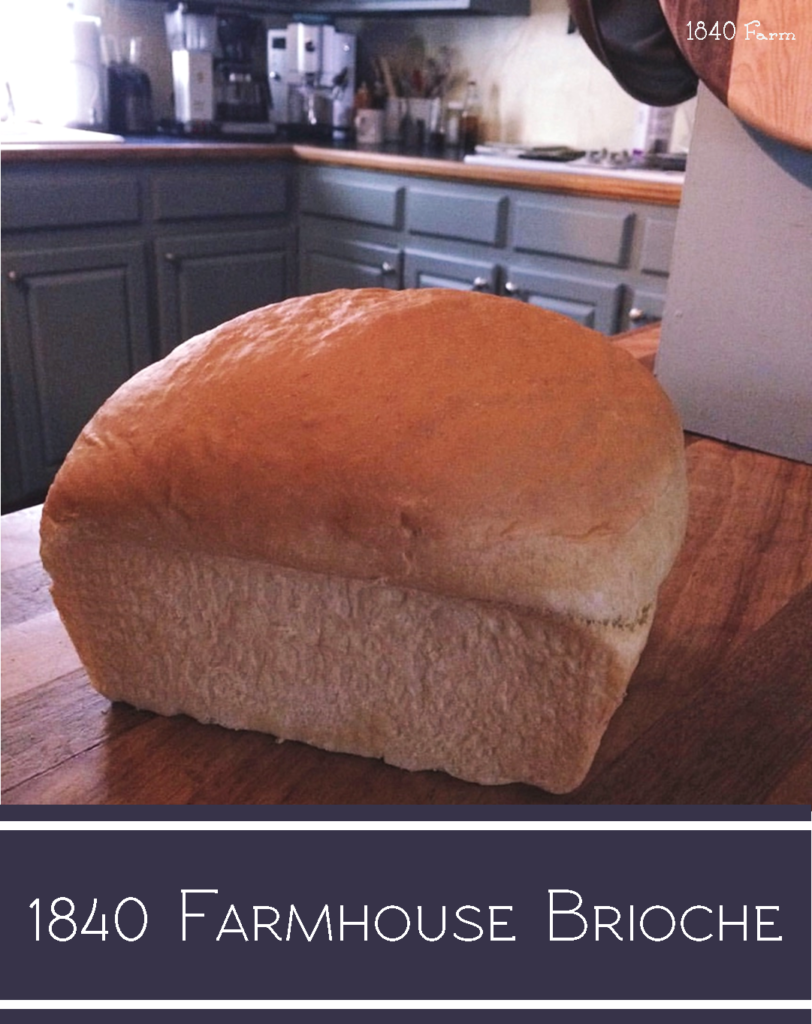 1840 Farmhouse Brioche
Ingredients
12

ounces

(1 ¾ cup) warm water

1

Tablespoon

honey

4

teaspoons

active dry yeast

1

Tablespoon

salt

420

grams

(3 ½ cups) All-purpose flour

420

grams

(3 ½ cups) bread flour

3

large eggs

,room temperature

4

ounces

(1 stick) butter

, grated
Instructions
Whisk the warm water and honey in the bowl of a large stand mixer. Sprinkle the yeast over the top of the liquid. Allow the yeast to rest as you prepare the remaining ingredients.

Add the eggs to the bowl with the warm water and honey. Whisk until combined. Mount the bowl on the mixer's base and attach the dough hook. Add the dry ingredients all in one addition before turning the mixer's motor on low speed.

Mix for a few minutes, until the dough begins to take shape. The dough will appear to be slightly dry. With the motor running, begin adding the grated butter a bit at a time, allowing the butter to be incorporated into the dough before adding more. Continue this process until all of the butter has been added.

Stop the mixer and asses the dough. It should be shiny and moist, but not excessively sticky. The ball of dough should be smooth and elastic. If it is too sticky, simply start the mixer and gradually add up to ½ cup of All-purpose flour to the dough. Take care not to add too much flour as it will yield a finished loaf that is too dry.

Transfer the dough to a large buttered bowl to rise in a dough proofer or a warm, draft free location. Allow the dough to rise until it has nearly doubled in size. Using my dough proofer set at 82 degrees, this takes approximately 45 to 60 minutes.

Once the dough has nearly doubled in size, divide it into two equal sections. Form each section into a loaf and place in a buttered or oiled loaf pan. Be sure to oil the top rim of the loaf pan as this dough has a tendency to rise well above the top of the pan. Oiling the top rim of the pan will make releasing the baked loaf from the pan much easier.

Transfer the two loaves back to the proofing chamber or warm, draft free location for rising. Allow the loaves to rise until they have reached a height of more than one inch above the top edge of the loaf pans. Using my dough proofer, this takes about one 60 – 90 minutes.

As the dough nears the end of its rise, preheat the oven to 350 degrees. If you have a pizza stone, this is a great time to put it to use. I like to use stones when baking bread in order to deliver even heat to the bottom of the loaf as it bakes. I find that my loaves bake more evenly when I have the stones in the oven during preheating and baking.

Once the loaves have risen sufficiently and the oven has reached the proper temperature, transfer the loaves to the oven. Bake for 30 to 35 minutes, turning near the halfway mark to ensure even browning. When the loaves are fully baked, they will be golden brown and sound hollow when tapped on the bottom. Remove the baked loaves from their pans to a wire rack. Allow them to cool completely before slicing or storing.
You might also enjoy these recipes from our collection: