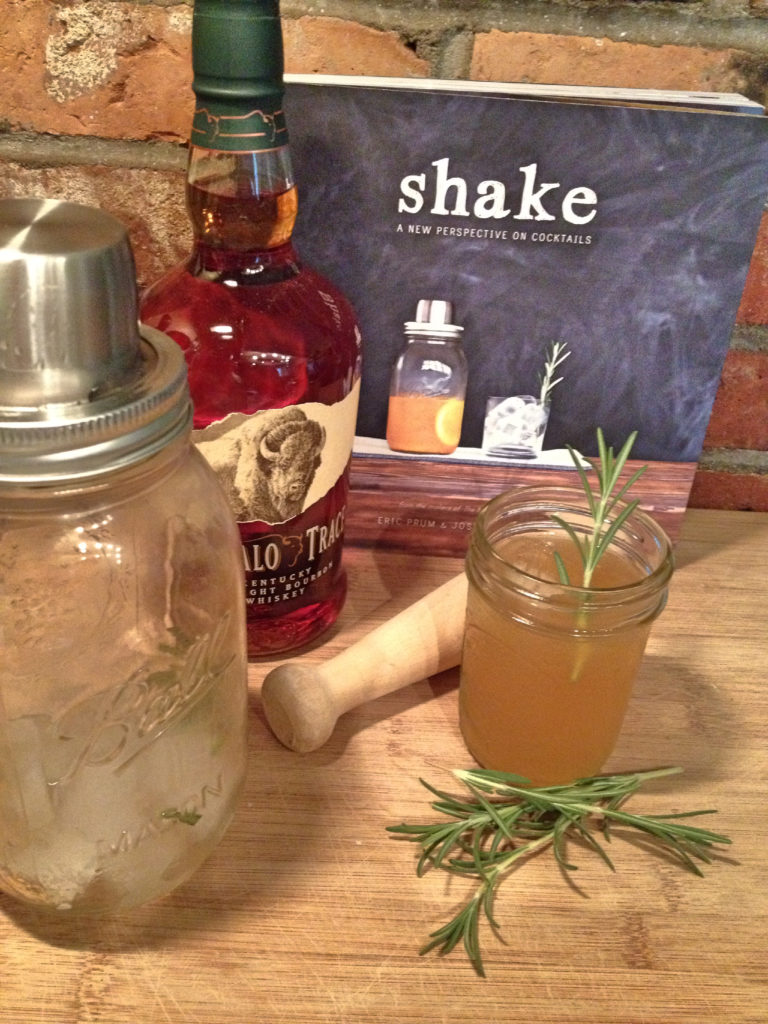 When I was offered the opportunity to review a beautiful new book about seasonal, handcrafted cocktails, I didn't need to be asked twice.  Instead, I jumped at the chance to take a look at Shake:  A New Perspective on Cocktails by Eric Prum and Josh Williams.  I was already a fan of their Mason Shaker and couldn't wait to read more about their inspiration to create a cocktail shaker with the Farmhouse Style that I love.  The promise of an entire book of cocktails created to celebrate each season of the year definitely caught my attention.
When the book arrived, I was not disappointed.  The photographs throughout the book are stunning.  They highlight the cocktails, the simple tools used to create them, and the seasonal ingredients that inspired them.  The photos inspired me to want to make every cocktail in the book.  Each one seemed to be more beautiful and interesting than the last.
It wasn't just the photographs that appealed to me.  I loved the style of this book.  It was best summed up by this line which appears on the title page.  "Cocktails should be fun. Cocktails should be simple.  Cocktails should be social."  I couldn't agree more.  While a delicious cocktail is a wonderful way to celebrate the day, it's certainly more enjoyable with a equal parts of fun, simplicity, and friends.
I'm drawn to anything that highlights what is fresh and seasonal throughout the year.  That's our goal here at 1840 Farm:  to enjoy what is at its seasonal best all year long.  I don't think that I have ever had the pleasure to peruse a book about cocktails that did the same.  Sure, there are plenty of frozen drinks for the heat of the summer.  Yet I have never encountered a book that so clearly gave consideration to the four seasons when creating each cocktail.
In this book, you'll find winter drinks featuring sage alongside a recipe for 'Nog that I can't wait to try once our New England winter roars in.  The fall cocktails highlight apples and spicy fall flavors.  Spring is represented with fresh berries, blooms, and herbs.  While summer might seem like the easiest season to pack full of standard cocktails we've seen a million times before, prepare to be amazed.  Instead, the summer cocktails in this book are innovative twists on old favorites and completely unique cocktails that would be the perfect way to spend a summer's day right outside on our farmhouse porch.
I can't wait to work my way through this book, taking it a season at a time.  As we celebrate the last weeks of summer and watch the leaves begin to turn and the temperatures begin to drop, I wanted to work at least one great summer cocktail into the season.  We love bourbon, so the recipe for The Rosemary Maple Bourbon Sour seemed like the perfect place to start.
So, on a Sunday afternoon, we gathered Shake, the Mason Shaker, our favorite bourbon, and a healthy dose of rosemary fresh from the garden.  We followed the simple steps to create this beautiful cocktail and toasted a great summer and growing season here on the farm.  The drink was delicious and perfect for the occasion.
I think that you'll find that the cocktail recipes in this book will be a welcome companion to your celebration of each season of the year.  You don't need to take my word for it.  You can catch a glimpse of their great content by following Mason Shaker on Facebook and Instagram.  They constantly infuse my newsfeed with beautiful photos, interesting articles, and fantastic cocktail recipes.
I couldn't wait to share the recipe for the first cocktail that we enjoyed from this fantastic book.  There's still plenty of daylight in our summer to enjoy one (or two) of these.  Cheers!
The Rosemary Maple Bourbon Sour

makes two drinks
3 shots bourbon (we used Buffalo Trace)
1 1/2 shots freshly squeezed lemon juice
3/4 shot dark amber maple syrup
1 large sprig of fresh rosemary
2 small sprigs of fresh rosemary for garnish
2 slices fresh lemon for garnish
Crush the large sprig of rosemary in your hand and add it to the Mason Shaker.
Add the bourbon, lemon juice, maple syrup and ice to above the level of the liquid and shake vigorously for 15 seconds.
Strain the mixture into rocks glasses containing large cubes of ice and garnish with remaining rosemary sprigs.
---
The product reviewed in this post was sent to me free of charge by the Blogging for Books Program in order to allow me to evaluate its use here at 1840 Farm. The book that I reviewed was sent to me at no expense in order to allow me to evaluate it. The framework of our review process does not guarantee a positive review in exchange for the product provided. Our product reviews contain both facts about the product and my personal opinion of its performance while it was used at 1840 Farm.
Product reviews include my honest opinions about the product(s) reviewed. Products that do not meet our standards of daily use on our farm will not be reviewed. It is our goal to provide you with our personal experience using a product in a positive and informative manner so that you can determine its usefulness in your life. It is not our goal to negatively review a product that while not an ideal fit for our farm, might perform very well on yours.
For more information, please view our Disclosure Statement and Privacy Policy.
Comments
comments