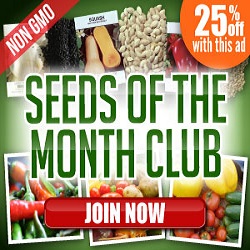 I am proud to introduce you to 1840 Farm's newest sponsor:  Mike the Gardener's Seeds of the Month Club.  The Seeds of the Month Club offers a unique opportunity to receive a collection of open pollinated, heirloom, non-GMO seed varieties delivered to your mailbox each month.  Their club offers seasoned and novice gardeners alike a wonderful opportunity to add new heirloom, non-GMO varieties to their gardens.
It's no secret that I love to garden.  There's something so fulfilling about planting a tiny seed and tending it for months until it produces a harvest to be served at our family table.  We grow our entire garden from seed and I can't seem to say no to a new interesting variety when planning our garden each spring.  Throughout the season, I walk through the gardens contemplating how I might be able to squeeze in one more row of lettuce or carrots.  I am forever looking at a small bit of grassy yard space and visualizing how I can convince my family that we should construct a raised bed to plant more heirloom tomatoes next year.
Along with my continual garden planning, I seek out companies that offer non-GMO seeds.  I like to spend my gardening dollars on seeds that help to ensure the diversity that I so love to grow in our gardens here at 1840 Farm.  I like to support the companies that feel as I do, that more diversity in our seed choices and resulting food supply is good for everyone whether they choose to plant a garden or frequent their local farmer's market.
For that reason, I encourage you to click on the "Join Now" button here on our page to learn more about the Seeds of the Month Club.  By using this link, you will receive a 25% discount on your membership.  As a member, you will receive non-GMO seeds hand selected for your growing zone.  The first shipment of seeds will consist of eight packets and will be followed by four seed packets each month throughout the length of your membership.  The producers of the seeds offered by the Seeds of the Month Club have taken the Safe Seed Pledge.so you can be confident that the seeds you receive will be non-GMO varieties.
My first month's collection of seeds are in the mail, on their way to our mailbox here at 1840 Farm.  I can't wait to plant them in our heirloom garden and share my experience growing these varieties with you throughout the growing season.  I'll be sharing photo updates on our Facebook page, Instagram, and in our Garden Tour Photo Gallery right here on our blog.  I hope that you'll join me in becoming a member of the Seeds of the Month Club and share in the fun with me.
You can learn more about Mike the Gardener's Seeds of the Month Club by visiting them on Facebook,  I am proud to welcome  Mike the Gardener's Seeds of the Month Club to our wonderful community of 1840 Farm sponsors and grateful that they are offering such a generous discount to the members of The 1840 Farm Community.  Here's hoping that we all have a wonderful gardening season this year!
Comments
comments