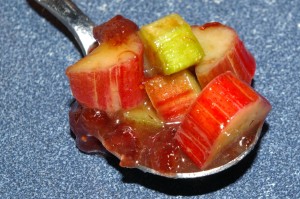 We have been enjoying this cake all spring as our rhubarb is harvested fresh from the garden.  You'll find the recipe for the crumble below so that you can bake it for your friends and family.
The other two recipes in my article are equally delicious.  I was inspired to add fresh strawberries to my family's favorite scone recipe after reading Honey & Oats: Everyday Favorites Baked with Whole Grains and Natural Sweeteners by Jennifer Katzinger. The results were fantastic. In fact, these scones were such a hit that they have become our favorite scone recipe.  I can't wait to try a few of the delicious looking recipes from this cookbook.
When making my family's favorite Rhubarb and Strawberry Brown Butter Crumble, I used my favorite brand of cinnamon, Flavor of the Earth Ceylon Cinnamon.  Unlike most of the cinnamon I find in the grocery store, this cinnamon powder is freshly ground from 100% real cinnamon bark. Flavor the Earth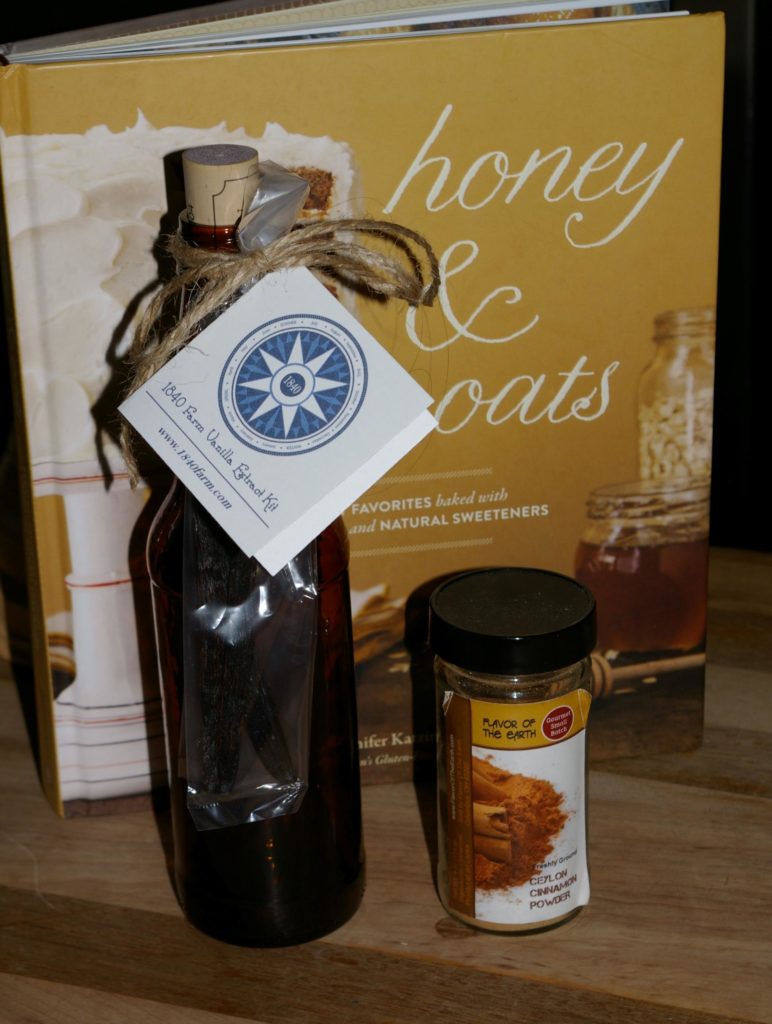 Ceylon Cinnamon has an amazing flavor and is a great source of Manganese, Fiber, Calcium and Iron.
This cake is the perfect way to enjoy the amazing flavor of fresh rhubarb and strawberries all year-long. Long after the season has ended, I can prepare delicious recipes that highlight the delicious flavor of rhubarb and strawberries.
Rhubarb freezes incredibly well, so I stock the freezer with plenty of rhubarb to last all winter long in our favorite baking recipes. Each year, I harvest ripe stalks of rhubarb before washing and slicing into ½ inch pieces. I place them in a single layer on a small sheet pan in the freezer and leave them to freeze overnight. Once they are frozen solid, I transfer them to a freezer bag for long-term storage.
While rhubarb freezes well, I prefer to utilize our homemade strawberry jam rather than freeze the strawberries. By using jam, I can control the amount of liquid in the recipe and create a fruit filling that has a beautiful appearance and consistency. When combined with the rhubarb, brown butter, and oats, the results are delicious.
I hope that your friends and family will enjoy this delicious seasonal treat as much as we do here at 1840 Farm!
Rhubarb and Strawberry Brown Butter Crumble Cake
makes 6-8 servings
1 ½ cups (6 ounces) rhubarb, cut into ½ inch slices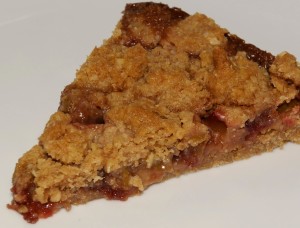 1 Tablespoon cornstarch
2 Tablespoons (1 ounce) butter
¼ cup (48 grams) granulated sugar
¼ cup (48 grams) brown sugar
1 Tablespoon vanilla extract
¼ cup (2 ounces) strawberry jam
1 ½ cups (180 grams) All-purpose flour
1 cup (80 grams) old-fashioned oats
2/3 cup (120 grams) brown sugar
1 ½ teaspoons cinnamon
½ teaspoon baking soda
½ teaspoon salt
12 Tablespoons (6 ounces) butter, cut into small pieces
1 teaspoon vanilla extract
Preheat oven to 350 degrees Fahrenheit.  Lightly butter an 8 inch springform pan.  Set aside.
Wash and trim the rhubarb stalks. Slice each stalk into ½ inch pieces and place them in a medium bowl. Add the cornstarch and toss gently to coat the rhubarb.
Make the brown butter. In a small skillet, melt the 2 Tablespoons of butter over medium heat. After the butter melts, you will notice that the milk solids will begin to separate.  Continue to cook, stirring occasionally to allow those solids to brown slightly.  You will notice a slight change in color and aroma.  Brown butter has a slightly nutty aroma which will signal that the solids have caramelized and that the brown butter has finished cooking. Remove the skillet from the heat.
Add the granulated sugar, brown sugar, vanilla, and strawberry jam to the warm skillet. Stir gently to fully combine the ingredients before adding them to the bowl with the rhubarb. Stir to coat the rhubarb with the brown butter mixture. Set aside.
In the bowl of a food processor, combine the flour, oats, brown sugar, cinnamon, baking soda, and salt. Pulse to combine. With the machine running, add the butter gradually. Add the vanilla extract and process until the mixture comes together and forms large clumps.
Transfer two thirds of the crumble mixture into the bottom of the prepared pan.  Press the mixture lightly to form a crust that completely covers the bottom the pan.  Stir the rhubarb strawberry mixture and pour over the crust, spreading to cover evenly.  Sprinkle the remaining crumble mixture evenly on top of the fruit filling.
Transfer the pan to the oven and bake the crumble in the preheated oven for 30 – 35 minutes until the topping has browned lightly and the fruit filling has thickened.  Remove from the oven to cool. Serve warm with a scoop of vanilla ice cream or fresh whipped cream.
---
To make sure that you don't miss any of our original content or favorite recipes, DIY projects, and homesteading advice, subscribe to The 1840 Farm Community Newsletter. Visit our subscription form to become the newest member of The 1840 Farm Community.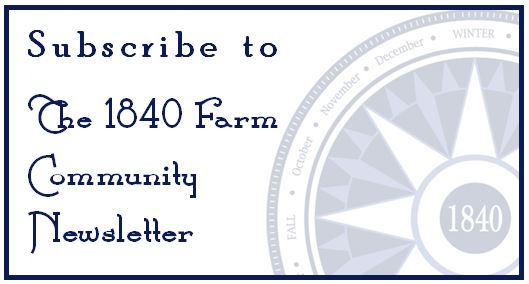 Our newsletter isn't the only way to follow what's happening here at 1840 Farm.
You're always welcome at 1840 Farm and at The 1840 Farm Mercantile Shop on Etsy.
You can also find 1840 Farm throughout the social media universe on
Facebook, Twitter, Pinterest, Instagram, Flickr, and Bloglovin'.
We even created a new 1840 Farm Community Newsletter Pinterest board to catalog
our newsletter content so that you could easily pin your favorites to your own boards.
Come add your voice to our conversation!
We'll hope to see you there!
---
Comments
comments