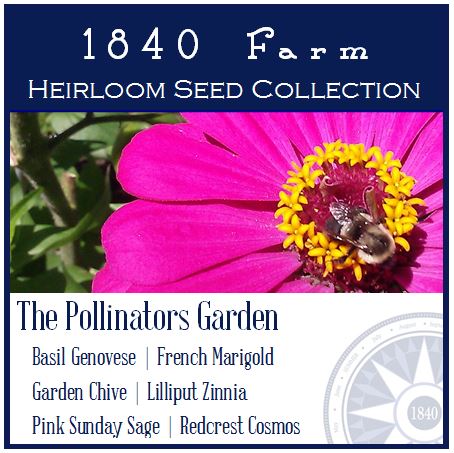 French Marigolds have a centuries old secret:  they aren't really French.  It is believed that they made their way to France in the 1500s.  An illustration of a striped French Marigold appeared as early as a 1791 edition of Curtis' Botanical Magazine.  This marigold was described as being yellow with red striped petals.
Centuries later, we still refer to some varieties as "French".  Perhaps this is a nod to the gardeners of France who worked diligently to cross their most beautiful specimens in a quest to better the blooms.  Or, it could simply be due to the fact that all things French were thought to be beautiful and of the highest quality at the time that the marigold first came to America.
American gardeners in that era were eager to  attempt to replicate the beautiful gardens in France.  Travelers took garden tours, carefully noting both the species and methods used to create France's most notable gardens.  One of those travelers was  the man who would become our young nation's third President:  Thomas Jefferson.
The French Marigold was a common sight in Colonial gardens, bringing beauty and utility to the garden plot.  In 1808, Jefferson wrote in his garden journal about having two varieties of marigold in his gardens at Monticello in Virginia.  It is believed that the French Marigold was one of the two varieties that he had growing on the grounds at Monticello.  He often referred to the French variety as the "lesser African marigold" as it was thought to have made its way to France via Africa.
Jefferson enjoyed marigolds so much that he sent them to his granddaughter Anne.  Anne happily wrote to him, reporting that the two varieties of marigold seeds he had given them were still flourishing.  It is thought that the French Marigold was one of the two varieties he had sent her.
Marigolds were long thought to be poisonous due to their pungent aroma.  Gardeners believed that any flower with a strong, unpleasant scent was sure to be poisonous.  Centuries later, we can still use their scent and pest deterring qualities to our advantage in the tomato patch.
Marigolds make excellent companions for tomato plants.  Their pungent aroma is thought to help deter harmful nematodes who love to decimate the tomato patch.  They also bring beauty to the tomato garden by filling the space beneath the towering vines.
Their beneficial properties can be taken advantage of long after the growing season has ended.  Allow spent marigold plants to dry in the garden at the end of your growing season.  Before the first frost, break the dried marigold plant into small pieces and turn them under the top layer of the soil.  Doing so will discourage nematodes from overwintering in your garden's soil, giving next year's plants a head start on overcoming these garden pests.
Tennis Ball Heirloom Lettuce is one of the four varieties included in our The Pollinators Garden Heirloom Seed Collection available in The 1840 Farm Mercantile Shop on Etsy.  The 2014 Heirloom Seed Collection is a collaboration between 1840 Farm and Fresh Eggs Daily.  Together, we have curated our favorite heirloom varieties into collections that are ideally suited for growing together.  The heirloom, non-GMO seeds in our collection are from family owned seed purveyor Baker Creek Heirloom Seed Company.
We invite you to join The 1840 Farm Community on Facebook and Fresh Eggs Daily on Facebook to share updates from your garden and keep up to date on what we're harvesting from our heirloom gardens. We'll also be sharing regular garden updates along with fresh, seasonal recipes in our 1840 Farm Community Newsletter and The Fresh Eggs Daily Newsletter.  In the meantime, you can view photos from the gardens at 1840 Farm by visiting our Garden Photo Tour.  More photos will be added as we progress through the 2014 growing season.
Comments
comments