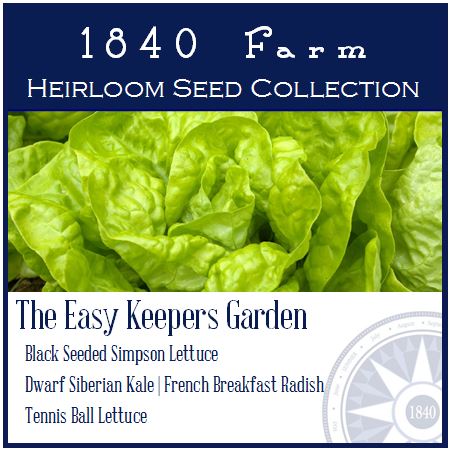 We have been growing heirlooms here at 1840 Farm since 2006.  Every summer, we embark on a challenge that lasts through the entire growing season:  we try to grow heirloom tomatoes from seed.  For added fun, we add in a geography component to the challenge.
Here in New England, we have a painfully short 90 day growing season.  In the case of tomatoes, peppers, and other warm weather loving crops, that short 90 day window can be a race against time.  Once we have finally arrived at the last frost date and can introduce those plants into the garden, the race is on.
Maybe that never-ending battle with the calendar is why I love the heirloom varieties that are so much easier to grow.  They are more tolerant of our cool evenings and short growing season.  These varieties don't need to be started weeks earlier inside the farmhouse.  Instead, they can be directly sown into the garden soil while temperatures are still much cooler thank our beloved tomatoes will tolerate.
The 1840 Farm Heirloom Easy Keepers Collection includes heirloom varieties that are perfectly suited for the beginning or casual gardener. Each of the varieties can be directly sown into a small garden plot or in containers. They are also among our favorite varieties to plant in the gardens at 1840 Farm. The Easy Keepers Garden includes four historic heirloom varieties:
+ Black Seeded Simpson Lettuce
+ Dwarf Siberian Kale
+ French Breakfast Radish
+ Tennis Ball Lettuce
The 1840 Farm Heirloom Easy Keepers Collections available in The 1840 Farm Mercantile Shop on Etsy.  The 2014 Heirloom Seed Collection is a collaboration between 1840 Farm and Fresh Eggs Daily.  Together, we have curated our favorite heirloom varieties into collections that are ideally suited for growing together.  The heirloom, non-GMO seeds in our collection are from family owned seed purveyor Baker Creek Heirloom Seed Company.
This year, 1840 Farm offers five heirloom seed collections for purchase. The 1840 Farm Favorites Garden includes six of our favorite varieties to plant in the gardens here at 1840 Farm. The Easy Keepers Garden includes four varieties that are perfect for the beginning gardener and can be sown directly into a small garden plot or containers. The Pollinators Garden features six flowering plants that will help to attract beneficial pollinators to your garden. Our Three Sisters Garden includes four packets of seed that allow you to enjoy delicious produce and an American history lesson as you put into practice one of the oldest forms of companion planting.   The Tomato Lover's Garden features six of our favorite heirloom tomato varieties.
We invite you to join The 1840 Farm Community on Facebook and Fresh Eggs Daily on Facebook to share updates from your garden and keep up to date on what we're harvesting from our heirloom gardens. We'll also be sharing regular garden updates along with fresh, seasonal recipes in our 1840 Farm Community Newsletter and The Fresh Eggs Daily Newsletter.  In the meantime, you can view photos from the gardens at 1840 Farm by visiting our Garden Photo Tour.  More photos will be added as we progress through the 2014 growing season.
Comments
comments