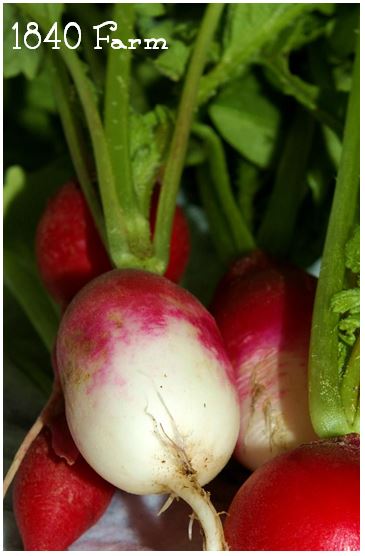 Here at 1840 Farm, we eagerly await radish season each spring.  Radishes are the first vegetable crop harvested from our garden and announce the happy arrival of the growing season.  They also enable us to enjoy eating a spring menu favorite:  sliced radish tartine.
French Breakfast Heirloom Radishes are always among the radishes planted in the 1840 Farm garden.  They are beautiful and delicious.  They have a crisp exterior and are full of earthy flavor.
The French Breakfast appeared in French markets in the late 1870s.  This variety is more cylindrical in shape than others.  It exhibits its trademark coloring, with rosy pinkish red shoulders that fade to almost pure white at its tip.
Radish greens can be used as spicy salad greens or added to the compost heap.  If you are lucky enough to keep chickens  or ducks, serve the greens as a fresh treat.  Our hens come running when they see us in the radish beds, knowing that a delicious treat will be soon to follow.
Long before our beloved tomatoes are ripe or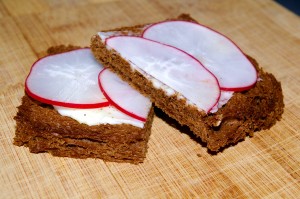 the raspberries are ready for picking, we can count on our heirloom radishes to be at their best.  In a matter of minutes, we can select a few radishes and make delicious tartines.   Taking that first bite seems like a delicious way to celebrate the arrival of another growing season.
The French Breakfast Heirloom Radish is one of the four varieties included in our Easy Keepers Heirloom Seed Collection available in The 1840 Farm Mercantile Shop on Etsy.  The 2014 Heirloom Seed Collection is a collaboration between 1840 Farm and Fresh Eggs Daily.  Together, we have curated our favorite heirloom varieties into collections that are ideally suited for growing together.  The heirloom, non-GMO seeds in our collection are from family owned seed purveyor Baker Creek Heirloom Seed Company.
We invite you to join The 1840 Farm Community on Facebook and Fresh Eggs Daily on Facebook to share updates from your garden and keep up to date on what we're harvesting from our heirloom gardens. We'll also be sharing regular garden updates along with fresh, seasonal recipes in our 1840 Farm Community Newsletter and The Fresh Eggs Daily Newsletter.  In the meantime, you can view photos from the gardens at 1840 Farm by visiting our Garden Photo Tour.  More photos will be added as we progress through the 2014 growing season.
Comments
comments