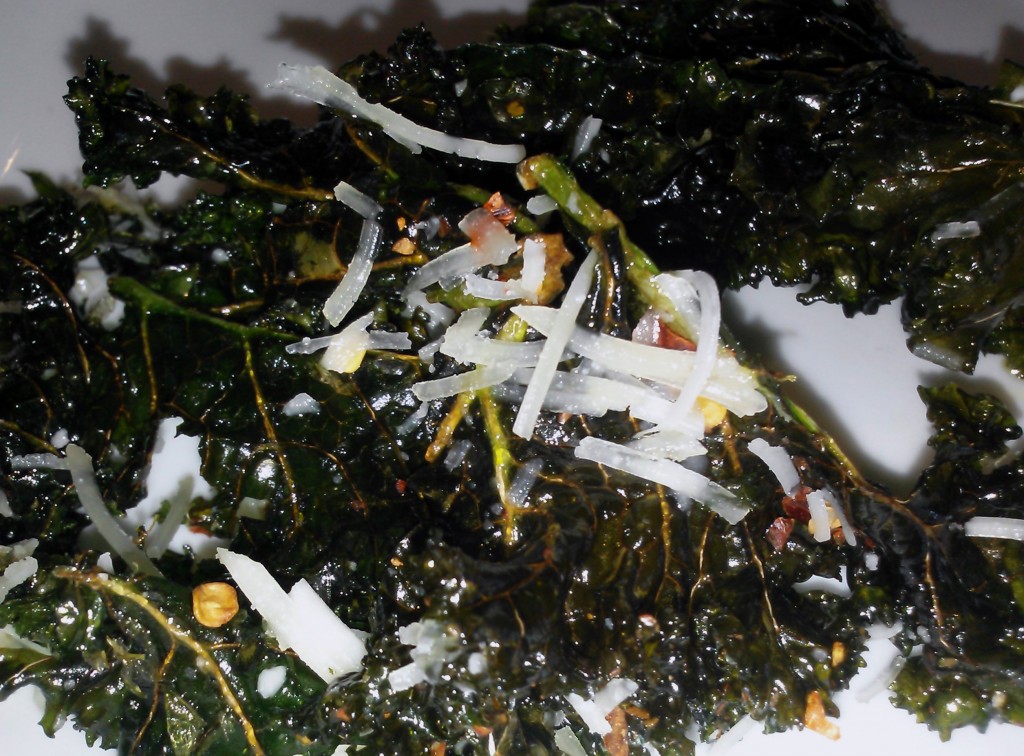 Each year, it seems that a particular food takes center stage.  Suddenly, it appears in the food sections of popular magazines, on the menus of my favorite restaurants, and in the cookbook section of our local bookstore.  For the past year or so, that food has been kale.  Everywhere I look, there seems to be kale prepared in one form or another.  Every time I taste it, I am left wondering why kale ever fell out of favor on our dinner plates here in America.
Kale is beautiful, delicious, and packs a powerful boost of nutrition in every leaf.  Researches boast that they have identified more than 45 individual flavonoids in kale.  Kale is a cruciferous vegetable and believed to be both anti-inflammatory and a powerful antioxidant.  Kale contains Vitamin K, Vitamin C, beta carotene, lutein, and calcium.
Dwarf Siberian Kale hails from Russia, so it prefers cooler temperatures, making it ideal for cultivating as an early season and late season crop in the garden.  Here in New England, kale tolerates our cooler evenings without any need for added protection.  In warmer parts of the country, kale is an excellent crop for fall and early winter growing.
This variety matures quickly, reaching its first harvest in a mere 50 days.  The mature plants reach approximately 14 inches in height and feature large, softly ruffled leaves that are a beautiful dark green color.  The inner leaves can be harvested throughout the season until damaging cold weather arrives, allowing the main plant to continue thriving and producing delicious leaves.
When our kale is ready for harvest, we add it to stir fry dishes and pastas.  We also enjoy it served lightly sautéed in sesame oil with red pepper flakes, a drizzle of soy sauce, and a light sprinkling of cheese.  When colder weather arrives, we find ourselves adding chopped kale to soups and chili with delicious results.  Given its delicious flavor, versatility on the plate, and nutritional benefits, it's easy to see why kale has become so popular.
As I was preparing this post, I came to a powerful realization:  I didn't have a single photo of kale growing in our heirloom garden.  Instead, I had a full collection of kale being featured on our dinner plates.  Perhaps that fact is the biggest testament to the delicious flavor of kale that I could share.  This year, I intend to enjoy kale while it grows in the garden and when it is served at our family table.  Who knows, I might even remember to take a picture of its beautiful leaves while it is still in the garden!
Dwarf Siberian Heirloom Kale is one of the four varieties included in our Easy Keepers Heirloom Seed Collection available in The 1840 Farm Mercantile Shop on Etsy.  The 2014 Heirloom Seed Collection is a collaboration between 1840 Farm and Fresh Eggs Daily.  Together, we have curated our favorite heirloom varieties into collections that are ideally suited for growing together.  The heirloom, non-GMO seeds in our collection are from family owned seed purveyor Baker Creek Heirloom Seed Company.
We invite you to join The 1840 Farm Community on Facebook and Fresh Eggs Daily on Facebook to share updates from your garden and keep up to date on what we're harvesting from our heirloom gardens. We'll also be sharing regular garden updates along with fresh, seasonal recipes in our 1840 Farm Community Newsletter and The Fresh Eggs Daily Newsletter.  In the meantime, you can view photos from the gardens at 1840 Farm by visiting our Garden Photo Tour.  More photos will be added as we progress through the 2014 growing season.
Comments
comments