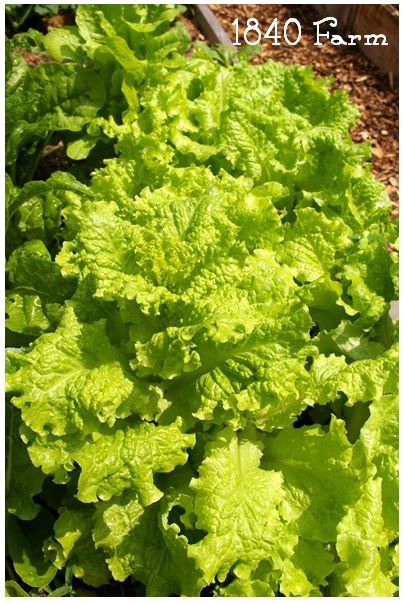 Black Seeded Simpson Heirloom Lettuce is a staple in our 1840 Farm garden every year.  I first tasted Black Seeded Simpson four years ago when I reached down on a sunny day to pull a fresh leaf from the lettuce bed.  One bite of a crunchy, ruffled leaf was all it took to make it one of my favorite tastes of summer.  Since then, I have come to appreciate its beauty as much as its flavor.
The color of this lettuce is stunning.  Its large, deeply textured leaves are a brilliant bright green color with just enough of an undertone of yellow to stand out among the other lettuces we grow.  Each leaf is large and reaches upright towards the sun.
Black Seeded Simpson is quick to mature, making it one of the first fresh harvests from our raised bed garden each year.  Throughout the season, it resists bolting unlike many other lettuces that we have tried.  This variety consistently thrives during the heat and drought of the summer.
Black Seeded Simpson is a loose leaf variety of lettuce.  Instead of growing in tight heads, it produces individual, loose, leaves attached to a central stalk.  This growing habit allows leaves to be harvested throughout the growing season without disturbing the plant.  This method of harvest when paired with succession planting will ensure a steady crop of delicious greens all summer long.  It's no wonder that gardeners have been growing Black Seeded Simpson in their salad gardens for over 150 years!
Black Seeded Simpson Heirloom Lettuce is one of the four varieties included in our Easy Keepers Heirloom Seed Collection available in The 1840 Farm Mercantile Shop on Etsy.  The 2014 Heirloom Seed Collection is a collaboration between 1840 Farm and Fresh Eggs Daily.  Together, we have curated our favorite heirloom varieties into collections that are ideally suited for growing together.  The heirloom, non-GMO seeds in our collection are from family owned seed purveyor Baker Creek Heirloom Seed Company.
We invite you to join The 1840 Farm Community on Facebook and Fresh Eggs Daily on Facebook to share updates from your garden and keep up to date on what we're harvesting from our heirloom gardens. We'll also be sharing regular garden updates along with fresh, seasonal recipes in our 1840 Farm Community Newsletter and The Fresh Eggs Daily Newsletter.  In the meantime, you can view photos from the gardens at 1840 Farm by visiting our Garden Photo Tour.  More photos will be added as we progress through the 2014 growing season.
Comments
comments