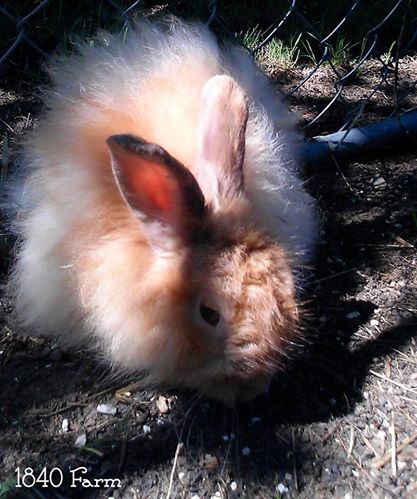 This is Herbert Menninger our French Angora Rabbit.  We first met him in the spring of 2011.  It was a casual meeting at a small family farm.  When I say casual, I mean that I casually mentioned how beautiful he was to the farmer who owned him.
We weren't looking for a rabbit to add to our barnyard.  Instead, we had come to visit this farm to meet a pair of dairy goats we were considering purchasing.
It seemed harmless enough to mention that this rabbit was strikingly handsome.  He simply was.  Within moments, the farmer mentioned that they were hoping to find several of their rabbits new homes.  Then she went the extra step and suggested that this rabbit could come home to live with our family if we wanted him to.
We hadn't gone to visit her farm expecting to see a rabbit, much less agree to bring one home.  As we left,  I told her that we would consider her kind offer just as we were considering the dairy goats she had available.  As I drove home, I came to a powerful realization:  we needed to make room in the barn for the most adorable rabbit I had ever seen.
As I said, we weren't expecting to add a rabbit to our farm.  I had been poring over books about dairy goats and reading blogs written by goat keepers.  I had been putting myself through a crash course in preparation for adding a few goats to our farm.  Now I needed to get ready to bring this fluffy little guy home to live with us.
I had a rabbit as a child, but the world of fiber rabbits was new to me.  We started out by gathering information from our favorite homesteading publications along with the tools and supplies that would help this rabbit make himself at home.  A few weeks later, he did indeed take a car ride and come home with us.
In moments, he had surveyed his hutch, tested his water bottle, and settled in for a nap.  As we watched him, I came to another realization:  we had just brought our 170 year old barn back to its original purpose.  Our barn was no longer simply a place to store the tractor, workshop, and potting shed.  It was a shelter for the animals that helped turn our home into a working homestead.  Our barn had come back to life with the simple addition of this small rabbit.
Within days, we had renamed this handsome rabbit and had fallen in love with his gentle demeanor.  From the moment he arrived, he has been sweet and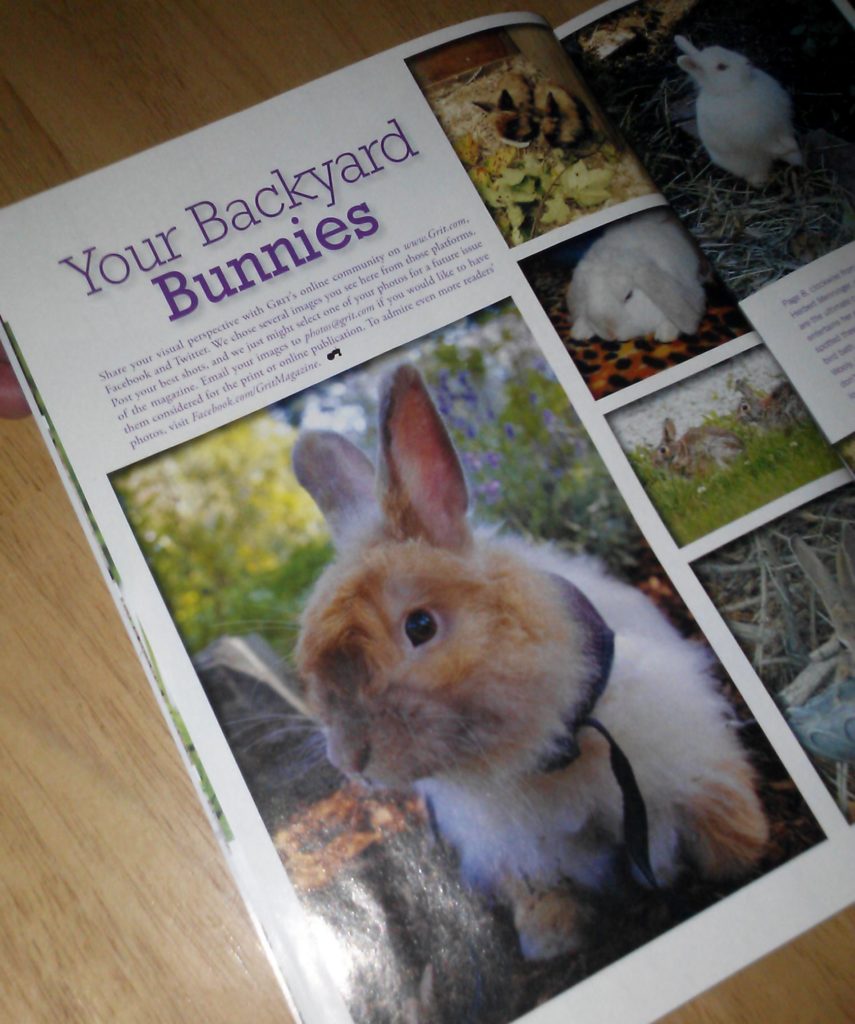 gentle.  Watching Herbert enjoy a sunny day outside is my favorite way to end a long day spent working in the garden.
A month later, our first Nigerian Dwarf dairy goats came home to join Herbert in our barn.  That was almost three years ago.  The barn is full of life and it is nearly impossible to imagine a time when it wasn't.  I hope that it will always provide shelter for animals that call our farm home.
This year, GRIT Magazine published their annual Guide to Backyard Rabbits.  The issue is filled with a collection of useful articles covering topics from preparing to care for your first rabbit by gathering the necessary supplies and tools, helping your rabbit handle the summer heat, and exhibiting at rabbit shows.  It also includes something very special:  a photo of 1840 Farm's very own Herbert Menninger!
Sure enough, you'll find Herbert in a gallery of adorable rabbit photos on page 8 and 9 in this year's issue.  Seeing his photo in GRIT's Guide to Backyard Rabbits seemed like a moment to celebrate.  So, we've invited a few of our favorite rabbit loving companies to participate in a giveaway for all of you who keep rabbits in your life or may be adding new rabbits this spring.
Our Backyard Rabbit Giveaway is a fantastic collection of our favorite rabbit keeping tools.  Two lucky winners will be randomly selected and win: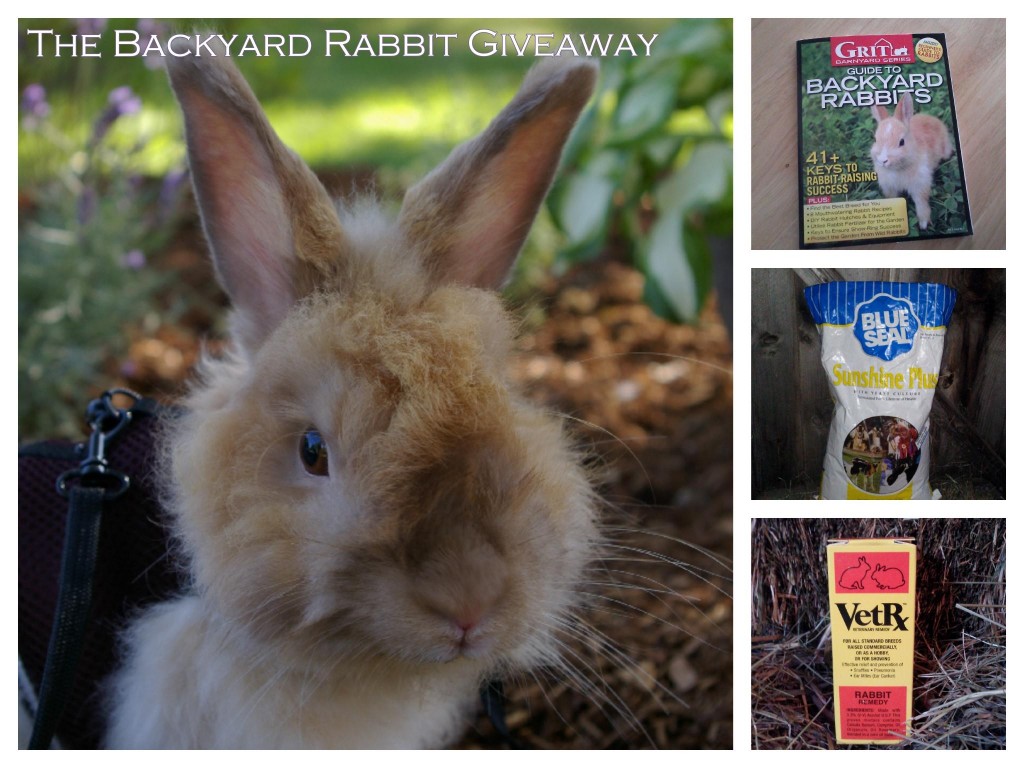 Here at 1840 Farm, we look forward to receiving our issue of GRIT Magazine each month.  You might say that it is a family tradition that goes back at least three generations.  My Great Grandfather read his GRIT Newspaper each night after the day's work was done and the dairy farm had been put to bed for the evening.  I find myself reading it over 50 years later to gather new ideas and information for tending to our family farm each month.
We have been using Blue Seal Feeds since we became chicken keepers in 2010.  Our chickens are fed Organic Life throughout each their lives.  Our goats love their Caprine Challenger feed and have maintained excellent health and lactation levels.  We love using Sunshine Plus as a nutritional supplement to provide beneficial yeast cultures and vitamins and minerals for our dairy goats and rabbit.
We do our best to keep a well stocked medicine cabinet in our barn.  While I would like to think that our good husbandry practices are enough to ensure that our animals will always be in good health, I know that some accidents and illnesses are far beyond my control.  For the unexpected moment when I find that one of our animals isn't in top form, I find comfort in knowing that our medicine cabinet will have exactly what I need to help them fully recover to good health in a timely fashion.
We always keep VetRx on hand in each formula for our animals here at 1840 Farm.   Our medicine cabinet wouldn't seem complete without VetRx formulas for our dog, chickens, goats, and rabbit.  I have found each formula to be incredibly effective at treating a host of ailments.  It's no wonder that these formulas have been available for over 100 years!
I hope that you will take a moment and enter for a chance to win The Backyard Rabbits Giveaway.  We'll contact the two lucky winners via Email on Friday, April 5th.  Good luck to all who enter!
Giveaway ends Thursday, April 10th at 11:59 PM EST. Open to Residents of the US only.  Prizes cannot be shipped to PO Boxes.  Winner will be selected by Random.org and be notified by email. Winner will be given 72 hours to respond to notification Email before a new winner is selected. The products are offered for the giveaway free of charge, no purchase necessary. Facebook, Pinterest, and Twitter are in no way associated with this giveaway.  The information you provide will be kept private and will not be shared and will not be used for any purpose other than to contact the winner.
Comments
comments