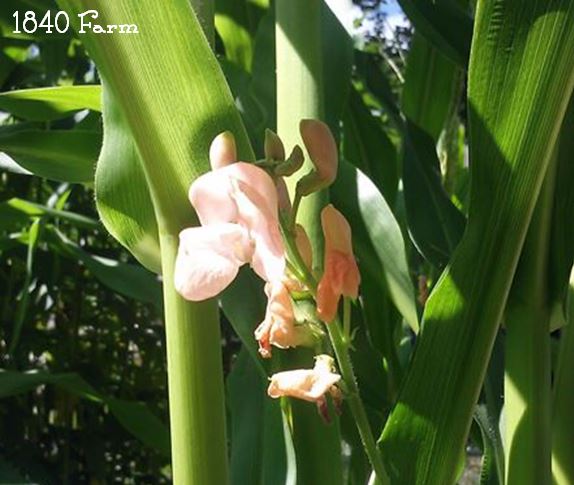 The Sunset Runner Bean is beloved for its ability to bring beauty and a nutritious crop to your garden plot.  The beautiful salmon pink colored blooms are unique to the sunset variety of runner bean.  The vines can grow to be six feet tall and make a wonderful climbing vine for arbors and trellises.  Continually harvesting the pods will encourage the plant to keep producing until the first freeze.
While there are many varieties of runner beans, the sunset is unique in many ways.  First, the seeds are a beautiful, dark black color. The climbing vines bear their beautiful pink blossoms early and continue to produce edible pods and beans during the growing season.   While some beans have only one purpose in the kitchen, the Sunset Runner Bean is delicious when used as a fresh snap bean, canned or frozen for later use, or as a dried bean.
The Sunset Heirloom Runner Bean is one of the most beautiful plants that we grow in the garden at 1840 Farm.  Its hardy vine and beautiful flowers are a constant throughout the summer.  We love to walk through the paths in between the raised beds and snap fresh pods straight off the vine.  Most of them are eaten right in the garden and never make it back to the farmhouse.  Those that do are blanched briefly before being sautéed lightly in butter.  Either way, they're a delicious, healthy treat straight from the garden.
The Sunset Runner Heirloom Bean is one of the four varieties included in our Three Sisters Garden Heirloom Seed Collection available in The 1840 Farm Mercantile Shop on Etsy.  The 2014 Heirloom Seed Collection is a collaboration between 1840 Farm and Fresh Eggs Daily.  Together, we have curated our favorite heirloom varieties into collections that are ideally suited for growing together.  The heirloom, non-GMO seeds in our collection are from family owned seed purveyor Baker Creek Heirloom Seed Company.
We invite you to join The 1840 Farm Community on Facebook and Fresh Eggs Daily on Facebook to share updates from your garden and keep up to date on what we're harvesting from our heirloom gardens. We'll also be sharing regular garden updates along with fresh, seasonal recipes in our 1840 Farm Community Newsletter and The Fresh Eggs Daily Newsletter.  In the meantime, you can view photos from the gardens at 1840 Farm by visiting our Garden Photo Tour.  More photos will be added as we progress through the 2014 growing season.
Comments
comments