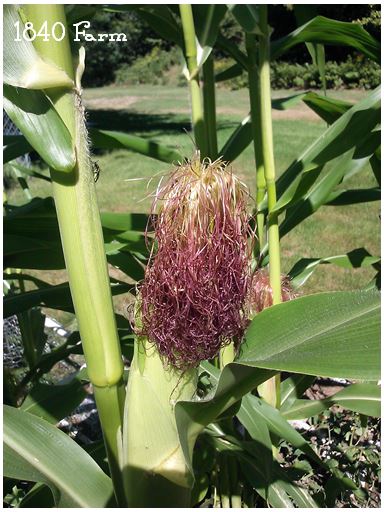 Biting into a perfectly ripe ear of sweet corn is a summer rite of passage.  There's just something about the sweet, juicy flavor of sweet corn that instantly transports me back to my childhood.  When I watch my children enjoying an ear of corn grown in our garden, I know that they are building a memory that will stay with them for years to come.
Stowell's Evergreen is an heirloom variety that dates back to the mid 1800s.  Nathaniel Stowell lovingly crafted this sweet corn by crossing Menomony Soft Corn and Northern Sugar Corn.  The resulting corn combined the best traits from both.
In 1855, Nathaniel agreed to sell two ears of seed corn to a friend with the understanding that they would only be used in his family garden.  They settled on a price of $4.00.  Unfortunately for Mr. Stowell, his friend promptly sold those two ears to an established seed company for an incredible $20,000!  In 1856, Thoburn and Company Seed offered Stowell's seed for sale to their customers.
More than 150 years have passed since Nathaniel watched as his beloved sweet corn's future slipped between his fingers.  Somehow, I feel like I'm helping to right a wrong when I plant these heirloom seeds in our family garden.  I can only imagine that Mr. Stowell hoped that generations of family farmers and gardeners would lovingly grow his corn for their family.  I hope that you will join me in growing Stowell's Evergreen Heirloom Sweet Corn for your family' table.
Stowell's Evergreen Heirloom Sweet Corn is one of the four varieties included in our Three Sisters Garden Heirloom Seed Collection available in The 1840 Farm Mercantile Shop on Etsy.  The 2014 Heirloom Seed Collection is a collaboration between 1840 Farm and Fresh Eggs Daily.  Together, we have curated our favorite heirloom varieties into collections that are ideally suited for growing together.  The heirloom, non-GMO seeds in our collection are from family owned seed purveyor Baker Creek Heirloom Seed Company.
We invite you to join The 1840 Farm Community on Facebook and Fresh Eggs Daily on Facebook to share updates from your garden and keep up to date on what we're harvesting from our heirloom gardens. We'll also be sharing regular garden updates along with fresh, seasonal recipes in our 1840 Farm Community Newsletter and The Fresh Eggs Daily Newsletter.  In the meantime, you can view photos from the gardens at 1840 Farm by visiting our Garden Photo Tour.  More photos will be added as we progress through the 2014 growing season.
Comments
comments