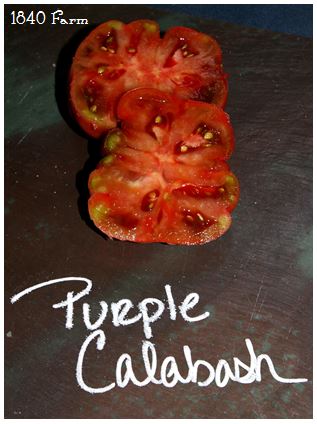 Purple Calabash Heirloom Tomatoes have been in the 1840 Farm vegetable gardens since our first summer living here in 2006.  Every year, we look forward to that first slice of Purple Calabash still warm from the sunshine.  If I had to choose just one tomato to grow, this variety would be in the running.
The Purple Calabash has a rich flavor and striking appearance.  The ripened fruits are slightly flattened and beautifully ruffled with a burgundy to deep purple color.  The vines are prolific producers of medium fruits around 3″ wide.
The taste of the Purple Calabash is often compared to red wines such as Cabernet.  The taste is rich and full of old-fashioned tomato flavor with just the right blend of sweetness and acidity.  The flesh is smooth and meaty with evenly distributed seeds.  We love to enjoy this tomato on freshly grilled panini with mozzarella and basil.  The flavor of the Purple Calabash really sings when it is used in a slowly simmered tomato sauce.
One bite of a perfectly ripe Purple Calabash Heirloom Tomato and you would understand why we love this variety so much.  Every year, I expect to find a new variety that I will enjoy just as much. It's been seven years and I still haven't found a tomato that can compete in terms of appearance, yield, or more importantly, taste.  Next year, there will again be Purple Calabash tomato seedlings growing in the heirloom garden at 1840 Farm.
Comments
comments