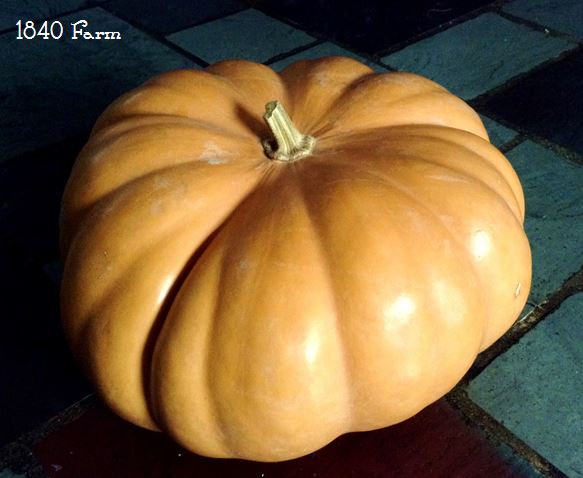 There are few images more synonymous with autumn than that of a ribbed, round pumpkin.  Each fall, the Long Island Cheese Heirloom Squash grown in our garden move inside the house.  They decorate the farmhouse during the season and through our Thanksgiving holiday.  Once fall turns to winter and Thanksgiving yields to Christmas, those beautiful squash are stored for serving at our family table.
Throughout the fall and winter, we use each squash in our favorite hearty dishes.  We clean each squash, cubing the flesh before freezing it for use in a variety of dishes throughout the long New England winter.  The seeds become a healthy treat for the heritage breed hens that live here at 1840 Farm.  They eagerly greet us at the door of their run when squash seeds are on the menu.
I love pumpkins of every size, shape, and color.  The Long Island Cheese is perhaps my favorite.  Its appearance is unique, with a slightly flattened shape and heavy ribbing.  Its skin is smooth with tan undertones.  The name originates from its strong resemblance to a wheel of cheese.
The Long Island Cheese Squash is very well suited for use in pies and pureed dishes.  The flavor is slightly sweet with a balanced earthiness.  When fully cooked, its texture is smooth and velvety.  It is equally delicious is savory and sweet preparations.
The Long Island Cheese stores very well.  It's not uncommon to find whole squash in the farmhouse at 1840 Farm long after we have celebrated the arrival of the New Year.  As soon as we have finished the last cube of squash, we begin dreaming of planting the next crop of Long Island Cheese in the gardens at 1840 Farm.
The Long Island Cheese Heirloom Squash is one of the four varieties included in our Three Sisters Garden Heirloom Seed Collection available in The 1840 Farm Mercantile Shop on Etsy.  The 2014 Heirloom Seed Collection is a collaboration between 1840 Farm and Fresh Eggs Daily.  Together, we have curated our favorite heirloom varieties into collections that are ideally suited for growing together.  The heirloom, non-GMO seeds in our collection are from family owned seed purveyor Baker Creek Heirloom Seed Company.
We invite you to join The 1840 Farm Community on Facebook and Fresh Eggs Daily on Facebook to share updates from your garden and keep up to date on what we're harvesting from our heirloom gardens. We'll also be sharing regular garden updates along with fresh, seasonal recipes in our 1840 Farm Community Newsletter and The Fresh Eggs Daily Newsletter.  In the meantime, you can view photos from the gardens at 1840 Farm by visiting our Garden Photo Tour.  More photos will be added as we progress through the 2014 growing season.
Comments
comments