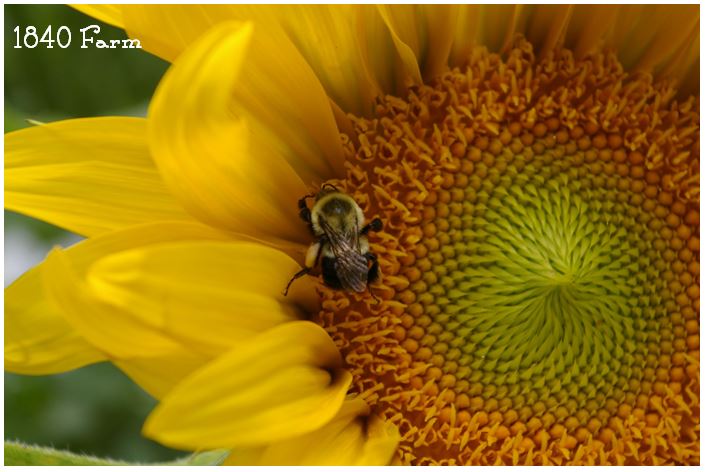 The Hidatsa Heirloom Sunflower is named for the Hidatsa Tribes who made their home in the Northern Plains along the Mississippi River's floodplain.  Their style of companion planting with corn, maize, and squash varied slightly from the Wampanoag's traditional Three Sisters Garden. The Hidatsa added sunflowers to their gardens and planted their seeds in a square pattern rather than the circular style of the Wampanoag.
No matter the shape of the garden, the technique is similar and certainly an early example of what we now call companion planting.  While the method is simple, the results can be dramatic.  Planting beneficial crops in close proximity not only encourages each plant to be healthier, but makes the work of tending the garden easier and the harvest more bountiful.  Adding the Hidatsa Sunflower to a Three Sisters Garden infuses the space with bright beautiful color and helps to attract beneficial pollinators to the garden.
The Hidatsa Heirloom Sunflower can grow to an impressive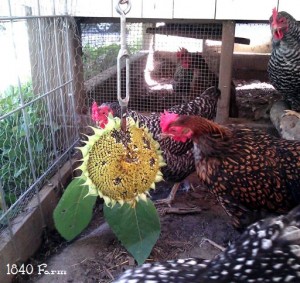 height of eight feet tall. Each stalk will produce a large central flower head and several smaller heads on side-shooting stems. Its seeds are sizable enough to be harvested and used as food.  Here at 1840 Farm, we prefer to treat our heritage breed hens to the spent blooms.  Watching them enjoy their sunflower seed pinata on a sunny day is pure entertainment.
The Hidatsa Heirloom Sunflower is one of the four varieties included in our Three Sisters Garden Heirloom Seed Collection available in The 1840 Farm Mercantile Shop on Etsy.  The 2014 Heirloom Seed Collection is a collaboration between 1840 Farm and Fresh Eggs Daily.  Together, we have curated our favorite heirloom varieties into collections that are ideally suited for growing together.  The heirloom, non-GMO seeds in our collection are from family owned seed purveyor Baker Creek Heirloom Seed Company.
We invite you to join The 1840 Farm Community on Facebook and Fresh Eggs Daily on Facebook to share updates from your garden and keep up to date on what we're harvesting from our heirloom gardens. We'll also be sharing regular garden updates along with fresh, seasonal recipes in our 1840 Farm Community Newsletter and The Fresh Eggs Daily Newsletter.  In the meantime, you can view photos from the gardens at 1840 Farm by visiting our Garden Photo Tour.  More photos will be added as we progress through the 2014 growing season.
Comments
comments