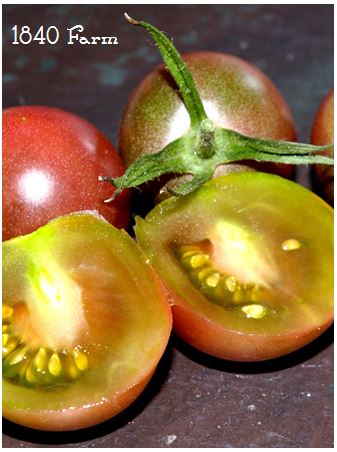 We love cherry tomatoes here at 1840 Farm.  It just wouldn't be summer, or tomato season as we like to call it, without enjoying the experience of strolling through the raised bed garden and plucking a warm cherry tomato directly from the vine before popping it into your mouth.  Every year, we plant several varieties of heirloom cherry tomatoes and every year we declare the Black Cherry to be our favorite.
We plant dozens of Black Cherry Heirloom Tomato plants in the 1840 Farm gardens each year.  At the height of the harvest, we pick pounds of these beautiful little orbs every day.  We eat an abundance of them fresh and oven roast others for fresh pasta dishes.  We also put them up for the long New England winter that lies ahead.
We have found that these cherry tomatoes are ideally suited for long-term storage in the freezer.  Washed Black Cherry tomatoes are allowed to air dry before freezing them in a single layer on a baking tray overnight.  Once they are frozen solid, we transfer them to freezer bags and store them for use during the long winter season.
This method of preservation is simple and effective.  We enjoy fresh tomato sauces with the intense flavor of these cherry tomatoes all winter long.  With each delicious bite, we are reminded that the next tomato season is one day closer.  During our long New England winter, that reminder is a very welcome sight!
Comments
comments