This loaf is the daily, go to homemade bread here at 1840 Farm.  We begin almost every morning with slices of this delicious bread lightly toasted, buttered, and topped with our favorite homemade preserves or local honey.  For dinner, a thick slice of this loaf makes the perfect base for savory open faced sandwiches.  When topped with our savory Heirloom Smoky Tomato or Caramelized Onion and Red Wine Jam, a bit of melted cheese, and a sunny side up egg gathered fresh from our coop, it's a dinner that the whole family is happy to see served at our farmhouse table.
This bread dough is simple to prepare, making it a lovely introduction to bread baking for a beginning bread baker.  The dough is sturdy and elastic, responding very well to kneading by hand or with a dough hook on a stand mixer. Whether you are a novice or accomplished bread baker, I hope that you will give this loaf a try and share it with your family.
---
These are the tools and ingredients that I use to create this loaf in our kitchen.  Clicking on the links will take you to exterior sites in order for you to learn more about each product. Some of these links are of the affiliate variety. Those links have not influenced my honest opinion or recommendation of these products.
---
1840 Farm Daily Loaf
makes 2 loaves
I like to mill our own organic, non-GMO flour to use in this recipe.  There's no need to pass up trying this recipe if you don't have the ability to mill your own flour. You can substitute high quality whole wheat flour and All-purpose flour.  I like to include Simply Omega-3 ground flaxseed in this loaf to add a boost of nutrition and a slightly nutty, earthy flavor to the finished loaf.  You could substitute ground flax or wheat germ if you prefer or omit it from the recipe.
I find that adding Grandma Eloise's Dough Enhancer helps to extend the shelf life of my homemade loaves by several days, but if you don't have it on hand, you can omit it from the recipe.  The resulting loaf will still be delicious, but the texture will be slightly more dense and the shelf life will be several days shorter.  You can learn more about the dough enhancer on my recipe for our Farmhouse Country Loaf.
2 cups (16 ounces) warm water
1 Tablespoon honey
1 Tablespoon active dry yeast
3/4 cup (6 ounces) plain or vanilla yogurt
3 1/2 cups (420 grams) whole wheat flour
3 1/2 cups (420 grams) All-purpose flour
1 Tablespoon Grandma Eloise Dough Enhancer
1 Tablespoon vital wheat gluten
1 Tablespoon Simply Omega-3 flax seed
1 Tablespoon kosher salt
Melted butter for brushing the finished loaves if desired
If you are using a dough proofer, preheat the proofer following the manufacturer's instructions as you prepare the dough.
In a large bowl, combine the warm water and honey, stirring to dissolve the honey.  Sprinkle the yeast over the mixture and set aside to bloom as you measure the dry ingredients, approximately five minutes.
Measure and combine all of the dry ingredients in a large bowl.  Use a whisk to mix the dry ingredients and evenly distribute them throughout the flour.  When the five minutes have elapsed, stir the liquid ingredients and then add the yogurt.  Mix until the yogurt is incorporated and the mixture is smooth.
Add the dry ingredients in one addition to the yeast mixture.  Using a dough hook on a stand mixer or a wooden spoon, mix until a shaggy dough forms.  If you are using a stand mixer, continue to mix the dough on the lowest setting for 5-10 minutes or until a smooth, elastic dough forms before turning it out onto a floured surface and kneading by hand until it passes the windowpane test.
If you are mixing the dough by hand, turn the shaggy dough out onto a floured surface or dough mat.  Knead the dough, adding more flour as necessary, until it passes the windowpane test, approximately ten minutes.
If you are unfamiliar with the windowpane test, the technique is quite simple but incredibly helpful when making a loaf of bread.  This windowpane test will help you to determine if your dough has been kneaded sufficiently to yield a wonderful finished loaf.  By using this technique, you will be certain that your homemade bread dough will produce a beautiful loaf of bread.
Conducting the windowpane test is simple.  After you have kneaded the dough to the point when you think that it is ready to be shaped into loaves, take a small ball of dough and stretch it between your fingers until it is thin and translucent (much like a window).  If the dough stretches without breaking, it has been kneaded long enough to develop the gluten and is ready to prepare for its rise.  If the dough breaks, continue kneading until it passes the test.
Once your dough passes the windowpane test, form the dough into a ball and allow it to rest on the counter for 5 to 10 minutes.  After the dough has rested, divide the dough into two even balls.  Shape each ball into a loaf and place in a lightly oiled loaf pan.
Using a sharp knife, make several slits in the surface of the loaf.  Scoring the loaf will allow the dough to rise and bake evenly without breaking the beautiful top crust.  Set the loaves aside to rise in a proofing chamber or a warm, draft free location.  Allow the loaves to rise until they have reached a height of approximately one inch above the top edge of the loaf pans.  Using my dough proofer, this takes about one hour.
As the dough nears the end of its rise, preheat the oven to 350 degrees.  If you have a pizza stone, this is a great time to put it to use.  I like to use stones when baking bread in order to deliver even heat to the bottom of the loaf as it bakes.  I find that my loaves bake more evenly when I have the stones in the oven during preheating and baking.
Once the loaf has risen sufficiently and the oven has reached temperature, transfer the loaves to the oven.  Bake for 40 to 45 minutes, turning at the halfway mark to ensure even browning.  When the loaves are fully baked, they will sound hollow when tapped on the bottom.  Remove the fully baked loaves from their pans to a wire rack. Top the loaves with melted butter if desired and  allow them to cool completely before slicing or storing.
Don't miss my post about the best way to store fresh bread to learn how you should be storing your fresh loaf of bread.  You can also learn more about My Favorite Bread Baking Tools and Ingredients and share your own with me.
---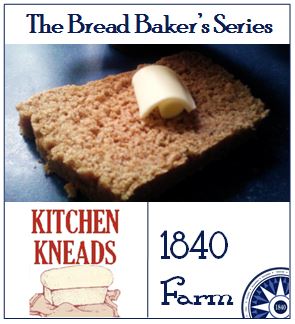 This recipe is part of The Bread Baker's Series, a collaborative series of posts from Kitchen Kneads and 1840Farm.  It's easy to make sure that you don't miss a single post in The Bread Baker's Series. Subscribe to The 1840 Farm Community Newsletter or join The 1840 Farm Community on Facebook, Twitter, or Pinterest. Be sure to subscribe to Kitchen Kneads Email updates and follow them on Facebook and Pinterest.
By following Kitchen Kneads and 1840 Farm, you'll be the first to see each post in our collaborative Bread Baker's Series. If you have a great bread baking tip or recipe to share, we invite you to leave a comment and add your voice to the conversation!
Comments
comments