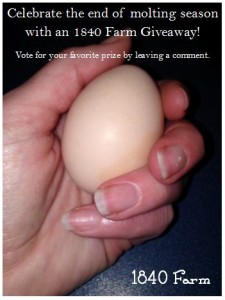 I have written before that molting season is the time that tries a chicken keeper's soul.  It seems cruel that just as the weather turns cold and the days turn dark, we find ourselves without any eggs waiting in the nest boxes as a reward for our chicken keeping chores. Feathers abound, but eggs become scarce or nonexistent.
Today, I made the most wonderful discovery when tending the chickens.  After eight egg free weeks, there was a beautiful brown egg was waiting for me nestled in the straw lining one of our nest boxes.  I let out such a commotion that our girls couldn't leave the coop to go outside fast enough!  Now I'd like to share the celebration with the entire 1840 Farm Community by having a good old fashioned Facebook page giveaway.
Visit our Facebook page to vote for the prize that you would like to have a chance to win.  I'll tally the votes over the weekend and share the giveaway with you on Monday morning.  You never know, if I keep finding eggs in the nest boxes and comments on the post, I just might feel the need to offer more than one prize.   I can't wait to hear what you would like to win in time for the holidays!
Comments
comments