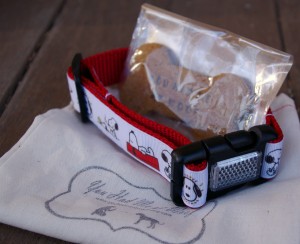 One of my favorite Facebook pages to follow is Read to Roo.  I love seeing Roo's smiling face in my newsfeed and sharing stories of his work with the members of The 1840 Farm Community on Facebook.  While I have never met Roo in person, I can't help feeling a connection to him.  Earlier this year, I published a post entitled, "The Greatest Dog" which explained that connection along with the fantastic work that he does to help enable children to become confident readers.
So, when Roo's page shared a photo of his new custom dog collar, I couldn't wait to learn more about it.  One click and I was in You Had Me at Woof's Etsy shop finding myself amazed at the wonderful collection of hand embellished collars they offered for sale.
I just knew that our farmhouse dog Pete Townshend needed his own collar from their dazzling assortment.  After looking through the selection, I found that it was difficult to choose just one design.  I liked so many of them!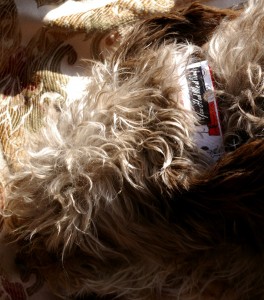 Then I saw a Snoopy collar and fell in love.  I have a lifelong love of all things Snoopy and this collar was perfect for me and for Pete.  Now all that was left for me to do was wait for Pete's collar to arrive in our mailbox.
When it did, I was eager to open the package and see the collar in person.  I was astounded at what was waiting inside.  Both the product and its packaging were unique and of the absolute highest quality.  With one collar, You Had Me at Woof had made me their newest fan.
The collar was packaged inside a stamped, reusable muslin bag.  The collar itself was sturdy and strong and  features a reflective safety clasp.  The embellishment detail is firmly attached and appears to be seamlessly integrated into the overall design of the collar and its appearance.  A beautiful ribbon detail with "You Had Me at Woof" was applied to the collar without compromising the look of the Snoopy collar.  Everything about the collar was beautiful.
The package wasn't the only thing that impressed me.  I also discovered a hand stamped, custom made dog treat waiting inside the package, Pete was suddenly very excited about a collar arriving in the mail.  I fastened the adorable Snoopy collar onto Pete's neck and rewarded him with the fresh biscuit.  Pete carefully carried the grain free pumpkin molasses dog treat to his favorite sunny spot in the window of our Parlor and ate every last crumb while sitting in the warm sunshine.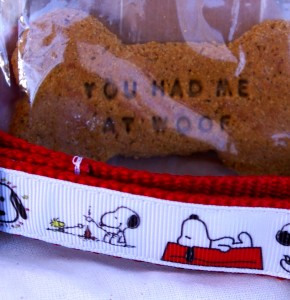 With the treat gone, he settled in and took a nap.  Snoopy may have preferred napping on top of his red dog house, but Pete's spot is the window.  Bathed in sunshine, both Pete and Snoopy seemed perfectly content.
Pete has been wearing his adorable collar for several weeks now.  I still love it just as much now as the day it arrived.  I can't help but smile when I see Snoopy and Woodstock toasting marshmallows over a campfire looking up at me when Pete stops by to see what I'm working on in the farmhouse kitchen.
You Had Me at Woof offers a wonderfully diverse selection of collars and accessories.  I hope that you will visit their Etsy shop to select something for the dog or dog lover in your life during this holiday season.   Their collection of holiday collars is amazing.  Pete just might need another collar to celebrate the season!
Pete has been a lucky dog lately, testing out several fantastic dog products here at 1840 Farm.  Now it's your turn to be the lucky one.  Several companies including Omega Fields, Goodwinol Products Corporation, and You Had Me at Woof have generously offered to add their products to our Dog Lover's Giveaway.  You can enter to win this fantastic prize package to share with your best friend or the dog lover on your holiday gift list.  Visit our post:  A Dog Lover's Giveaway to learn more and enter to win.
Good luck to all who enter!
---
The product reviewed in this post was sent to me free of charge in order to allow me to evaluate its use here at 1840 Farm. Samples of the products that I review are sent to me at no expense in order to allow me to use the product and evaluate its performance. The framework of our review process does not guarantee a positive review in exchange for the product provided. Our product reviews contain both facts about the product and my personal opinion of its performance while it was used at 1840 Farm.
I have personally learned which products would be a good fit for our farm by reading reviews written by other homesteaders and bloggers. It is in that vein that I choose to review products here. It is my hope that my reviews will help readers to determine which products might be best suited for use in their homes and on their homesteads.
Product reviews include my honest opinions about the product(s) reviewed. Products that do not meet our standards of daily use on our farm will not be reviewed. It is our goal to provide you with our personal experience using a product in a positive and informative manner so that you can determine its usefulness in your life. It is not our goal to negatively review a product that while not an ideal fit for our farm, might perform very well on yours.
For more information, please view our Disclosure Statement and Privacy Policy.
Comments
comments