A few months ago, I was invited to participate in the
Fennel Friday Cooking Club
by
The Hungry Goddess
.  It's not every day that a Goddess invites you to have fun in the kitchen playing with delicious ingredients.  I couldn't possibly say no, so I didn't.
Instead, I happily accepted the invitation and joined Fennel Friday.  A few days later, my first package of ingredients from Pollen Ranch arrived.  Since then, wonderfully aromatic tins of Pollen Ranch Spices have appeared in our mailbox here at 1840 Farm.
Each time I discover one in our mail, I eagerly open the envelope and am struck with a delicious aroma of the blend waiting inside.  The most recent blend was Herbes de Provence.  I love Herbes de Provence, but had never dreamed of adding fennel to the traditional mix of herbs.  I'm so glad that Pollen Ranch did, because the resulting blend is amazing!
Pollen Ranch's Herbes de Provence blend contains thyme, savory, oregano, rosemary, and lavender.  It is earthy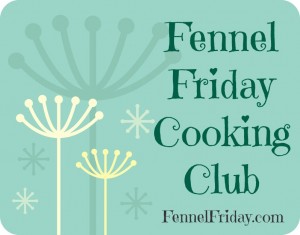 and bright with an underlying, slightly floral note.  The package recommends adding it to meaty dishes featuring game, beef, or pork.  We don't raise meat here on our farm, so we rarely serve it around our farmhouse table.
So, I set about to find something without meat that would pair well with this spice blend.  Luckily, I didn't have to look very long.  I had a pot of Caramelized Onion and Red Wine Jam bubbling away on the stove.  I had a hunch that this blend of herbs would provide a lovely accent to the jam, especially when paired with a small bit of cheese and a buttery cracker.
One bite and I was convinced that this was indeed a perfect pairing.  You don't need to take my word for it.  This combination would be a wonderful addition to your holiday cheese tray or appetizer course.  The jam is simple to make and can make use of leftover or even corked red wine.
Visit my original post, "Red, Wine, and Blue all Over" to find a recipe for a Caramelized Onion and Red Wine Jam Grilled Cheese Sandwich with my favorite blue cheese and to learn why a bottle of wine does go bad or become "corked".  I hope that you'll give the jam a try this holiday season.  It's delicious and sure to be a hit with your friends and family. It's always popular with mine!
Caramelized Onion and Red Wine Jam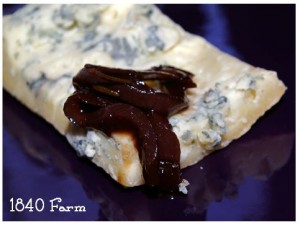 fills four half pint jars
While I typically use a bottle of less than perfect wine for this recipe, any red wine will do.  I have been known to freeze small portions of leftover red wine until I have enough to make a batch of this jam.  Frozen, corked, or leftover:  it just doesn't seem to matter.  This jam comes out delicious every time.  The finished jam can be canned by processing in half pint jars with 1/2″ headspace for 10 minutes in a hot water bath.
1 pound yellow onions, sliced thinly
1/2 cup (96 grams) brown sugar
4 Tablespoons honey
18 ounces red wine
4 ounces balsamic vinegar
2 teaspoons dried or 4 teaspoons fresh rosemary
2 teaspoons dried or 4 teaspoons fresh thyme
1/2 teaspoon sea salt
1/2 teaspoon ground pepper
Place a heavy bottomed pot over medium high heat.  Add sliced onions and cook, stirring occasionally for 10 minutes.  Add the brown sugar and stir to combine.  Reduce the heat to medium and continue to cook for 20 – 40 minutes, stirring often, until the onions are softened and caramelized.
Remove the pan from the heat, add the honey and stir to fully incorporate.  Add the remaining ingredients and return the pan to medium heat.  Bring the mixture to a boil.  Reduce the heat to a simmer and cook 20 – 30 minutes or until the liquid is thick and syrupy.
Taste for seasoning, break out the blue cheese, and enjoy while you prepare to make the world's most delicious grilled cheese sandwich.
Comments
comments