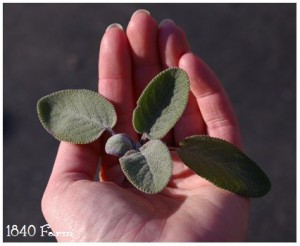 I have exciting news to share with all of you in The 1840 Farm Community.  On Monday, I will begin the Intermediate Herbal Course offered by The Herbal Academy of New England!
I have long been interested in natural approaches to restoring and encouraging good health.  When we began farming here several years ago, I became even more interested.  Each year, we began producing and growing more of our own food.  Each summer, we seemed to find more herbs that we wanted to add to our growing collection in the heirloom garden.
I have found that these natural, herbal methods can benefit both my family and the animals that call 1840 Farm home.  From the chickens that live in our two coops to the dog that rules the farmhouse, they all seem to be healthier and more productive when we provide them with naturally beneficial supplements to their daily diets.
At our family table, I have long used our own organic, non-GMO herbs in
a culinary fashion.  There just isn't anything that can't be improved by adding a pinch of this or that from our garden.  In fact, I was writing a post earlier today about using a blend of herbs to compliment a recipe that I have been making for years.  By adding just a pinch of herbs, the entire recipe was transformed into something new and original.
Over the course of the last few years, life has brought me full circle in a connection to the generations of my family that came before me.  Here I sit at 1840 Farm, 100 miles from the dairy farm that my Great Grandparents called home 50 years ago.
It took a move of over 1,400 miles and many years for my family to call this farm that also produces our own dairy products our home.  Three generations of my family call 1840 Farm home and we all work together to tend to the needs of the farm and our family.  As the time passes here at 1840 Farm, I find myself developing a deep respect and appreciation for the methods that my Great Grandparents saw as commonplace.  Unfortunately, those methods have been all too often cast aside.  Small scale farming has given way to industrialized, factory style farming and the shovel was long ago replaced by mechanical earth movers.
Today, we work the farm by hand.  In fact, I use a shovel that belonged to my Grandmother.  Every time I use it to turn the earth, I think of her.  I imagine her planting the garden and tending it by hand much as we do today.  She raised their food organically long before organic had become a selling point at the grocery store.  She harvested their garden bounty by hand before preparing or preserving it.  I love to do just the same here in our farmhouse kitchen.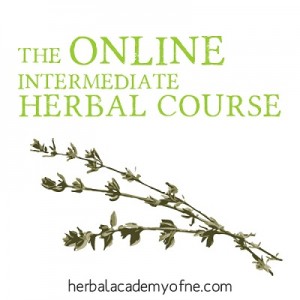 I think that their generation and those before them were also more connected to nature and natural methods of healing.  They had at least a rudimentary knowledge of beneficial plants and preparations because they had to.  I am hoping to gain more knowledge about these natural remedies because I want to.  I look forward to being able to incorporate them into my daily life and share them with my family and with you, my readers.
I will be sharing my experience as I take this course over the coming months.  I hope that you will enjoy following along with me, learning a few new methods of using nature's healing power and gaining a glimpse of what The Herbal Academy of New England has to offer.  Several of my favorite blogs are also sharing their experiences.  If you follow Fresh Eggs Daily, The Mind to Homestead, and The Nerdy Farm Wife, and 1840 Farm on Facebook, then you'll be learning a lot about The Herbal Academy over the coming months.  I have seen updates from all of their pages in my newsfeed this week announcing that they will be taking the course along with me.
If you are interested in joining me in the Intermediate Herbal Course, you can learn more about it by visiting the course description on The Herbal Academy of New England's Web site.  Their site offers a full detail of the topics covered in the course and a few fantastic links to posts with recipes and practical applications for the skills learned in the course.  I have a feeling that their instructions for elderberry cold syrup may come in handy this winter!
Comments
comments