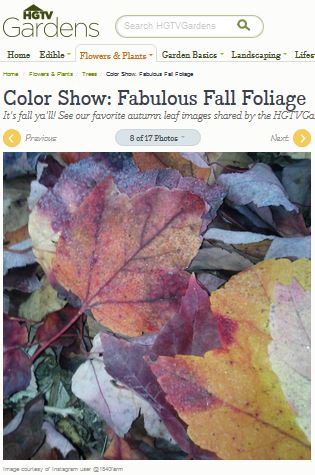 It's common for me to be sharing photos of 1840 Farm.  It's far less common for HGTV Gardens to contact me and ask if they can use one of those photos to show their readers the best of Fabulous Fall Foliage.  I didn't hesitate to give them my permission to display a photo of colorful fall leaves that had fallen from our beloved maple tree.
I have been sharing photos of the fall season over the past month on Facebook, Twitter, and Instagram.   Winter will be here before we know it and I'll be sharing photos of the farm nestled under its blanket of freshly fallen snow.  You won't want to miss any of it, so be sure to follow us through your favorite social media channel to catch the first snowflake.
Until then, visit HGTVGardens to see my photo displayed as number 8 in the collection.  The photos are all amazing, so take a moment and enjoy them all.  I can't wait to hear which photo is your favorite.  While I love photos of our farm, we simply can't hold a candle to number 17!
Comments
comments