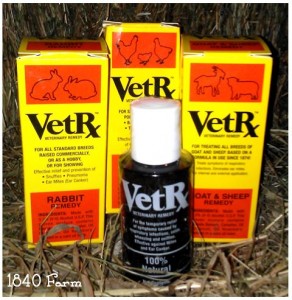 I live with my family in a house that is over 170 years old.  I plant heirloom seed varieties in our gardens and raise heritage breed livestock.  I guess it's no wonder that I always stock Goodwinol's VetRx Veterinary Remedies in our farm medicine cabinet.  These formulas have been around for over 100 years.  They've stood the test of time and I can't help but respect that.
VetRx is an amazing line of products offered from our sponsor Goodwinol Products Corporation.  There are VetRx formulas for a wide variety of animsls from hamsters to horses.  VetRx can safely and effectively treat a host of conditions, particularly respiratory diseases.
Here at 1840 Farm, we stock the rabbit, poultry, and goat & sheep remedies You'll find VetRx in our barn medicine cabinet just in case we find a need to use them to treat our animals.  I love knowing that each product can be used to treat a variety of conditions.
The Rabbit Remedy is useful in treating colds, pneumonia, snuffles, ear mites and ear cankers.  The Goat & Sheep Remedy is useful for treating coughing, sneezing. rattling breathing sounds, and ear mites.
The Poultry Remedy is safe for use on chickens (including bantams), ducks, quail, turkey, geese, and game birds.  It is an effective treatment for colds, scaly leg, and eye worm.  It can also be used as a health tonic during times of stress such as breeding and showing.
You can learn more about Goodwinol and VetRx by visiting their website or Facebook page.  You can also enter to win a bottle of VetRx formula for your medical kit.  Leave a comment telling us which remedy you would choose as your prize and follow Goodwinol and 1840 Farm on Facebook for a chance to win.  Three winners will be selected and given the opportunity to select the VetRx Remedy of their choice as their prize.  Good luck to all who enter!
Comments
comments