Trying my hand at sourdough bread has been on my baking To Do List for years.  Each fall, when my bread baking kicks into high gear, I recommit myself to trying my hand at capturing and using natural yeast to make sourdough starter.  I've never managed to actually take the plunge.
I have been armed with the necessary information and equipment.  I've got my WonderMill at the ready to make fresh
whole wheat flour for the starter.  I also have a 260 page cookbook dedicated to baking with natural leavening.  I've just never been ready to completely cast aside my faithful active dry yeast for fear that the resulting loaf of bread would be a disappointment.
Those days are over.  In the coming months, I'll be trying my hand and nurturing a sourdough starter and baking loaves for my family's table using natural leavening.  It wasn't the cookbook that changed my mind, although I plan to use it as a resource as I embark on this journey.
Instead, it was a lovely recipe shared by Kitchen Kneads as part of our Bread Baker's Series.  Dawn's recipe for Mouse River Homestead Bread incorporates both a sourdough starter and commercial yeast.  It looks delicious and seems like the perfect recipe for me to finally try making a starter.  I can't wait to take the first bite of this bread and start planning the next sourdough recipe to try!  Visit Kitchen Kneads for the recipe.
---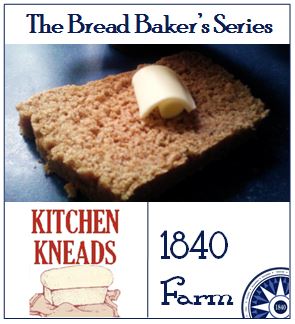 This recipe is part of The Bread Baker's Series, a collaborative series of posts from Kitchen Kneads and 1840Farm. It's easy to make sure that you don't miss a single post in The Bread Baker's Series. Subscribe to The 1840 Farm Community Newsletter or join The 1840 Farm Community on Facebook, Twitter, or Pinterest. Be sure to subscribe to Kitchen Kneads Email updates and follow them on Facebook and Pinterest.
By following Kitchen Kneads and 1840 Farm, you'll be the first to see each post in our collaborative Bread Baker's Series. If you have a great bread baking tip or recipe to share, we invite you to leave a comment and add your voice to the conversation!
Comments
comments