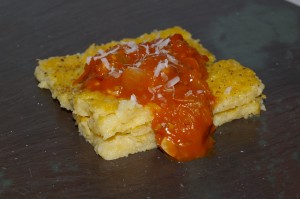 During the height of heirloom tomato season, we harvest several pounds of cherry tomatoes every day.  It's intentional:  we plant two dozen cherry tomato plants every summer in our garden.  We have found that they store amazingly well in the freezer, allowing us to make this fresh sauce all winter long.  When the snow is flying outside, a pot of this sauce bubbling on the stove is a wonderful way to remind ourselves that summer will indeed come again.
At 1840 Farm, we enjoy this rich sauce served on fresh polenta made from cornmeal we grind ourselves.  It is also delicious tossed with spaghetti or served with pasta and meatballs. The flavor is rich and earthy with just the right amount of acidity and natural sweetness.
To freeze cherry tomatoes, simply wash them and allow them to dry fully on a clean kitchen towel.  Line a baking sheet or pan that fits into your freezer with freezer paper or parchment.  Place the tomatoes on the pan and place in the freezer.  Allow the tomatoes to freeze solid overnight before transferring to a freezer bag.  Don't be concerned if the skins rupture as they freeze.  The tomatoes will still store incredibly well and produce a delicious sauce.
Slow Roasted Cherry Tomato Sauce
We love to use our favorite heirloom cherry tomato, the Black Cherry, in this recipe.  You can substitute your favorite cherry or grape tomato variety with equally delicious results.
1 Tablespoon butter
1 Tablespoon olive oil
1 large onion, diced
2 garlic cloves, minced
1 ounce dry vermouth
2 ounces tomato paste
1 pound Black Cherry Heirloom Tomatoes or your favorite variety
1/2 cup vegetable stock or water
salt and pepper to taste
Place a large saucepan or Dutch oven over medium heat.  Add butter and olive oil.  Once the butter is melted, add the onion and stir to coat.  Cook until the onion is translucent, approximately 5 minutes.  Add the garlic and cook for one minute.  Add the vermouth, scraping the bottom of the pan to release any caramelized pieces of onion or garlic.  Add the tomato paste and stir to fully combine.
Add the cherry tomatoes to the pan and stir to combine.  Allow the tomatoes to cook for 2-3 minutes or until they begin to soften and release their juices.  Using the back of a spoon or a potato masher, lightly crush the tomatoes.  Reduce the heat the low.  Allow the sauce to simmer for 10 minutes or until thick.  Taste for seasoning, adding salt and pepper as needed.   Add more broth if necessary to achieve the desired consistency.
Reduce the heat to low and allow the sauce to continue to simmer, adding liquid if necessary.  The longer the tomatoes are allowed to cook, the more intense their flavor will be.  Serve the sauce spooned over polenta, spaghetti, or tossed with your favorite pasta, topping with freshly grated Parmesan cheese if desired.
Comments
comments