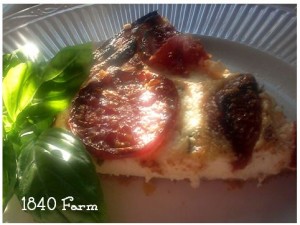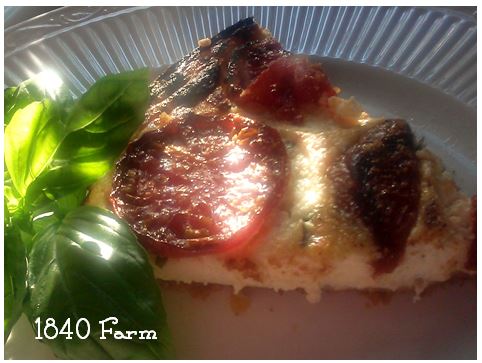 I originally posted this recipe back in the very early days of writing this blog.  It seems fitting that this would be one of the longest lived recipes on the blog as it has been a family favorite since before we made 1840 Farm our home.  Each summer, we look forward to this rustic tart topped with our homegrown heirloom tomatoes.
The combination of flavors in this dish is perfectly balanced.  The acidity and earthiness of the tomatoes is the star, but the creamy ricotta and bright basil accent it deliciously.  It's no wonder that this dish is a perennial family favorite.
Oven Roasted Heirloom Tomato Ricotta Tart
serves 4 – 6 as a main course
This recipe was inspired by a recipe published in Martha Stewart's FOOD.  I use homemade bread crumbs from our Farmhouse Country Loaf for the crust.  Prepared bread crumbs or panko are also delicious. 
180 grams (2 cups) breadcrumbs
2 ounces (4 Tablespoons) olive oil
16 ounces ricotta cheese
2 ounces mozzarella cheese, cubed or shredded
1 ounce Parmesan cheese, grated
1 large egg
2 Tablespoons chopped fresh basil
1 pound heirloom tomatoes
olive oil for brushing
salt and pepper
Preheat oven to 450 degrees Fahrenheit.  Prepare a 9 inch springform pan by wrapping the bottom in aluminum foil.  Set aside.   j
Slice bread into thick slices and place in the oven to dry.  When dry and cool, use a food processor to chop the toasted bread into fresh breadcrumbs.  With the motor running, add the olive oil and process until evenly moist.  Press mixture evenly in prepared pan, covering the bottom of the pan.
Rinse out the bowl and blade from the food processor.  Add ricotta cheese, mozzarella and Parmesan cheese, and egg to the food processor and process until completely smooth.  Add basil and pulse until basil is evenly distributed throughout the ricotta mixture.
Carefully add the ricotta mixture to the springform pan., spreading to cover. Slice heirloom tomatoes and place on top of the ricotta, overlapping where needed to fully cover the top.  Brush the top of the tart with olive oil and sprinkle with salt and pepper.
Place springform pan on a baking sheet and transfer to the preheated oven.  Bake for 40 minutes or until the tomatoes are beginning to dry and the ricotta mixture has become firm and golden.
Remove from the oven and allow to cool for ten minutes.  Carefully run a thin metal spatula or paring knife around the outside edge of the tart to loosen it from the pan.  Unmold the tart, cut into slices and serve warm.
Comments
comments