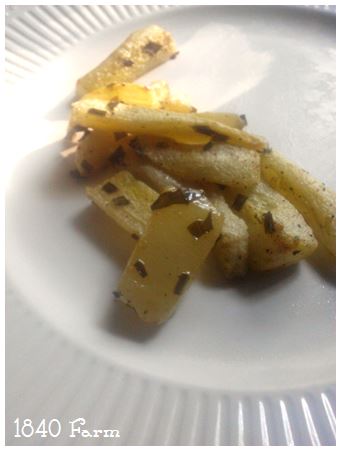 It's summer and we're having a banner year for heirloom cucumbers.  We have picked over 25 pounds of them this year and there doesn't appear to be an end in sight.  Having ten pounds of heirloom cucumbers resting on the kitchen counter is a powerful incentive to search for new ways to prepare and serve cucumbers.
Believe me, I've tried to find new and interesting ways to prepare our cucumber bounty.  The recipes seem to be few and far between.  I found numerous pickling preparations.  There were plenty of cold salads featuring cucumbers, but nothing was calling to me.  I was really in search of something different.
Then I remembered that Mastering the Art of French Cooking was filled with vegetable recipes including one for baked cucumbers.  I love all things related to Julia Child, my culinary idol.  I couldn't wait to see if Julia could help me use this year's cucumber harvest through a recipe written decades earlier.  It was time for me to try the infamous Concombres au Beurre.
It seemed impossible to me that I could bake cucumbers at all, much less for the hour that the recipe called for.  I was certain that I would open the door at the end of the baking time to find a puree of cucumbers staring back at me.
Yet, I've trusted Julia in other matters, so I was willing to push aside my doubts and see just what would happen when batons of cucumber were baked as long as I would bake a russet potato.  I'm so glad that I did.
The cucumbers were divine.  They are almost indescribable, except to say that they really didn't taste much like a cucumber.  Instead, they had taken on an earthy flavor accentuated by the fresh herbs, butter, and vinegar.  It was almost as if they had been baked in a light Beurre blanc.
Somehow, they were perfectly balanced with just enough richness from the butter and acidity from the vinegar.  Together, those ingredients along with an hour in the oven had transformed a humble cucumber into something extraordinary.  Once again, I was right to trust Julia.
Concombres au Beurre (Baked Cucumbers)
From Mastering the Art of French Cooking Volume One
serves 4 as a side dish
3 medium or 2 large cucumbers
1 Tablespoon wine vinegar
1 teaspoon salt
1 teaspoon sugar
2 Tablespoons melted butter
fresh herbs
black pepper
Peel the cucumbers and use a spoon or sharp knife to remove the seeds.  Cut the cucumber flesh into batons approximately 1/2 inch wide by 2 inches long.  Place the batons in a bowl with the vinegar, salt, and sugar.  Transfer the cucumbers to a large colander to drain for at least 30 minutes or up to one hour.
As the time for the cucumbers to drain comes to an end, preheat the oven to 375 degrees Fahrenheit.  Coarsely chop the fresh herbs.  Melt the butter and set aside as you prepare the cucumbers.
Transfer the drained cucumbers to a clean kitchen towel.  Gently pat dry to remove as much moisture as possible.  Transfer the cucumbers to a casserole dish large enough to allow the cucumbers to bake in a single layer.  Add the melted butter and toss gently to coat.  Sprinkle with the fresh herbs and add freshly ground black pepper to taste.
Bake the cucumbers in the preheated oven for approximately one hour, tossing once or twice during baking.  The cucumbers should be tender, but still al dente when finished with just a hint of brown color.
Remove the cucumbers from the oven.  Taste for seasoning, adding more salt or pepper if desired.  Serve warm.
Comments
comments