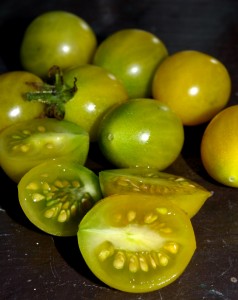 The Blondkopfchen Heirloom Cherry Tomato originated in Germany.  In German, the word "blondkopfchen" translates to "little blonde girl".  My daughter was a little blond girl when we first began growing this tomato here at 1840 Farm.  In fact, she was the reason that I first ordered these heirloom seeds and planted them in our heirloom tomato garden.
The incredible taste and production of this heirloom was the reason we kept planting them each year.  Every year, our Blondkopfchen plants are the most prolific in the garden.  A single branch holds dozens of tiny orbs waiting to ripen in the sun.  I am always amazed at just how many tomatoes these plants can produce.
I'm also taken by the unique color of these ripe tomatoes.  They are golden yellow with a tinge of lime green undertones when they are fully ripe.  They are beautiful when used in fresh tomato dishes or sauces, bringing a lovely contrast to the other red colored tomatoes in the dish.
The Blondkopfchen tomato has a sweet, earthy flavor with a touch of citrus.  It's a perfectly balanced blend of sweet and brightness.  It is a disease resistant variety that consistently produces tomatoes without cracked skins.  It also tolerates our cooler nights here in New England, making it perfectly suited to growing in our garden.  One taste of this fantastic variety and you'll understand why it is a favorite here at 1840 Farm.
Comments
comments