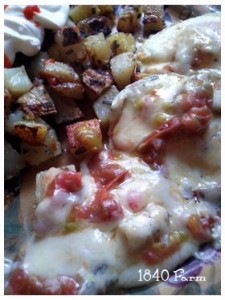 I am always looking for a recipe that offers me a new way to prepare our fresh eggs to serve at our family table.  If that new recipe also includes heirloom tomatoes, all the better.  I happened upon this recipe in a copy of Martha Stewart Living from June 2011.  The technique was so simple and the photo so beautiful, that I couldn't wait to try it.
The original recipe calls for using a nonstick skillet, but I prefer to prepare it in one of our seasoned cast iron skillets. I chose to use a locally produced smoked cheddar cheese and the heirloom tomatoes fresh from our raised bed  garden.  In a matter of minutes, this dish was ready to be served alongside a salad of fresh greens and a homemade flatbread.
The eggs were delicious.  They paired so well with the melted smoked cheddar and heirloom tomatoes that we couldn't wait to enjoy them again.  Of course, we also couldn't wait to try them with other types of cheese.  When heirloom tomato season ends, we'll be experimenting with other flavor combinations.  Don't worry, we'll share our seasonal favorites right here with you!
Broiled Cast Iron Skillet Eggs with Heirloom Tomatoes
Inspired by Eggs Kevin from Martha Stewart Living, June 2011
Serves 2 as a main course

When preparing this dish for more than two people, I like to use two skillets.  You could use a single skillet, increasing the cooking time as needed to compensate for the slightly crowded pan.
1 Tablespoon butter
4 fresh eggs
salt and pepper
1 large heirloom tomato, sliced
fresh thyme
1/4 cup to 1/2 cup smoked cheddar cheese, grated
Preheat the oven to 400 degrees Fahrenheit.  By preheating the oven, your broiler will be better able to properly finish the eggs in an incredibly short amount of time.
Heat a large cast iron skillet over medium high heat.  When the pan is hot, add the butter, swirling to coat the surface of the bottom of the pan.  Crack the eggs into the skillet and season with salt and pepper.  Allow the eggs to cook for 1-2 minutes or until the whites are beginning to set.
Remove from the pan from the heat.  Evenly arrange the heirloom tomato slices in the pan.  Top with a sprinkling of fresh thyme and cover with the shredded cheddar.
Transfer the skillet to the preheated oven.  Turn on the broiler and broil until the whites are completely set and the yolks are done to your liking, approximately 1-2 minutes.  Remove from the oven and serve warm.
Comments
comments