The gardens here at 1840 Farm are just beginning to provide us with delicious produce.  We're picking a pound or more of fresh raspberries every day.  The cucumbers are being harvested a little at a time and the refrigerator pickles are chilling, Tiny tomatoes are on the vine, and the sweet potatoes are loving the heat and humidity that this summer has brought along with it.
It won't be long before the heirloom tomatoes are ripe and ready to take their place on our dinner plates.  Around the time that heirloom tomato season is coming to an end, our fall garden will take its place.  Sweet potatoes, onions, and the corn, squash, and beans from our Three Sisters Garden will be ready to enjoy at our family table.
This year, we're even growing garden produce specifically for our Thanksgiving table.  Those sweet potatoes, squash, beans, and herbs will help to make our holiday table very memorable.
Our growing season here in New England is painfully short, so our summer and fall gardens are planted closely together.  A few weeks after the last tomatoes have been transplanted, we're pushing corn seeds under the soil and planting our sweet potato slips.
In other parts of the country, fall gardens are being planned right now.  If you are planning or growing a fall garden,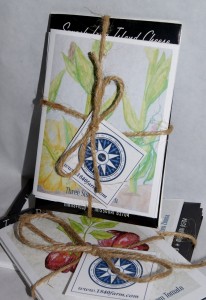 then you won't want to miss out on a great giveaway that I'm thrilled to be participating in.  You could win an 1840 Farm Heirloom Three Sisters Garden Seed Collection to plant in your garden, a great gardening guidebook, or a beautiful handcrafted garden dibble.
1840 Farm is contributing one of our seed collections for the giveaway and I'm so happy to be working with Let This Mind Be In You,  Bepa's Garden, and The Garden at Oswegatchie School.  Not only are they each contributing one of the fantastic prizes in the giveaway.  They're also sharing their own fall garden experience on their blogs.  You can read about how they're getting A Jump Start on Fall Planting at Let This Mind Be In You.  I just checked in on Bepa's Garden's fantastic work with school children at The Garden at Oswegatchie School.
If you look closely, you'll see that the corn from our Three Sisters Heirloom Seed Collection is already growing in the school garden.  The plants look beautiful and it warms my heart to know that 1840 Farm will play a small part in helping to shape a whole new generation of gardeners.  I can't wait to see how the collection grows in the garden for the family behind Let This Mind Be in You.
Now you can join in the fun and plant the collection in your fall garden.  Enter the giveaway below and cross your fingers that you'll be randomly selected as the winner.  I know that you'll enjoy seeing both of these pages in your Facebook newsfeed as much as I do.  Good luck!
Comments
comments