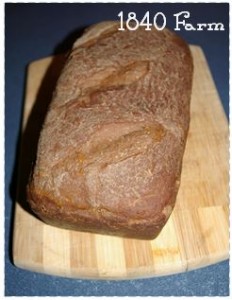 I have already admitted how much I love to make bread.  There's nothing about bread baking that I don't enjoy. I love mixing freshly milled flour, yeast, and water to begin the process of making a loaf to serve at our family table.  Moments later, I feel the cares of the world melt away as I knead the shaggy dough into a smooth, elastic ball.
Sadly, home bread baking can also include disappointment.  I have made my share of homemade loaves that failed to deliver the uniform crumb and crust that I hoped for.  I have felt the heartbreak that comes from removing a leaden loaf from the oven after smelling the intoxicating scent as it bakes.
As the delicious smell of baking bread fills our farmhouse, I am always hopeful that the resulting loaf will be beautiful and delicious.  Perhaps the culinary anticipation makes a subpar loaf all the more disappointing.  I am happy to report that more often than not, the loaves that emerge from our oven are beautiful and delicious.  Yet, on occasion, a loaf falls far short on one or sadly, both of those goals.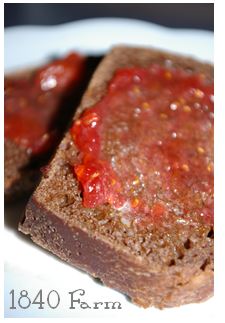 When that happens, I am left looking for answers.  I attempt to pinpoint a reason why the loaf fell short of my expectations.  My search is in the hopes of learning something from the experience.  If I can determine where things went wrong, then I can use that knowledge to try and prevent it from happening when I bake the next loaf.
Avoiding those bread baking disappointments just got much easier thanks to Kitchen Kneads, our partner in the ongoing Bread Baker's Series.  They have just published an amazing post that details the most common bread baking challenges.  More importantly, the post offers simple solutions to these challenges so that we can all do our best to avoid them.
You'll want to pin, bookmark, or print their  How to Make a Perfect Loaf of 100% Wheat Bread post.  While you're at it, don't miss the link to their Easy 100% Whole Wheat Bread in 90 Minutes.  I tested the recipe here in the kitchen at 1840 Farm.  It was simple to make and delicious to eat.  It requires no kneading or shaping, making it the perfect starter loaf for those of you who are just beginning on your breadmaking journey.  The recipe is also ideally suited for those of us who wish we could make fresh bread more often but struggle to find the time in our busy days to do so.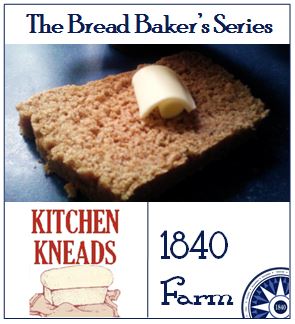 The Bread Baker's Series is just getting started.  There are many more recipes, tips, tools, and techniques to come in future posts.  At 1840 Farm, we're proud to be collaborating with Kitchen Kneads on this series and learning from their years of experience supplying bakers with the best products and ingredients for ensuring bread baking success.
It's easy to make sure that you don't miss a single post in The Bread Baker's Series.  Subscribe to The 1840 Farm Community Newsletter or join The 1840 Farm Community on Facebook, Twitter, or Pinterest.  Be sure to subscribe to Kitchen Kneads Email updates and follow them on Facebook and Pinterest.
By following Kitchen Kneads and 1840 Farm, you'll be the first to see each post in our collaborative Bread Baker's Series.  If you have a great bread baking tip or recipe to share, we invite you to leave a comment and add your voice to the conversation!
Comments
comments