Several months ago, I was invited to participate in The Grain Mill Wagon Challenge sponsored by The WonderMill Company.  As a participant, I was sent a WonderMill electric grain mill to utilize while developing five recipes that
showcase freshly milled flours and meals.
So far, I have used the mill to produce cornmeal and whole wheat flour.  I have been amazed at how well The WonderMill performs and at what a difference the freshly milled flours and meals have made in our favorite recipes.  The results are so delicious that It's hard for me to imagine ever returning to purchasing cornmeal or whole wheat flour at the store again.
I just published my first recipe in The Grain Mill Wagon Challenge.  Oven Baked Polenta with Heirloom Tomato Sauce is a favorite here, especially during heirloom tomato season when we have an abundance of tomatoes fresh from our heirloom gardens.  I'm sure that your family will enjoy it as much as mine does.
Don't miss the entire collection of fantastic recipes on The Grain Mill Wagon blog.  You'll find great recipes for everything from pancakes to cookies and everywhere in between.
---
To make sure that you don't miss any of the recipes that I'll be sharing during The Grain Mill Wagon Challenge, subscribe to The 1840 Farm Community Newsletter. Visit our subscription form. In a few seconds, you'll be the newest member of The 1840 Farm Community.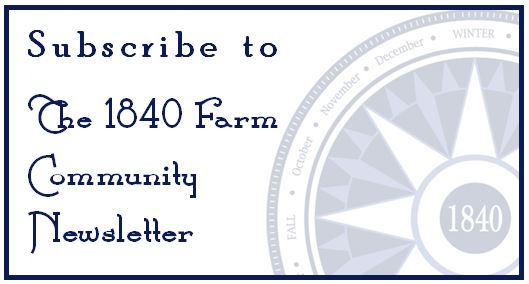 Our newsletter isn't the only way to follow what's happening here at 1840 Farm.
You're always welcome at 1840 Farm and at The 1840 Farm Mercantile Shop on Etsy.
You can also find 1840 Farm throughout the social media universe on
Facebook, Twitter, Pinterest, Flickr, and Bloglovin'.
We even created a new 1840 Farm Community Newsletter Pinterest board to catalog
our newsletter content so that you could easily pin your favorites to your own boards.
Come add your voice to our conversation!
We'll hope to see you there!
---
Comments
comments