I love to make pie. I have written several times about the reasons why I enjoy making and eating homemade pie. I shared them last year during The Daily Meal and Kikkoman's Tradition Exchange. In fact, I truly enjoy writing pie recipes and incorporating my memories of my Grandmother and the pies that were always waiting to welcome us to her home.
Pie was among the first recipes I taught myself to make. I was in junior high when I finally mastered pie making. It had taken me several attempts to get a feel for rolling out the dough evenly and transferring it to the pie plate without ending up with holes, rips, tears, and a rising frustration level.
Luckily, my parents were willing taste testers. They didn't comment when the crust wasn't as flaky as I had hoped. They didn't complain when the crust's edge was more towards the burnt end of the baking spectrum than I had ever intended. Through their patience and my persistence, I emerged as a capable pie baker.
I don't recall my grandmother ever making peach pie, but this is perhaps the most requested pie recipe in my collection. If I announce that I will be making pie, my family begins making a case for this recipe in the hopes that I will make one of these for our family table. Each fall, we pick local peaches that I peel and slice to freeze and keep on hand for just such an occasion.
Be forewarned. Once you serve one of these delicious pies to your family and friends, you'll find yourself in the same predicament. When you head into the kitchen to make pie, your family will react as my family does by asking, "Are you making bourbon peach pie?"
Bourbon Peach Pie with Brown Sugar Topping
2016-01-26 15:54:22
Each year, I peel and slice peaches when they're at their seasonal best before freezing them on a sheet pan. Once they're completely frozen, I place them in resealable freezer bags and keep them all year long. When using frozen peach slices, simply warm them for 2 minutes in a microwave safe bowl before using them to make the filling.
For the crust
1 1/2 cups (180 grams) All-purpose flour
1/4 teaspoon sea salt
8 Tablespoons (4 ounces) butter, chilled
4 – 6 Tablespoons ice water
For the filling
3 cups (1 pound) peeled, sliced peaches
2 ounces bourbon ( I prefer Buffalo Trace brand)
3/4 cup (144 grams) granulated sugar
1 Tablespoon lemon juice
2 Tablespoons tapioca
For the topping
3/4 cup (144 grams) brown sugar
1 cup (120 grams) All-purpose flour
1/2 teaspoon cinnamon
4 Tablespoons (2 ounces) butter, melted
Instructions
To save time, I usually make my pie crust in my food processor. This recipe can also be made in a bowl using a dough blender or a large fork. Either way, the result will be a flaky, buttery crust that pairs deliciously with the peach filling.
To make the crust, place flour and salt in the bowl of a food processor. Pulse the dry ingredients to combine. Add the cubed butter and pulse until the butter has begun to incorporate into the flour and resembles small grains of rice.
With the motor running, add ice water one Tablespoon at a time until the dough forms a ball. Take care not to over process the dough. Over processing will help to develop the gluten in the flour and lead to a crust that is less flaky. Remove the crust from the processor, shape into a flat disk, and place on a sheet of waxed paper or plastic wrap. Refrigerate while the filling is prepared.
To prepare the filling, combine the peach slices, bourbon, sugar, lemon juice and tapioca in a large bowl. Mix gently to combine. Set aside.
Preheat the oven to 400 degrees Fahrenheit. Line a baking sheet with aluminum foil to catch any pie filling that may bubble over during baking. Set aside.
Remove the chilled pie dough from the refrigerator. Roll the crust into a smooth disk large enough to line the pie plate. Rolling will be much easier if done on a well-floured surface or between two sheets of freezer paper or waxed paper.
Place the bottom crust in the pie plate, taking care not to stretch the dough. By gently lifting the edges of the crust, the dough will naturally come to rest on the bottom of the pie plate without stretching. Continue this technique around the perimeter of the pie plate. Stir the prepared filling and gently place it on top of the crust in the pie plate.
Prepare the topping by combining the brown sugar, flour, and cinnamon in a small bowl. Add the melted butter and stir to distribute evenly and moisten the dry ingredients. Using your hands or a large spoon, place mounds of the topping on the peach pie filling, distributing evenly. Take care to leave gaps in the topping to allow steam to escape from the fruit filling as the pie bakes.
Transfer the pie plate to the lined baking sheet and place in the preheated oven. Bake approximately 40-45 minutes, turning the pan halfway through the baking time to help ensure even browning. The pie is done when the filling is bubbly and the topping and crust are golden brown.
Place the baking sheet on a wire rack to cool. Serve warm or at room temperature topped with a scoop of vanilla bean ice cream. Enjoy!
1840 Farm http://1840farm.com/
---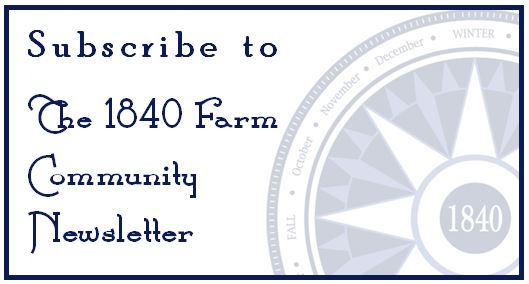 Our newsletter isn't the only way to follow what's happening here at 1840 Farm.
You're always welcome at 1840 Farm and at The 1840 Farm Mercantile Shop on Etsy.
You can also find 1840 Farm throughout the social media universe on
Facebook, Twitter, Pinterest, Flickr, and Bloglovin'.
We even created a new 1840 Farm Community Newsletter Pinterest board to catalog
our newsletter content so that you could easily pin your favorites to your own boards.
Come add your voice to our conversation! We'll hope to see you there!
Comments
comments