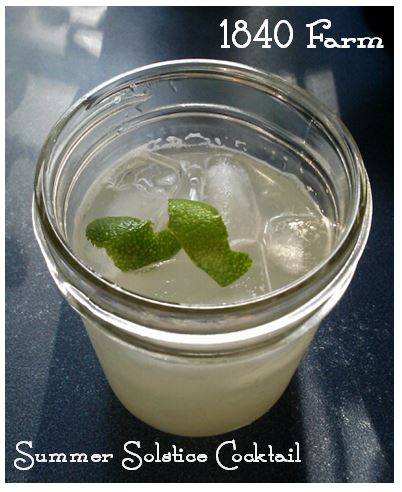 When I am trying to develop a new recipe, I happily take inspiration wherever I can find it.  In the case of this cocktail, I happened to find it in three places.  Lucky for you, I've combined them into one delicious, refreshing cocktail recipe just in time for your Fourth of July celebration.
The first inspiration was the arrival of summer last Friday.  Since then, we've seen temperatures well into the 90s with oppressive humidity.  Apparently, Mother Nature wants to drive the point home:  summer is here!
A recent trip to a local favorite, GiGi's York Beach, provided additional inspiration.  On my last visit, I was treated to a delicious cocktail they call the "Shiso Good". Good was an understatement.  The combination of vodka, house made shiso syrup, and fresh lemon was divine.  If you're looking for a little inspiration, you can see more of the amazing food and drink from GiGi's in our Local Food Photo Gallery
Not to be forgotten is a book that I am currently reading.  Bitters:  A Spirited History of a Classic Cure-All is a fascinating read for someone like me who can't seem to get enough of the stranger than fiction history of the food on our dinner plates and drinks in our cocktail glasses.  I'm not alone in liking this book.  It was selected as a James Beard Foundation Book Award Winner and also won The IACP Cookbook Award.
So, picture me at the end of a hot and humid day, exhausted from the farm's daily chores.  I was craving a refreshing, cold drink and thought of the crisp Shiso Good and the fresh ginger-lime simple syrup that I had made from a recipe in Bitters.  The possibilities seemed like a winner to me.
My husband is the resident mixologist here at 1840 Farm.  I get wild ideas about combinations and concoctions which he politely listens to and then goes about the creative business of transforming inspiration into a perfectly balanced libation.  Occasionally, he needs a second attempt to perfect one of our house made cocktails, but he mastered this one on the first try.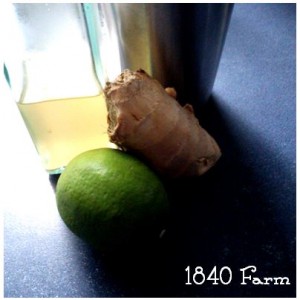 One sip and I knew that this would be my summer drink of choice.  Mr. 1840 Farm agreed.  This recipe was perfect and ready to share with the world.
I hope that you will enjoy what we aptly named The Summer Solstice all summer long.  If you're find yourself still searching for your summer drink of choice, don't despair.  We've got a few more recipes in development.  Yes, it will be a struggle to taste test them before sharing the recipes with you here, but I'll soldier on.  It's amazing the things that I'll do in the name of researchl!
Ginger-Lime Syrup
adapted from Bitters by Brad Thomas Parsons
1 cup granulated sugar
1 cup water
2 ounces ginger root, peeled and sliced into coins
zest from 1/2 a lime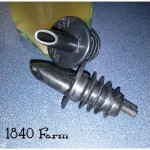 Place all ingredients in a small pot and stir to combine.  Place pot over low heat and bring to a simmer, stirring occasionally.  Simmer over low heat until the sugar has completely dissolved.
Remove the pot from the heat and allow the syrup to cool completely.  Pour the syrup through a fine mesh strainer to remove any solids.  The strained syrup can be stored in the refrigerator for up to one month.  I like to store mine in a clean, repurposed bottle with a pourer spout in the refrigerator.
Summer Solstice Cocktail
makes one generous serving (and one happy farmer)
We have made a non-alcoholic version of this drink for the farm kids who both gave it a thumbs up.  Simply substitute lemonade or carbonated water for the vodka depending on your preference.

2 ounces vodka
1/2 ounce lime juice
1 1/2 ounce ginger-lime syrup
4 ounces lemonade
Place all ingredients in a cocktail shaker with a handful of ice.  Shake until well mixed.  Strain into a glass with fresh ice and serve.  At 1840 Farm, we like to serve the Summer Solstice in a wide mouth mason jar.
---
To make sure that you don't miss any of our original content or favorite recipes, DIY projects, and homesteading advice from around the web, subscribe to The 1840 Farm Community Newsletter. Visit our subscription form. In a few seconds, you'll be the newest member of The 1840 Farm Community.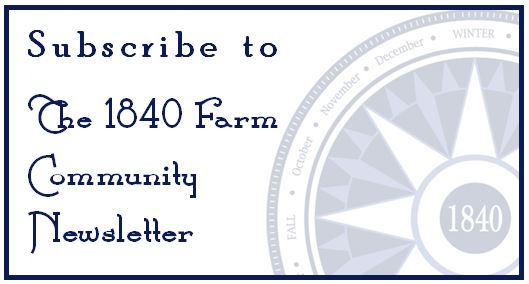 Our newsletter isn't the only way to follow what's happening here at 1840 Farm.
You're always welcome at 1840 Farm and at The 1840 Farm Mercantile Shop on Etsy.
You can also find 1840 Farm throughout the social media universe on
Facebook, Twitter, Pinterest, Flickr, and Bloglovin'.
We even created a new 1840 Farm Community Newsletter Pinterest board to catalog
our newsletter content so that you could easily pin your favorites to your own boards.
Come add your voice to our conversation!
We'll hope to see you there!
---
Comments
comments