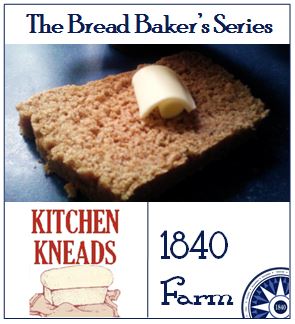 I love to bake bread. I enjoy the process of mixing the individual ingredients and using my hands to transform it into an elastic, smooth dough. I feel a great sense of satisfaction when the risen loaves are transferred to the oven and begin to fill the farmhouse with the unmistakable scent of fresh baking bread.
My grandmothers were both bread bakers.  Perhaps that fact has something to do with my love for baking fresh bread.  While they were both accomplished bread bakers, they each had their own unique style.
My paternal grandmother baked bread out of necessity. With nine children to feed and a farmer's budget to consider, baking her own bread was the best option. She was a baker of the artisan style. She didn't weigh ingredients and didn't need to. There was no recipe to consult or cookbook to draw from. Instead, her instincts told her when to add more flour and when to brush the excess aside. She believed in doing everything by hand, kneading each batch until her hands told her that it was perfect. Watching her mix, knead, and bake bread was like watching an oil painting take shape. It was pure art.
My maternal grandmother became a bread baker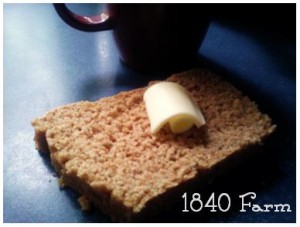 later in life. She baked bread for the pure pleasure of sharing a fresh loaf with her family.  Friday was bread baking day and we were always eager to see what type of bread she had made for us. She was a baker of the scientific method. She weighed everything meticulously and followed instructions to the letter. She chose to use a bread machine to produce her loaves. She made notes regarding each loaf, adjusting the recipe each time she made it until it was perfect.
I tend to fall somewhere in between them on the bread baking scale. I do weigh my ingredients in order to ensure a well-made loaf and to correctly calculate the carbohydrates in each recipe. I'm the first bread baker in my family to be pairing insulin boluses with bread slices for my child.  For me, measuring and precision are an integral part of the bread baking experience.
Yet I do love to experiment in the kitchen.  So, when our sponsor Kitchen Kneads offered to send me a few tools of the trade to evaluate, I jumped at the chance.  I'm always looking for new ways to improve my bread baking skills and this seemed like a wonderful opportunity to do so.
When the products arrived, I got busy baking.  Then I got busy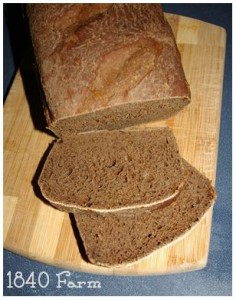 thinking as I often do when kneading a batch of bread dough.  What if I worked with Kitchen Kneads to share a whole series of bread baking posts with you?  Together, we could share tips, tricks, and recipes to help us all become better bread bakers.
Whether you are an accomplished bread baker or an aspiring one, I hope that you'll join us to learn more about bread baking.  I also hope that you'll share your best bread baking tips, biggest challenges and frustrations, and favorite recipes right here.  If you have a bread baking question or challenge, please leave a comment.  I'll do my best to include each of them in the series.
The Bread Baker's Series is a creative collaboration between 1840 Farm and Kitchen Kneads.  To make sure that you don't miss any of the posts in The Bread Baker's Series, subscribe to our posts via Email and become a member of The 1840 Farm Community on Facebook, Twitter, and Pinterest.  You can also follow the Kitchen Kneads blog via Email, Facebook, and Pinterest.
Comments
comments