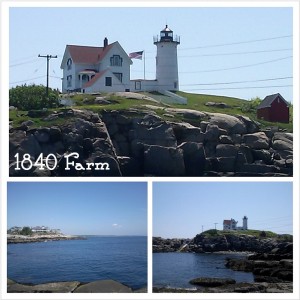 Yesterday, I did something out of character for me.  Instead of spending all day working here on the farm, I packed the car and headed to the beach with my son.  I was inspired to stop and smell the roses, or the fresh sea breeze in this case, by my friend Meredith at Green Circle Grove.
She did the same on Saturday, leaving chores behind and spending time on a beautiful day with her husband.  They took a drive in their convertible, visited a local festival, and just enjoyed the moment.  Later that evening, she shared the experience on her Facebook page.  When I saw her post in my newsfeed, I realized how long it had been since I did the same.
Don't misunderstand me.  I tended the animals here on the farm before leaving them behind.  They were fed and let outside to spend their days as they usually do.  They were blissfully unaware that I was leaving chores behind and driving towards the beach.
Yes, there were chores that could have been done.  Seeds could have been planted, the yard could have been mowed.  But sometimes, it's your soul that most needs tending.  While I love the daily work of our farm, it never looks so appealing as when I am away for even a short time.
The work of our farm doesn't seem really seem like work in spite of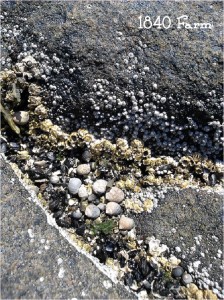 how difficult it can be.  Yes, the labor can be back-breaking, but there's nothing I would rather spend my days doing.  My son, while young, is wise beyond his years.  He often tells me that, "If you do what you love, it just doesn't seem like work."
That seems like a statement far beyond the wisdom of his seven years.  That is, until you consider that he has spent his entire life here at 1840 Farm.  He expects that there are daily farm chores necessary to keep the animals and gardens tended and healthy.  He accepts that without that work, the food produced in our backyard would cease to exist.  It just seems natural to him.
We had a wonderful time at the beach.  We visited one of our favorite spots in York, Maine.  Nubble Lighthouse is beautiful, an iconic New England spot. We explored the rocky tide pools and enjoyed the cool breeze.  My son fancies himself a fisherman, so we spent a few minutes talking to a local fisherman as he tried to catch something for dinner.  They had an instant connection.  They both knew that it was hard work of the best kind to bring fresh food to your dinner plate.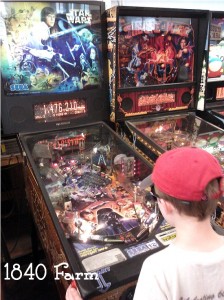 After our time at the Nubble, we traveled from the lighthouse's surrounding park to the nearby beach.  We visited the open air arcade, and then the small downtown.  We walked along and even stopped in a locally owned shop for a little salt water taffy.
As the car headed towards home, I naturally started to think about what I needed to accomplish before the day ended here on the farm.  We arrived home and headed to the barn to get started.  Several hours later, the day's chores had been done and the yard had indeed been mowed.
I was exhausted at day's end, but I felt good about our day.  We had achieved the impossible:  tending to the needs of our farm and recharging our psyche in the process.  My day was made when my son proudly proclaimed that it had been, "the best day ever!"  I had to agree.
It had been the best day ever.  I hope that I'll remember that and try to achieve the impossible more often.  I'll add tending the farmer's soul to my list of recurring farm chores.  Here's hoping that you'll do the same.  Thanks, Meredith.
Comments
comments