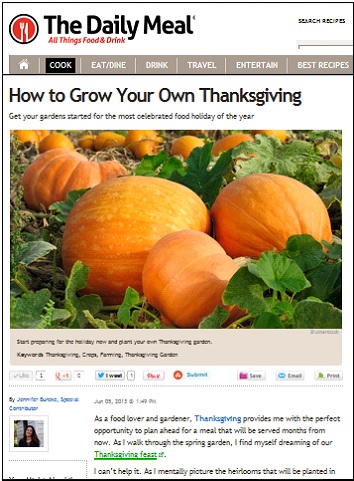 It's early June, but I'm already dreaming of Thanksgiving dinner.  I can almost picture the homegrown feast that will grace our family table.  The herbs for our favorite sage and artichoke heart dressing are already growing in the garden.  Sweet potato slips have been planted, seed potatoes are taking root, and heirloom corn, squash and beans will be sprouting in the coming days.
Now you can join in and learn more about the gardens here at 1840 Farm, the heirloom varieties we love, and the Thanksgiving feast that will follow.  I'll be sharing updates and harvest notes throughout the growing season and hoping that you'll share the news and notes from your backyard and garden here and with The 1840 Farm Community on Facebook.
Long before Thanksgiving dinner arrives, we'll be enjoying berries, tomatoes, and a host of other heirlooms fresh from the garden.  I'll be sharing our favorite recipes so that you can enjoy them on your family table.
You can learn more about our Thanksgiving garden and the history of the holiday itself by reading my How to Grow Your Own Thanksgiving Series on The Daily Meal.  The slideshow contains beautiful photographs from our friends at Iron Oak Farm and detailed planting and harvest information for herbs, sweet potatoes, potatoes, and pumpkins.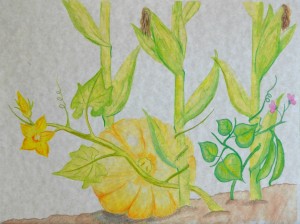 Now it's time for me to get out in the garden and plant our Stowell's Evergreen Heirloom Sweet Corn.  It's the first step in our Three Sisters Garden and I can't wait to watch as it grows in our gardens.  Our heirloom three sisters garden will provide Stowell's Evergreen Heirloom Sweet Corn, Sunset Heirloom Runner Beans, and Long Island Cheese Heirloom Squash for our Thanksgiving menu.  I can almost taste it already!
Are you growing crops in your garden specifically for your Thanksgiving table?  I'd love to learn more about the varieties and recipes that you enjoy at your annual celebration.
Comments
comments