Happy Friday and welcome to this week's From the Farm Blog Hop.  This week, I am more excited than usual to introduce you to our guest host. I came to know Happy Days Farm last year and have enjoyed following their adventures ever since. So, without further ado, let's get on with the hop!
Each week the From the Farm Blog Hop co-hosts welcome a fellow blogger to come join in the fun and guest host along with us. This week's guest hosts are Brittany and Penny from Happy Days Farm! Welcome Brittany and Penny!!
In 2012, Penny Ausley and Brittany May introduced 'Happy Days Farm.' They both love their animals and Penny expanded her home to include a chicken coop in the backyard which houses their much-loved chickens – all hand raised from babies.

A couple of years ago, they traced the source of migraine headaches that Penny has to sodium nitrite, nitrate, and MSG which is located in many foods that we eat. This led them to begin a semi-organic eating style. They learned to avoid eating out in restaurants which use these ingredients, and also starting shopping in Whole Foods for meats and cheeses. This led them to find a local farmer to purchase eggs and vegetables from, and eventually they decided a chicken coop was for them!

Brittany started the blog while they were building the coop, and recently added a Facebook page to highlight daily life on the 'farm.' The rest is history. In addition to the coop, they have a security team, also known as free-range guinea fowl, as well as a precious bunny, and an ever expanding vegetable garden. They both cater to their love for animals, gardening, and cooking when they are not at work at Ausley's Chevelle Parts selling restoration car parts. Yes, Penny does own this business with her husband so they are extremely busy, but realized that even though it is a lot of work, animals, especially chickens, are a great stress-reliever and a source of much joy.
Here are the features from last week's party: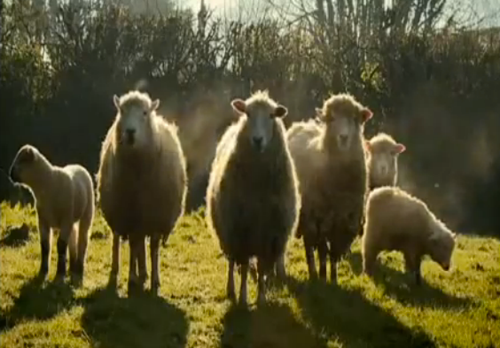 What is Permaculture by Small Footprint Family
Handwritten Lampshade by Joyful Homemaking
Sparkling Rose Petal Wine by And Here We Are
Congratulations!
To make sure that you don't miss out on any of the fun, come follow From the Farm on Facebook and on our new blog. We've got a new page, a fantastic group of contributors and followers, and never ending conversation for you to join in. We'll hope to see you there!
Warmly,
Your From the Farm Blog Hop Co-Hosts:
The Adventure Bite | Sunny Simple Life | 1840 Farm | Let This Mind Be in You | My Healthy Green Family | Fresh Eggs Daily
Comments
comments