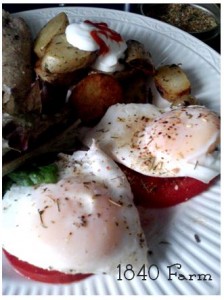 In my experience, cooking with great ingredients requires more restraint than technique.  The better quality the ingredients, the less needs to be done in order to make the final dish extraordinary.  In fact, having the best, local and seasonal products from our farm and neighboring farms allows me to prepare simple meals that deliver incredible flavor without extra effort.
This was definitely the case earlier this week.  My husband had visited Butternut Farm and came home bearing the gifts of freshly picked strawberries and a few early season slicing tomatoes. The strawberries were destined to be enjoyed with my Great grandmother's Daffodil Cake, a delicious way to welcome summer's arrival.
As soon as I saw a tomato, I knew that it would be featured on our dinner plates.  We also happened to have fingerling potatoes on hand from a recent visit to Rosemont Produce Company.  Add in the fresh eggs collected from our beloved heritage breed hens and baby lettuce from the heirloom garden and dinner was indeed beginning to take shape.
I sliced the fingerlings into thick coins and sautéed them in a hot skillet with a generous Tablespoon of butter and rosemary, sage, and thyme pulled fresh from the garden.  I harvested our first Stuttgart onion and sliced it thinly before adding it to the potatoes and herbs.  I sautéed them for approximately 20 minutes, turning occasionally and seasoning liberally with sea salt and freshly cracked pepper.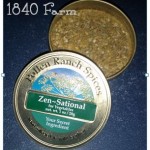 I transferred the pan into a preheated 425 degree oven and began preparing the tomato and eggs.  I sliced the washed tomato into thick slices and placed two on each dinner plate.  I would usually season the tomato with sea salt and fresh pepper before I placed the egg on top.  Then I remembered that I had a new seasoning waiting to be used in the spice drawer.
A few months ago, I was invited to participate in the Fennel Friday Cooking Club by The Hungry Goddess. I happily accepted the invitation and joined Fennel Friday.  A few days later, my package of ingredients from Pollen Ranch arrived.  Last month, I shared my recipe for Smoked Cheddar Gougères with Fennel Pollen.  They were delicious and I had every confidence that the Zen-Sational fennel pollen would also help transform a simple slice of tomato into something extraordinary.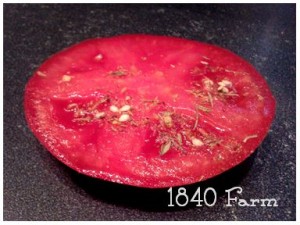 As the potatoes were nearing the end of their time roasting in the oven, I placed a cast iron skillet on the stove top over high heat.  Once the skillet had come up to temperature, I placed a large pat of butter in the skillet and swirled the pan to cover the entire surface with melted butter.  Cracked eggs were added next and each was seasoned with salt and pepper.
I placed the lid on the pan, reduced the heat to medium, and removed the potatoes from the oven.  As soon as the eggs were barely set, I removed the pan from the heat.  I topped each tomato slice with a sprinkle of Pollen Ranch's Zen-Sational Blend.  An egg was placed on top of each tomato slice and then I decided to add a dash of Zen-Sational to each egg for good measure.  As soon as I did, the intoxicating aroma of fennel began to fill the farmhouse kitchen.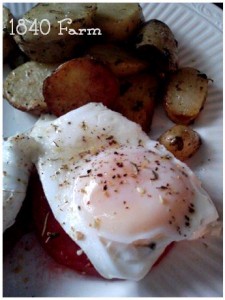 The roasted potatoes were added to each plate and dressed with our favorite roasted potato topping:  sour cream and sriracha,  Once a salad made with greens harvested from our garden was added, dinner was served.  It was simple and delicious.  The fennel was a perfect pairing to the acidity and earthiness of the tomato and richness of our fresh eggs.
Everyone agreed that this was a dinner plate we wanted to see more often on our family table.  Lucky for us, heirloom tomato season is fast approaching.   I know that I'll be making this simple and delicious dinner all season long.
Heirloom Tomato and Eggs with Roasted Potatoes
serves 4 as a main course
The beauty of this recipe is its simplicity.  You can substitute your favorite herbs and use the best of your locally available, seasonal produce.
Fingerling potatoes,  sliced into 1/2″ thick coins
butter
fresh herbs
1 small onion, diced
1 large heirloom tomato, sliced thickly
8 fresh eggs
Pollen Ranch Zen-Sational Pollen Blend
Prepare as directed above.  Serve hot and enjoy!
---
To make sure that you don't miss any of our original content or favorite recipes, DIY projects, and homesteading advice from around the web, subscribe to The 1840 Farm Community Newsletter. Visit our subscription form. In a few seconds, you'll be the newest member of The 1840 Farm Community.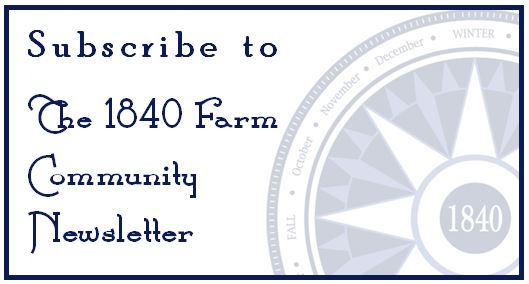 Our newsletter isn't the only way to follow what's happening here at 1840 Farm.
You're always welcome at 1840 Farm and at The 1840 Farm Mercantile Shop on Etsy.
You can also find 1840 Farm throughout the social media universe on
Facebook, Twitter, Pinterest, Flickr, and Bloglovin'.
We even created a new 1840 Farm Community Newsletter Pinterest board to catalog
our newsletter content so that you could easily pin your favorites to your own boards.
Come add your voice to our conversation!
We'll hope to see you there!
---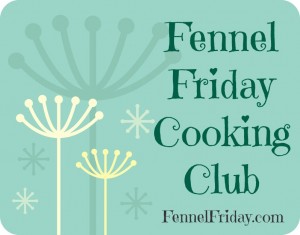 Comments
comments