In April, I had the amazing opportunity to participate in the Food Bloggers Against Hunger Campaign.  The campaign was organized by The Giving Table and supported by Share Our Strength.  By sharing a recipe for a healthy, economical meal, I joined 250 other bloggers in helping to bring attention to the cause of ending hunger in America.
A few months have passed.  In that time, I had the opportunity to view the documentary A Place at the Table at our local Portsmouth Music Hall.  My husband and I took our daughter to the screening.  Together, we watched the story unfold on the screen.  When we left to return home to 1840 Farm, conversation about what we had just seen was easy to find.
The movie and its message have stayed with me since that evening.  For me, that's the true test of a film, especially a documentary.  While I found the entire film to be effective at delivering its intended message, one image and one statement have been my most powerful  memories.
The first was the profile of a young girl named Rosie.  She lives in poverty, struggling at school because of the lack of food available to her.  She doesn't know when her next meal will be or what it will include.  Yet she maintains a positive outlook on life and keeps a smile on her face.  Somehow, she sees the promise of her future instead of the pain of her present.  Her outlook on life was inspiring.
The second was a line delivered by actor Jeff Bridges.  As he speaks about the hunger crisis in America, he mentions that he believes that the solution is tied to patriotism.  He goes on to say, "If another country was doing this to our kids, we'd be at war.  And it doesn't have to be that way."  I've thought of his words often in the last few months and I keep coming back to the same conclusion.  He's right.
It doesn't have to be that way, but we're all going to have to do our part.  Whether we share our fresh garden produce with members of our local communities, support local farmers that do the same, or volunteer by working with charitable organizations, we all have to play a part in solving the problem.  The solution won't be simple, but each step we take will help to ensure that a child like Rosie has the opportunity to realize the promise of her future.  I think that we can all agree that our country will be stronger if she can.
A Place at the Table was released on video today.  I would encourage you to see the film and share its message with your family. Together, we can make sure that all Americans can find a place at the table whether it's to find a solution to this problem or share a meal with members of their local community.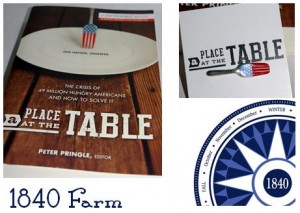 Now I have the unique opportunity to share A Place at the Table with you.  Participant Media, the company who also brought us Food, Inc. has given me a copy of the companion book for the film and a collectible pin to give away to one lucky winner.
As you will learn after watching A Place at the Table, many Americans are trying to put food on the table for under $4 a day.  In this economy, many more of us are trying to stretch our food dollars further than ever before.  If you have a tip for maximizing your food dollars, you can earn an entry in the giveaway by sharing it as a comment.  I look forward to reading your ideas and hearing your thoughts on how we can all work together to find A Place at the Table for everyone in our country.
Comments
comments