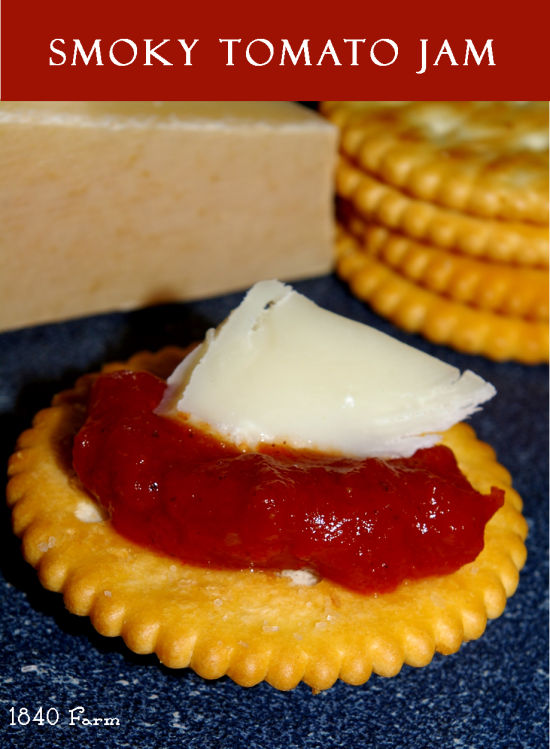 I started this blog almost three years ago. During that time, I have shared countless recipes here and on other blogs. Some of them are simple, others complex. All of them are family favorites, tried and true dishes that never fail. For the life of me, I can't figure out why I haven't shared this delightful recipe earlier.
Smoky Tomato Jam is truly a family favorite. We honestly haven't bought a bottle of ketchup since the day I made the first batch. It's really that good. The flavor is earthy and full with so much more body than ketchup could ever deliver.
Coming from me, that's a real compliment. From the time I was a young child, I looked for reasons to add ketchup to my plate. I couldn't help it. It was my childlike way to add a bit of tomato flavor to nearly every meal I ate.
I am happy to say that my love of tomatoes has endured and that my taste for them has improved. My tomato love now revolves around a perfectly ripe heirloom tomato. In fact, you'll find me in the garden each summer tending to well over 100 heirloom tomato plants. In spite of all the tomatoes we grow, eat, can, and store, I still never get my fill of that pure tomato flavor.
So, when I saw an incredible looking recipe for a savory tomato jam, I was intrigued. When I saw that it was written by a blogger who I enjoy and whose recipes are outstanding, I was in. I went straight to the kitchen and made a batch.
It was amazing. You know how much I love to tinker with a recipe, so I did. I adjusted the spices, changed them slightly, and kept tinkering until I got it just to my family's liking. I have been making it the same way ever since.
We use this jam in a variety of ways here at 1840 Farm. Of course, we use it instead of ketchup on burgers, hot dogs, and the like. We also always feature it with our afternoon cheese course. It is delicious paired with thinly sliced Piave or on a warm chunk of crusty bread with our homemade goat's milk quark. One taste of this divine concoction, and you'll be dreaming of ways to use it in your kitchen.
So, with a hearty thank you to Jennifer Perillo, one of the first bloggers I followed, I give you the recipe for my family's favorite Smoky Tomato Jam. While I'm glad that you're here at 1840 Farm collecting new recipes, I can't help but encourage you to leave and browse Jennifer's blog at In Jennie's Kitchen to collect a few more. You won't be sorry, but I hope that you'll be back here soon for more of my family's favorite recipes!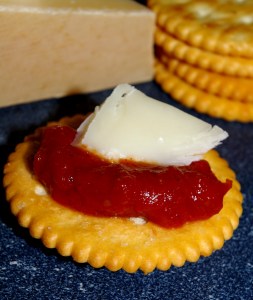 Smoky Tomato Jam
2016-01-21 18:30:33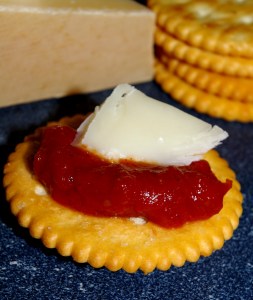 We prefer this jam to be chunky, but I have pureed it in the past to make a smooth puree that more closely resembles ketchup. The spices can be changed and adjusted to suit your palate. While I often use heirloom tomatoes during the height of our fresh tomato season, this recipe is equally delicious using canned diced tomatoes. Once the tomatoes have been reduced and spiced, it becomes very difficult to discern if they are fresh from the garden or fresh from the pantry.
Ingredients
1 Tablespoon olive oil
4 cloves garlic, minced
2 ounces tomato paste
28 ounces chopped or diced tomatoes with juice
1 teaspoon chili powder
1/2 teaspoon cinnamon
1/4 teaspoon sea salt
1/2 teaspoon black pepper
1 teaspoon paprika
1/3 cup (60 grams) unpacked brown sugar
1/3 cup apple cider vinegar
Instructions
In a medium saucepan, sauté minced garlic in olive oil over medium heat until fragrant, approximately one minute. Add tomato paste and stir to blend with the oil and garlic. Add the remaining ingredients and stir to combine. Bring to a simmer before reducing the heat to low.
Continue to simmer uncovered for 45-60 minutes, stirring occasionally until the desired thickness is reached.
Enjoy as you would ketchup or as a delicious accompaniment to a cheese course.
Adapted from Jennifer Perillo's Sweet & Savory Tomato Jam
1840 Farm http://1840farm.com/
---
To make sure that you don't miss any of our original content or favorite recipes, DIY projects, and homesteading advice from around the web, subscribe to The 1840 Farm Community Newsletter. Visit our subscription form to become the newest member of The 1840 Farm Community.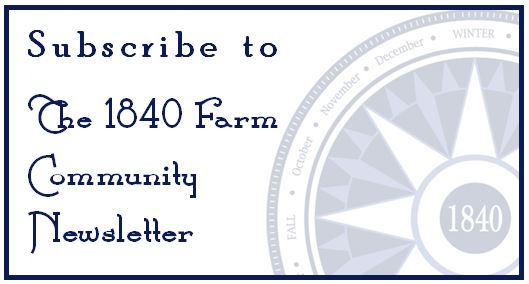 Our newsletter isn't the only way to follow what's happening here at 1840 Farm.
You're always welcome at 1840 Farm and at The 1840 Farm Mercantile Shop on Etsy.
You can also find 1840 Farm throughout the social media universe on
Facebook, Twitter, Pinterest, Flickr, and Bloglovin'.
We even created a new 1840 Farm Community Newsletter Pinterest board to catalog
our newsletter content so that you could easily pin your favorites to your own boards.
Come add your voice to our conversation!
We'll hope to see you there!
---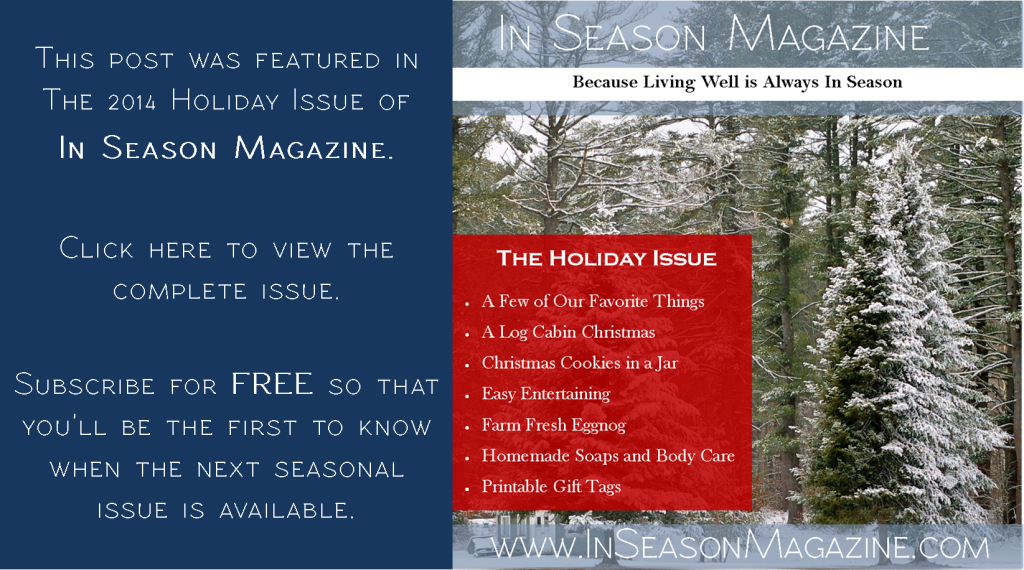 ---
Comments
comments