Gougères are a favorite here at 1840 Farm.  We have been enjoying them for years.  A holiday or special occasion almost always includes a batch of gougères served at our family table.
I'm a tinkerer by nature, constantly adjusting recipes ever so slightly.  Sometimes, I just can't help myself.  Once, I even attempted to modify our recipe for gougères.   The whole family was disappointed with that batch.  They just seemed to be missing something.  Sometimes, making a recipe different doesn't make it better.
I learned my lesson, at least with this recipe.  Since that fateful day, I have not made even the slightest change to our gougères.  Well, that is until last week.  This time, I was smarter about it.
I didn't make a change to the cheese in the gougères or in the method I used to make them.  Instead, I made them as I always did and then embellished them with a little something special that arrived in the mail a few days earlier.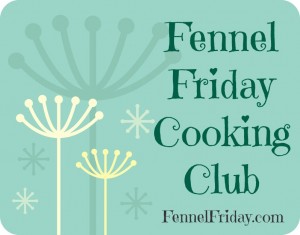 A few weeks ago, I was invited to participate in the Fennel Friday Cooking Club by The Hungry Goddess.  It's not every day that a Goddess invites you to have fun in the kitchen playing with delicious ingredients.  I couldn't possibly say no, so I didn't.
Instead, I happily accepted the invitation and joined Fennel Friday.  A few days later, my package of ingredients from Pollen Ranch arrived.  From the moment I opened the package, I was taken with the delicious aroma emanating from the tins contained inside.
I couldn't wait to try the fennel pollen.  Gougères seemed like the perfect place to start.  A tiny sprinkle of fennel pollen was added to the top of each mound of dough before they were transferred to the oven.
I only added the fennel pollen to half of the batch.  I really had learned my lesson.  I wanted to make sure that I didn't have to explain to my family why I had done the unthinkable and tried to tinker with our gougère recipe again.
As the gougères baked in the oven, the farmhouse kitchen began to have the most amazing aroma.  It was equal parts smoked cheddar and fennel. It was intoxicating.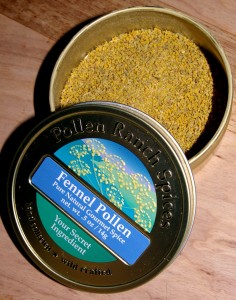 A few minutes later, the gougères were ready to remove from the oven.  I always find it difficult to wait as they cool.  I know that they will have a deeper flavor when room temperature, but they smell so delicious that it seems torturous to wait even a minute.
I was rewarded for waiting.  The first bite made me a believer in the ability of fennel pollen to improve an already fantastic recipe.  The pollen added a wonderful herbal punch to the gougères without masking their earthy, rich flavor.
I waited anxiously as my family gave them a try.  Everyone agreed.  The fennel pollen was a nice addition to our gougères.  As we enjoyed them, we discussed what other recipes we could add it to.
I can imagine a whole host of recipes that could be garnished with a dusting of fennel pollen.  I know that my tinkering instinct will be indulged as I try a few of them in the coming weeks.  Don't worry, I'll be sharing them with you right here.
To make sure that you don't miss any of our delicious recipes, sign up to receive our posts via Email and become a member of The 1840 Farm Online Community on Facebook, Twitter, and Pinterest.
Stay tuned!
Smoked Cheddar Gougères
makes 60 one inch puffs
8 oz Whole Milk
4 oz Butter
1/2 tsp Sea Salt
1 cup Flour
4 large eggs
Position the racks in the top and bottom third of the oven. Preheat the oven to 400 degrees Fahrenheit. Line two baking sheets with nonstick baking mats or parchment paper. Measure the flour into a small bowl. Crack all of the eggs into a bowl and set aside until they are needed. Grate the two cheeses and gently combine them.
Combine milk, butter, and salt in a medium sized pot over high heat. Monitor the mixture closely, stirring often, to avoid scorching. As soon as the mixture comes to a boil, reduce the heat to medium and add the flour in one addition. Stir rapidly with a wooden spoon until the mixture comes together to form a ball. Continue to stir continuously for two minutes until the dough is completely smooth and leaves a film on the bottom of the pot. Remove the pot from the heat and allow the mixture to cool for five minutes.
Once the five minutes have elapsed, add the eggs one at a time, stirring vigorously after each addition. With the addition of each egg, the dough will break. This is normal; rest assured that the dough will be perfectly smooth by the time the fourth egg is incorporated. Once the eggs have all been added, stir in the grated cheese until it is evenly distributed.
Using a spoon or a Tablespoon sized cookie scoop, drop the dough by rounded Tablespoons onto the prepared baking sheets leaving 1 inch of space between each gougère. Sprinkle a pinch of fennel pollen on top of each mound of dough.  Place the baking sheets in the oven and bake for 20 – 28 minutes, rotating the pans halfway through the baking time.
The gougères will be done when they become golden brown in color and have a puffed appearance with a dry exterior. Remove the gougères from the oven and place the baking sheets on wire racks to cool. Gougères can be served warm or at room temperature.
Note: Rounded Tablespoons of dough can be frozen individually on a tray lined with freezer paper. Once they are completely frozen, store the gougères in a freezer bag until ready to use. To bake, simply place frozen gougères on a prepared baking sheet and bake in a 400 degree oven for 30 – 36 minutes.
This post is included in the Fennel Friday Cooking Club on Fennel Friday and The Hungry Goddess. 
Comments
comments