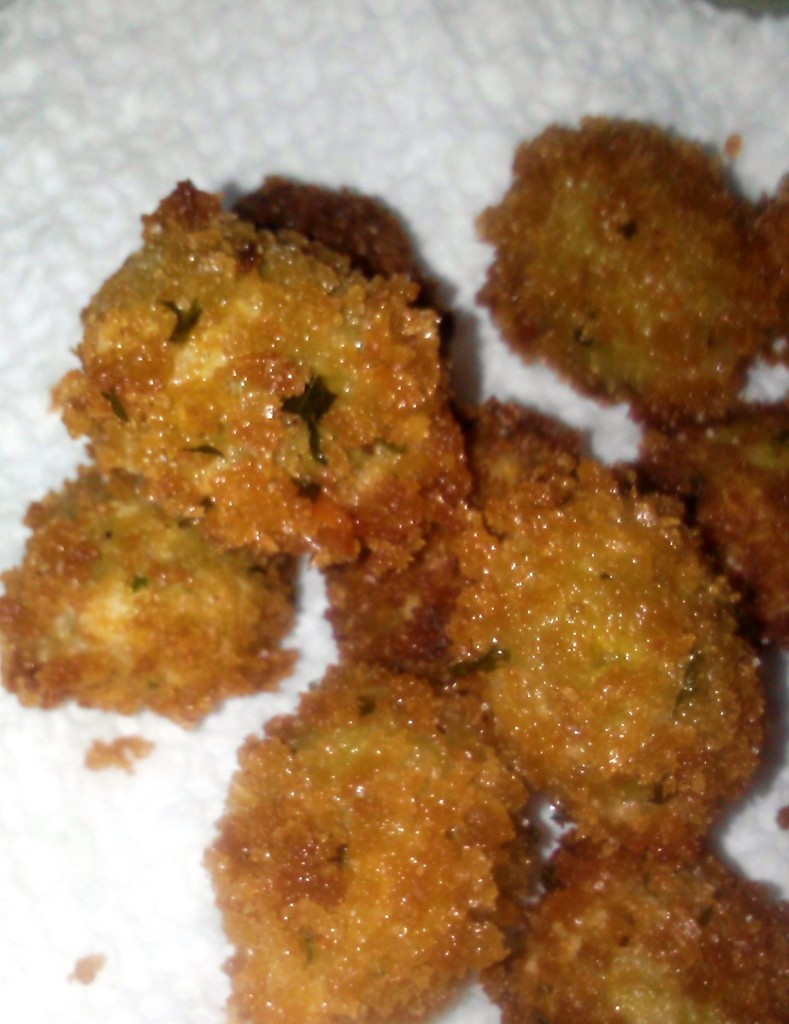 If you're looking for a little something to add to your next cocktail party or maybe just Saturday night cocktail hour, look no further.  These fried green olives are simple, bite-sized, and delicious.  They're always a crowd pleaser, a hit with adults and children alike.
Fried Green Olives
Proportions aren't necessary for this recipe.  The amount of breading ingredients needed is variable and based on how many olives will be prepared.  Take care when frying the olives.  Use a deep pan for frying to allow for the expansion of the oil as it heats and begins to fry the olives.
PItted green olives with pimento
All-purpose flour
bread crumbs or panko
1 egg
vegetable oil
salt
Remove the green olives from their jar and drain them on a paper towel lined plate.  Prepare the breading ingredients in three separate dishes or pie plates.  I like to use three glass pie plates as I find them to be easy to use for coating the olives and simple to clean. Add flour to the first pan, whisk an egg in the second pan, and add breadcrumbs or panko to the third.  If using unseasoned breadcrumbs, season them liberally with salt and pepper.
Add an inch or two of vegetable oil to a small, deep pan.  Set the pan over medium high heat until the oil is at least 325 degrees.  If you don't have a thermometer, you can test the oil by dropping a few breadcrumbs into the oil.  They should begin to fry immediately after they are added to the oil.
As the oil heats, add the drained olives to the flour, shaking the plate lightly to coat.  Transfer the olives to the plate with the beaten egg and shake the plate lightly to coat them completely.  Transfer the olives to the plate with breadcrumbs and shake lightly to coat.  The olives should be completely covered with breadcrumbs before adding them to the oil.
Fry the olives in batches for 2 – 3 minutes or until golden brown.  Frying the olives in small batches will prevent the temperature of the oil from fluctuating dramatically between batches.
Once the olives are golden brown, remove them carefully to a paper towel lined plate to drain.  Sprinkle lightly with salt while still warm.  Allow to cool slightly and serve while still warm.  The olives are delicious on their own or can be served with  mayonnaise that has been thinned slightly with a little fresh lemon juice, or your favorite dressing.
Comments
comments