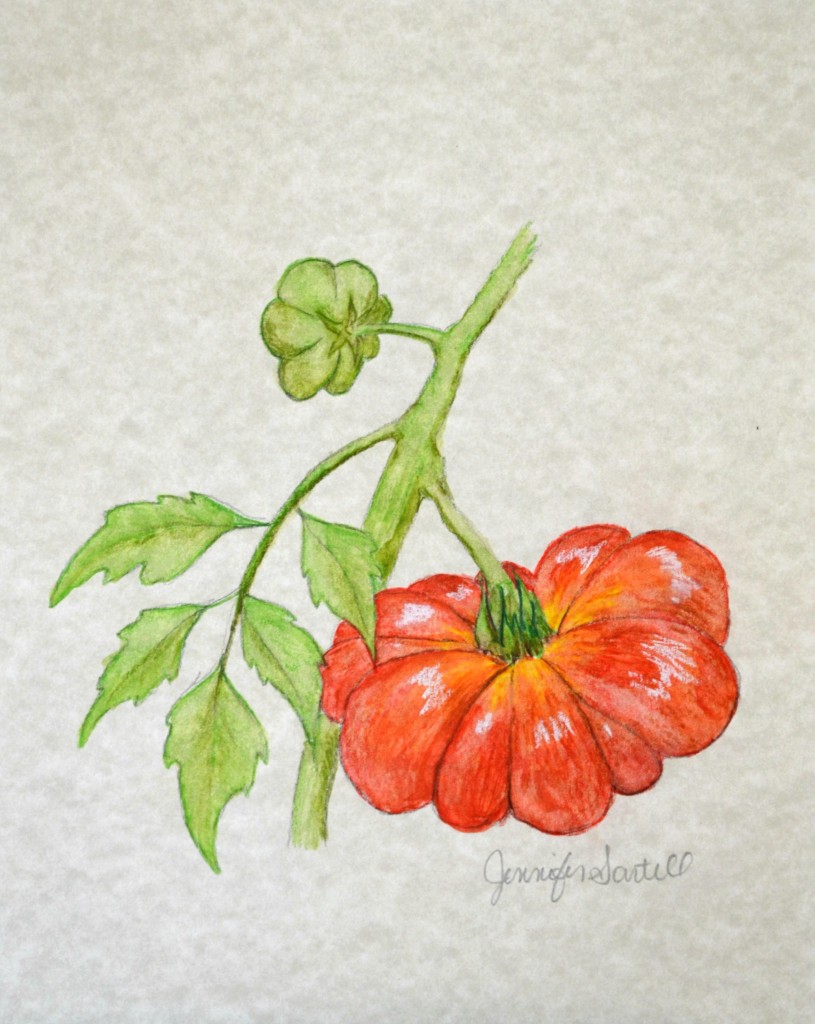 The 1840 Farm Heirloom Tomato Seed Collection includes four of our favorite varieties to plant in the gardens at 1840 Farm.  This collection includes one packet of seeds for each of the following varieties:
+ Purple Calabash Heirloom Tomato
+ Black Cherry Heirloom Tomato
+ Cherokee Purple Heirloom Tomato
+ Genovese Heirloom Basil
All of the varieties in our collection are accompanied by plant profiles, planting instructions, and an 1840 Farm recipe so that you can enjoy my family's favorite preparation with your family. The seeds in our collection are all heirlooms and non-GMOs and provided by a family owned seed purveyor.
We offer two other heirloom seed collections for purchase in our 1840 Farm Heirloom Seed Collection.  Our Three Sisters Garden Collection includes three heirloom varieties.  The Easy Keepers Collection includes four varieties that are perfect for the beginning gardener and can be directly sown in a small garden plot or in containers.
The original illustrations for our collection were created by Jennifer Sartell of Iron Oak Farm.  They are available for purchase in the Iron Oak Farm Shop on Etsy.  The heirloom, non-GMO seeds in our collection are from family owned seed purveyor Baker Creek Heirloom Seed Company.
We hope that you will enjoy growing these heirlooms for your family's table as much as we do.  We invite you to share updates and photos from your garden, your animals, and your harvest with other members of The 1840 Farm Community on Facebook and Flickr.
I hope that you will enjoy learning more about each heirloom variety and join other members of The 1840 Farm Community in growing them in your home garden.  Join our Community and add to the discussion.  Your experiences will help to shape our collection for 2014.
Comments
comments